Ryan's Bankruptcy Save of Rangers Set for $100 Million Payoff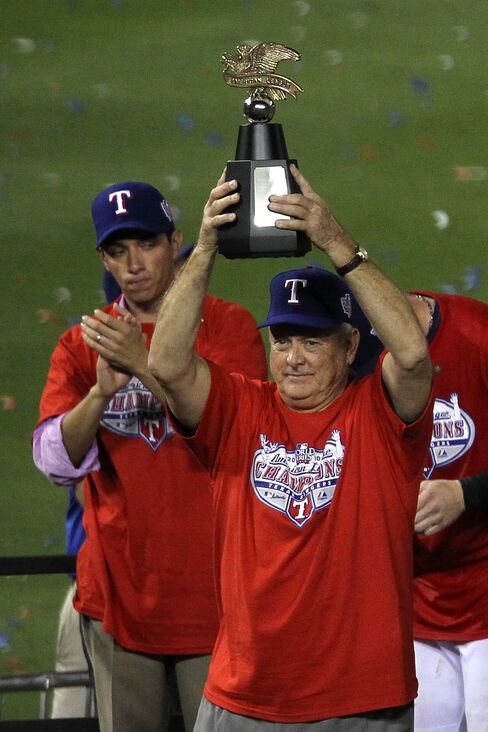 Oct. 30 (Bloomberg) -- Hall of Fame pitcher Nolan Ryan and the rest of the investors who took the Texas Rangers from bankruptcy to the World Series are nearing a quick payback.
Ryan, Managing Partner Chuck Greenberg and the other owners in their group may see Major League Baseball's championship series boost the team's value by $50 million to $100 million above the $593 million the group paid in a bankruptcy court auction Aug. 5, said Andrew Zimbalist, an economics professor at Smith College in Northampton, Massachusetts, who has written about the sports industry.
The World Series "puts us on the map" as a national-caliber team, Ryan, 63, said two days ago before the Rangers lost 9-0 to the San Francisco Giants, falling behind in the best-of-seven series 2-0. Game 3 is tonight.
"We were more of a North Texas-type franchise in the past because of the lack of success that we've had," Ryan said at a news conference at the Giants' AT&T Park.
Rangers Ballpark in Arlington, Texas, is the scene tonight as play resumes in the first World Series in the home team's 50-year franchise history. The Rangers had the fourth-lowest opening-day payroll among the 30 major-league teams this season, at $55 million.
The Rangers' postseason run should be worth $40 million next year in increased ticket sales, corporate sponsorships, suite rentals and concessions, said Marc Ganis, president of Sportscorp Ltd., a sports business consulting firm in Chicago.
That's on top of the $1 million-a-game gross profit Zimbalist said the Rangers stand to make from this year's playoffs.
Ryan, Postseason
The involvement of Ryan -- the major-league career leader with 5,714 strikeouts and a record seven no-hitters among his 324 victories, as well as the trip to the Series, "brings them up a few notches," Zimbalist said. "As far as selling tickets the next several years, it's a boon. The further they go the better."
Ryan said buying the Rangers cost more than his group originally wanted to pay, so he doesn't think he got a bargain.
"But I think our timing was good," he said in an interview two days ago. "And I'm a believer that timing is everything."
The income boost is needed to retain top players, sports economists said. Ryan and his partners likely will have to pay more to keep their best players, such as pitcher Cliff Lee and outfielder Josh Hamilton, and attract new ones, Ganis said.
"Everybody is going to want more money," he said. "It's not only players -- it's coaches, managers, marketing people, everybody."
Bankruptcy
Five months ago, the Rangers were filing for Chapter 11 bankruptcy protection under their previous owner, Dallas venture capitalist Tom Hicks, and in need of a $21.5 million loan from the league to pay their bills. Judge D. Michael Lynn of U.S. Bankruptcy Court for the Northern District of Texas in Fort Worth wondered aloud whether the team might get stranded on the road with a maxed-out credit card.
The recapitalized club now is in the hands of Ryan, the franchise president; Greenberg; and 16 other partners including Bob Simpson, chairman of XTO Energy Inc., and Ray C. Davis, a director at Energy Transfer Partners LP, a Texas pipeline company.
The Rangers' Dallas-Fort Worth home market is the fourth-largest metropolitan area in the nation, according to 2009 U.S. Census data. That provides ample room for growth in sponsorships and season-ticket sales, Greenberg, an attorney, said in an interview on Oct. 26.
"People mistake us for a small- to mid-market team," Greenberg said. "Actually, we're in the largest market in North America with only one Major League Baseball team."
Cowboys Town
The big market, and fan loyalty, has helped build the Dallas Cowboys franchise into the National Football League's most valuable team at $1.6 billion, according to Forbes magazine. Though the Cowboys are in a slump now, with a season record of 1-5, they benefit from a legacy of five Super Bowl championships.
It will take more than one season for the Rangers to build the same kind of devotion among fans, said Sal Galatioto, president of New York-based Galatioto Sports Partners LLC, which provides investment banking services to teams.
"The halo effect doesn't last if next season you're 20 games out," he said.
Average attendance at Rangers Ballpark increased to 30,928 this season from 27,641 in 2009, the third-highest increase in the majors, team spokesman John Blake said. The Giants, valued at $483 million by Forbes, averaged 37,499 a game this year.
By defeating the New York Yankees for the American League title, the Rangers created the likelihood that "baseline attendance" will increase for five years, Ganis said.
More Tickets
An 8 percent to 12 percent increase in gate revenue would add $15 million a year to the team's budget, he said. Increased sponsorships would provide an additional $20 million a year, with sales of suites -- priced between $75,000 and $190,000 a season, according to team figures -- and other sources adding $5 million more, he said.
To keep winning, the Rangers will need to increase their payroll, which this season was about one-quarter of the $206 million for the top-spending Yankees, Galatioto said. The Giants' payroll of $99 million is ninth highest.
Greenberg said his Texas team is financially secure enough to bid what it must to keep Lee, who was 7-0 during his career in the postseason before losing Game 1 of the Series to the Giants on Oct. 27.
No Pea Shooters
Lee is eligible for free agency once the World Series is over, and Ganis said the Rangers will have to pay $15 million to $22 million annually on a multiyear deal to retain the 32-year-old left-hander. He made $9 million this season, which he started with the Seattle Mariners before being traded to Texas in July.
Hamilton, who hit .359 with 32 home runs and 100 runs batted in this season, made $3.3 million this year and is eligible for salary arbitration after 2011.
"We're not going in it with a pea shooter," Greenberg said. "We know that we are going to have to be aggressive financially; we're prepared to do that."
To contact the reporter on this story: Thomas Korosec in Dallas, Texas at tkorosec@sbcglobal.net.
To contact the editor responsible for this story: Susan Warren at susanwarren@bloomberg.net.