Goodell Says Labor Dispute Is Already Affecting NFL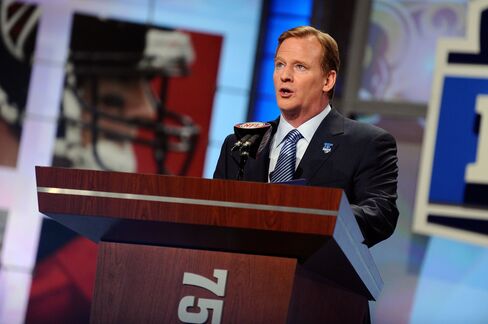 Commissioner Roger Goodell said labor uncertainty is affecting National Football League revenue as the U.S.'s most-watched television sport negotiates a collective bargaining agreement with its players.
"The impact of not having a labor agreement is already starting," Goodell said today in an interview with Bloomberg Television. "It will continue to grow. It will continue to have a greater and greater impact and my point is that there will be lost revenue opportunities. And when revenue is reduced, it's even harder to reach an agreement."
The commissioner, in London for this weekend's game between the San Francisco 49ers and the Denver Broncos, didn't provide examples of revenue declines. Goodell said uncertainty makes it difficult for sponsors to plan effectively.
Electronic Arts Inc.'s EA Sports unit has asked the NFL for a $30 million reduction in scheduled payments because of labor uncertainty, the Wall Street Journal reported this month citing unnamed people familiar with the talks. Without a labor deal, the league may lose $125 million from existing corporate partners by March and another $400 million that month from fans not renewing season tickets, the newspaper said, citing two unnamed senior league officials.
NFL spokesman Brian McCarthy said in an e-mail to Bloomberg News that the league has had discussions with its partners on the subject, declining to specify companies or amounts involved.
Stadium Costs
Owners voted in 2008 to shorten the collective bargaining agreement by two years through the end of this season, saying the share of revenue that players receive doesn't account for costs such as those of building stadiums. The last labor agreement gave players about 60 percent of the league's $8 billion in revenue.
Players have said they won't agree to a deal that amounts to a pay cut and have asked the NFL to document its financial concerns.
"This uncertainty is something they chose," George Atallah, the union's assistant executive director of external affairs, said in a telephone interview.
Goodell said much work remains before labor and management reach a deal.
"We've got a responsibility to make sure we do everything possible to get a labor agreement that's fair for all parties," Goodell said. "I am convinced that it can get done and we have to do it. It's going to require focus and it's going to require everyone working hard to make sure it gets done. I have made it very clear, though, that I think the sooner it gets done the better."
London Games
Goodell said the NFL believes it can sell out multiple games in London and the owners want to increase the regular season to 18 games from 16 in part to play more games outside the U.S.
"We would continue to stay within that 20-game format and that would give us an ability to take additional regular season games to international markets," he said.
That's possible without additional risk to player safety, Goodell said. The NFL handed out $175,000 in fines this month to players including James Harrison of the Pittsburgh Steelers and said it would start suspending players for dangerous and illegal hit after a weekend in which Philadelphia Eagles receiver DeSean Jackson and others received concussions.
"We always have to keep a focus on player safety -- that's something that we do regardless of whether we expand the season," Goodell said. "What we need to do is make sure our players are being given the best possible medical care and that we are training them in the best possible fashion, and that our rules, our equipment and everything is providing the safest environment for those players."
Goodell said the NFL was still gathering facts about Minnesota Vikings quarterback Brett Favre, who met with league officials this month to discuss allegations the three-time most-valuable player sent explicit cell-phone messages to a female employee of the New York Jets while he played for that team in
2008.
Before it's here, it's on the Bloomberg Terminal.
LEARN MORE