Carlyle's BankUnited Files for $300 Million U.S. IPO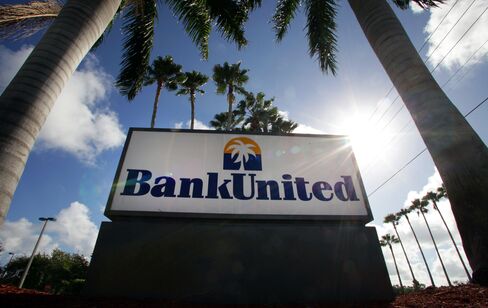 Oct. 29 (Bloomberg) -- BankUnited Inc., the Florida lender owned by investors including Blackstone Group LP, Carlyle Group and WL Ross & Co., filed to raise as much as $300 million in an initial public offering.
Morgan Stanley, Bank of America Corp., Goldman Sachs Group Inc. and Deutsche Bank AG will arrange the IPO, the lender said in a filing with the Securities and Exchange Commission. Miami Lakes, Florida-based BankUnited did not disclose the number of shares or the price range for the offering in the filing.
The lender will use proceeds from the IPO for general corporate purposes, according to the filing. BankUnited planned to use proceeds to take over New York-based banks, a person with direct knowledge of the company's plans said this week. In addition to raising funds for acquisitions, the bank's private-equity backers will sell some of their stakes, the person said.
BankUnited was shut by federal regulators and sold to a buyout group in May 2009, two months after investors including J.C. Flowers & Co. bought California's IndyMac Bank and pumped $1.55 billion into the lender. John Kanas, the former head of North Fork Bancorp, was named the Florida lender's chief executive officer.
Kanas built Melville, New York-based North Fork Bancorp through acquisitions and then sold the company to Capital One in 2006 for about $15 billion, four times the company's book value, according to Carlyle's quarterly letter to investors.
Less than a year later, Capital One shut North Fork's GreenPoint Mortgage unit at a cost of more than $800 million and reported its first loss since 1994. GreenPoint made home loans to borrowers with the weakest credit.
The filing came as the U.S. IPO market showed signs of rebounding after 55 companies had withdrawn or postponed offerings this year. At least 21 companies have completed initial sales this month, the most since December 2007, data compiled by Bloomberg show.
To contact the reporters on this story: Zijing Wu in London at zwu17@bloomberg.net; Cecile Vannucci in New York at cvannucci1@bloomberg.net.
To contact the editor responsible for this story: Daniel Hauck at dhauck1@bloomberg.net.