AIDS Looms, Roy Cohn Dies as 'Angels' Triumphs: Jeremy Gerard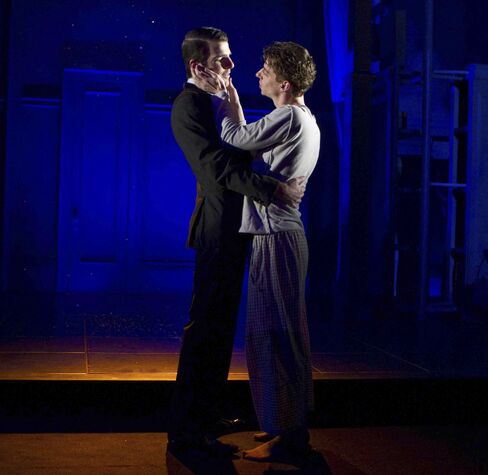 Nothing grabs your attention like an angel in full feather crashing through the bedroom ceiling in the middle of the night.
Especially when said angel announces, "Greetings, Prophet! The great work begins: The Messenger has arrived."
That grand declaration concludes a revival of Tony Kushner's Pulitzer Prize-winning "Millennium Approaches," leaving us every bit as stunned as Prior Walter, the young man gaping in horror from his sickbed in Manhattan, where he is suffering from a mysterious cancer.
"Perestroika," the second part of Kushner's monumental, seven-hour epic "Angels in America," continues the story of interwoven couples in Ronald Reagan's happy-go-lucky 1980s, when AIDS began killing gay men.
Along the way, we visit Salt Lake City, heaven and Antarctica. We spend time with the ghost of Ethel Rosenberg, the World's Oldest Bolshevik, a mischievous travel agent named Mr. Lies, and Roy Cohn, the furtively gay lawyer who helped send Ethel to the electric chair and is himself dying of AIDS.
"Angels" was staged on Broadway in 1993. How does it hold up? Sensationally well.
The Signature Theatre production, staged with a sympathetic but uneven hand by Michael Greif, showcases some of the best talent around, including Zoe Kazan, Christian Borle, Billy Porter and Frank Wood in a career-topping performance as the sneering, foul-mouthed, inexhaustibly mendacious Cohn.
Scarlet Lesion
The heart and soul of "Angels" is Prior Walter (Borle), last in a centuries-old line of Priors. In the heartbreaking opening scene of "Millennium Approaches," he shows his lover, Louis Ironson (Zachary Quinto) a scarlet lesion on his arm, the first telltale sign that he has Kaposi's sarcoma, an AIDS-related cancer.
All of this unfolds in the years before AZT and, later, a drug "cocktail" made an AIDS diagnosis something less than a death sentence. Kushner draws an unsettling but deeply compelling parallel between contracting the disease and voting Republican. I'm not kidding, and neither is he.
To his enduring shame, Louis abandons Walter and embarks on an affair with Joe Pitt (Bill Heck), a closeted Mormon lawyer, protege of Cohn and clerk for a reactionary judge. Joe is married to Harper (Kazan), who is rattled by his inattention and addled by Valium.
Harper tends to spin off into fantasy vacations, shepherded by Mr. Lies, the ectoplasmic travel agent played by Porter. His main role, in a company whose cast members play multiple parts, is Belize, the activist nurse who cares for Prior and Cohn, when he arrives, fuming, in the hospital.
Mormon Mom
Cohn, desperate to thwart a disbarment proceeding before he himself succumbs to AIDS, urges the conflicted Joe to take a job at the Justice Department in Washington, where he can be useful.
The plays are populated with angels and ghosts, among them Prior's fictional ancestors and the "Continental Principalities" -- angels representing the seven continents. Such a motley of characters, some real, some imagined, only hints at the scope of Kushner's achievement. Combining brutal realism, wicked satire and a palpably humane regard for these disparate characters, "Angels" breaks all the rules to achieve the astonishing integrity of its vision.
In addition to Wood -- who stakes a strong claim on a part owned by Ron Leibman in the original New York production --there is exceptional work from Kazan, who wrenchingly underscores Harper's child/woman sides, and Porter, shifting seamlessly between the coaxing Mr. Lies and the combative yet compassionate Belize.
The weak link in the chain is Robin Bartlett, who doesn't quite capture Hannah's no-nonsense comic urgency. Hannah sells her Salt Lake City home and journeys to New York, where she becomes Prior's unlikely ally, though not before a classic encounter with an insane street person. Bartlett also fails to find the right pacing in brief but key male roles of an Orthodox rabbi and the Bolshevik.
Too Much Scenery
On Broadway, director George C. Wolfe staged the plays simply yet fleetly on Robin Wagner's sleek sets. Here, Mark Wendland's scenery works too hard to suggest locations ranging from a crummy apartment to an East Side mansion to the South Pole.
Yet these are quibbles for a play that has remained utterly of-the-moment. Kushner wrote the anodyne for the bottom-feeding, greed-worshipping "Wall Street," and now his play functions similarly as that film's sequel runs in theaters.
"I don't understand why I'm not dead," Harper tells Joe. "When your heart breaks, you should die."
Heartbreaking as it can be, "Angels in America" is definitively about life, not death.
"We are not going away," Prior says in his memorable coda to "Perestroika." "We won't die secret deaths anymore. The world only spins forward."
At 555 W. 42nd St. Information: +1-212-244-7529; http://www.signaturetheatre.org Rating: ****
What the Stars Mean:
****       Do Not Miss
***        Excellent
**         Average
*          Poor
(No stars) Worthless
(Jeremy Gerard is an editor and critic for Muse, the arts and leisure section of Bloomberg News. The opinions expressed are his own.)
Before it's here, it's on the Bloomberg Terminal.
LEARN MORE