Cabbage Queue Shows Poverty Challenge as G-20 Gathers in Seoul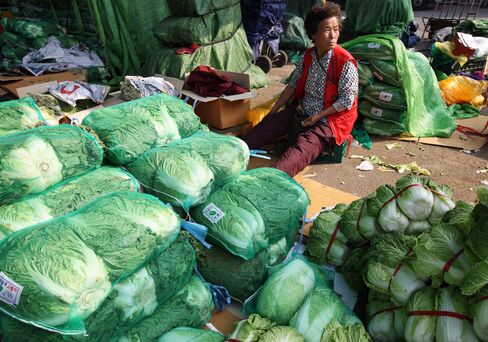 Oct. 29 (Bloomberg) -- Housewives pushing baby strollers jostle with gray-haired men in slippers at Seoul's Shinwon Market as the line stretches to more than 2,000 people. Fewer than half come away with the special offer: a $4 cabbage.
"I've never seen anything like this during my 18 years of working here," said Chin Byung Ho, 58, a traders' representative, as he yells through a megaphone to control the people demanding the sale start. "What has become of our ordinary people's lives? We now have to fight over a cabbage?"
While the world leaders who will gather in Seoul for the Nov. 11-Nov. 12 Group of 20 summit are unlikely to see the market scene, their host, South Korean President Lee Myung Bak, plans to spur a discussion of poverty at the meeting. South Korea provides an example: The ranks of the poor have almost doubled as a proportion of the population in nine years.
The G-20, whose members account for 85 percent of global economic output, will draw up an "action plan" to help emerging economies' development through means that go beyond providing them with cash, Lee told foreign reporters on Oct. 11. Finance Minister Yoon Jeung Hyun said at an Oct. 25 conference that the development issue will be high on the agenda, without providing details.
Policy makers from China to the U.S. are grappling with swelling ranks of the poor. The World Bank estimates that 64 million more people will be pushed into extreme poverty globally this year as a result of the worldwide financial crisis. About 1.4 billion people lived in extreme poverty, defined as less than $1.25 a day, in 2005, the most recent year for which data is available, the World Bank said.
Income Disparity
"Income disparity not only hurts the low-income class but is also a potentially negative factor for the rich, as it can create social unrest," said Yoon Sang Ha, an economist at LG Economic Research Institute in Seoul. "The problem with Asia is that there aren't economies mature and big enough to create sufficient safety nets for the poor."
China's ruling Communist Party on Oct. 19 pledged to pay more attention to improving people's livelihoods and boosting rural incomes. Hong Kong plans to enact its first minimum wage this year after the number of the poor reached a record 1.26 million in the first half.
"We are not waiting any more for the phenomenon of 'trickle down' to happen with our significant growth trajectory," Indian Finance Minister Pranab Mukherjee said in an Oct. 7 speech in Washington as he explained state support for infrastructure and employment for the rural poor.
Gini Rank
Lee, 68, has made improving living standards central to the second half of his term. South Korea's Gini coefficient, a measure of inequality, rose to a record 0.35 in 2009 on a range of zero to 1, with zero referring to total equality. China's Gini reached 0.47 in 2009, exceeding the 0.4 mark used as a predictor for social unrest, according to World Bank data.
The top 20 percent of South Korea's households earn 7.7 times more than the bottom 20 percent, according to the government. The segment of people living in poverty made up 13 percent of the total population of 49 million in 2009, compared with 7.5 percent in 1990, its data showed.
Growing poverty contrasts with record earnings posted by Suwon, South Korea-based Samsung Electronics Co., Asia's biggest maker of semiconductors, flat screens and mobile phones, and Seoul-based Hyundai Motor Co., the country's largest carmaker.
Those profits fueled the country's economic expansion of 7.6 percent in the first half. South Korea has become Asia's fourth-largest economy in less than six decades, an achievement that Lee plans to showcase at the summit.
Cabbage Fights
"They might as well coat the cabbage with gold," said Hwang Soon Nyeo, a 65-year-old housewife. "It's killing me."
She was among 890 people in the Shinwon Market line on Oct. 5 who arrived early enough to win three heads of Napa cabbage for 14,000 won ($12.50). Offered at a 30 percent discount to the market rate by the Seoul city government, some 2,700 heads sold out in an hour. The vegetable is commonly used to make kimchi, the pickled side dish that accompanies a typical Korean meal.
Lee's government has characterized next year's spending as aimed at inspiring "hope for the poor." Plans are to spend 10 percent of the 310-trillion-won budget on support for wider education, childcare and housing.
The push comes as food costs went up 13 percent last month, the most in six years, according to Bloomberg data. Rising housing rents and energy prices also helped overall South Korean consumer prices increase at the fastest pace in 17 months in September, according to the statistics office.
"I feel my business is doing worse than during the 1980s or '90s, with inflation outstripping my sales growth," said traders' representative Chin, a butcher, at the market.
Seoul is awash with posters hailing the summit. A video promoting street etiquette is played at subway stations. Kim Yuna, an Olympic gold medalist in figure skating this year, and Park Ji Sung, a soccer player with England's Manchester United, were named goodwill ambassadors to promote the meeting.
"It's a meaningful attempt for Korea to bring up the development issue on the G-20 table," economist Yoon said. "How successful that attempt will be remains to be seen."
To contact the reporter on this story: Bomi Lim in Seoul at blim30@bloomberg.net; Seonjin Cha in Seoul at scha2@bloomberg.net
To contact the editor responsible for this story: Bill Austin at billaustin@bloomberg.net; Philip Lagerkranser at lagerkranser@bloomberg.net