Hutchison Leading Record Asia Perpetual Sales: Credit Markets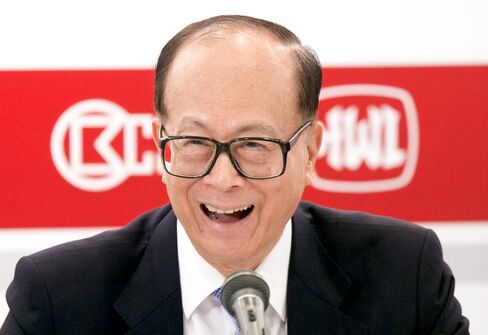 Billionaire Li Ka-shing's Hutchison Whampoa Ltd., Noble Group Ltd. and other Asian companies are selling a record amount of bonds with no fixed maturities as investors in search of higher yields buy riskier securities.
Hutchison, the telecom, ports and property company based in Hong Kong, sold $2 billion of 6 percent perpetual notes last week, boosting total sales in Asia this year to $6.6 billion, the most since Bloomberg started gathering the data a decade ago. Commodity supplier Noble issued $350 million of the notes yesterday to yield 8.5 percent, after offering 4.875 percent five-year securities in August.
Record low benchmark interest rates in the U.S., Europe and Japan are dragging down yields around the world, prompting investors to seek higher returns from perpetual notes. In Asia, the securities yield as much as 400 basis points, or 4 percentage points, more than 30-year Treasuries, according to data compiled by Bloomberg.
"This is a way for investors to pick up extra yield from companies operating in a region that's still growing and not marred by the problems of the U.S. and Europe," Scott Bennett, Aberdeen Asset Management Asia Ltd.'s regional head of credit, said in a telephone interview from Singapore.
Perpetual bonds pay more than securities with a set maturity to compensate investors for the risk the notes won't be called. They're generally senior to equity and subordinated to other types of debt, and may contain terms stipulating that coupons must be paid if a dividend has been declared.
Such equity-related features mean the securities may lower a company's debt-to-equity ratio.
"It's a story of extra yield for investors and cheap, callable equity for issuers," Bennett said.
Travelers, Volkswagen
Elsewhere in credit markets, the extra yield investors demand to own company bonds instead of similar-maturity government debt fell 1 basis point to 164 basis points, according to Bank of America Merrill Lynch's Global Broad Market Corporate Index. The spread has narrowed from this year's high of 201 basis points on June 11. Yields averaged 3.515 percent, from 3.483 percent Oct. 26.
The cost of insuring Ireland's government debt against default soared as Anglo Irish Bank Corp. bondholders planned to oppose a proposed debt exchange that imposes losses of more than 1.3 billion euros ($1.8 billion) on their holdings.
Creditors holding a 690 million-euro "blocking position" of notes will vote against the deal worth 20 percent of their 1.6 billion euros of securities, according to a statement from financial adviser Houlihan Lokey today. Dublin-based Anglo Irish, nationalized by the government in 2009, made the offer on Oct. 21.
Ireland Swaps
Credit-default swaps insuring Irish debt rose 21 basis points, the most in a month, to a four-week high of 465, according to data provider CMA. Contracts tied to Anglo Irish Bank's subordinated notes fell.
Credit-default swaps typically rise as investor confidence deteriorates and fall as it improves. Contracts pay the buyer face value if a borrower fails to meet its obligations, less the value of the defaulted debt. A basis point equals $1,000 annually on a contract protecting $10 million of debt.
Travelers Cos., the New York-based insurer added to the Dow Jones Industrial Average in 2009, sold $500 million of 3.9 percent, 10-year notes and $750 million of 5.35 percent, 30-year bonds in an issue boosted from $1 billion, Bloomberg data show.
The company tapped the U.S. corporate bond market after Chief Executive Officer Jay Fishman told investors last week the cost of debt versus equity has widened to the most he's seen in his career. Companies tendered for $30.5 billion of bonds last month, the most since April, and may buy another $24.3 billion this month, Bloomberg data show.
'Continued Onslaught'
"There's a continued onslaught of companies trying to buy back their debt," said Tom Murphy, a money manager who helps oversee more than $22 billion of investment-grade credit at Columbia Management in Minneapolis.
The weighted average cost of debt capital for Travelers is 0.61 percent, while the weighted average cost of equity capital is 7.27 percent, Bloomberg data show.
Bonds from Fairfield, Connecticut-based General Electric Co. were the most actively traded U.S. corporate securities by dealers yesterday with 146 trades of $1 million or more, according to Trace, the bond-price reporting system of the Financial Industry Regulatory Authority.
Leveraged Loans
The Standard & Poor's/LSTA US Leveraged Loan 100 Index rose 0.03 cent to 91.22 cents on the dollar, the highest since May 10. The index, which tracks the 100 largest dollar-denominated first-lien leveraged loans, has returned 1.6 percent this month.
The extra yield investors demand to hold emerging-market bonds rather than government debentures rose 1 basis point to 254 basis points, according to JPMorgan Chase & Co data.
Noble's 8.5 percent coupon matches the highest the company, which counts China Investment Corp. as a shareholder, has ever paid on a bond, equaling what it offered to borrow $500 million for five years in May 2008, Bloomberg data show.
It's also the third-highest coupon paid on a dollar-denominated perpetual bond this year, the data show.
Netherlands-based Credit Europe Bank NV's $125.75 million of perpetual notes sold in June pay the highest at 11.5 percent, followed by Brazil-based BR Properties SA's $200 million of 9 percent notes sold on Sept. 30. Noble didn't pay a dividend for the six months ended June 30.
Yield Expectations
"The perpetual bond is attractive to bond investors because of its relatively high yield, which is ever harder to find in the investment-grade space in this low-interest rate environment," said Bennett, who helps oversee $1.5 billion of Asia-Pacific fixed-income assets at Aberdeen. "Investors' hunt for yield is taking them down the road of longer tenor bonds."
Perpetual bonds issued by Cia. Siderurgica Nacional SA, Brazil's third-largest steelmaker, are underperforming the country's debt market after the company sold the securities at a lower yield than some investors expected. CSN's bonds returned 0.3 percent since their Sept. 16 issue, compared with a 2.4 percent rally in Brazilian corporate bonds, according to JPMorgan's CEMBI index.
The debt is slumping after the Rio de Janeiro-based company boosted the size of the sale by 25 percent to $1 billion and paid a yield of 7 percent, or 75 basis points less than investors anticipated, according to Jefferies & Co. Cosan SA Industria & Comercio, the world's largest sugar-cane processor, and shopping mall operator General Shopping Brazil SA may be forced to pay higher yields on planned offerings of perpetuals, because of the decline in CSN notes, RBS Securities Inc. said.
Hutchison Perpetual Notes
Hutchison sold $2 billion of 6 percent perpetual notes last week with an option to buy back the securities after five years. The company's $2.2 billion of fixed-rate notes which mature in September 2015, one month before the perpetual bonds are callable, pay a coupon of 4.625 percent, Bloomberg data show.
Hutchison hasn't increased its HK$1.73 (22 U.S. cents) a share dividend since 2000, resulting in a stock yield of around 2.2 percent. Li said in March the company may consider raising the payout this year if earnings from its third-generation phone business meet targets.
Stocks, bonds and currencies are poised to rise in emerging markets as a second round of bond purchases by the Federal Reserve gives investors more money to shift there, Michael Hartnett, Bank of America Merrill Lynch's chief global equity strategist, wrote in a research note dated Oct. 21. Hartnett assumes the Fed will seek to buy $500 billion to $750 billion of bonds in a move known as quantitative easing. Fed policy makers are scheduled to meet on Nov. 2-3.
'Sprung to Life'
"The market in Asia has sprung to life because of the extremely low interest rates elsewhere," Elizabeth Allen, Moody's Investors Service's senior credit officer, said in a telephone interview from Hong Kong. "Perpetual notes are priced off U.S. Treasuries so issuers can get away with paying a fairly cheap coupon while getting a degree of equity benefit."
The $1 billion of perpetual notes sold last month by Cheung Kong Infrastructure Holdings Ltd., a Hutchison unit, pay a 6.625 percent coupon, higher than the 5.75 percent investors accepted in September 2009 to lend the company the same amount for 10-years, Bloomberg data show.
S&P assigned a BBB rating to Hutchison's perpetual notes and said the sale shows the company's commitment to reducing debt levels.
"Some perpetual bonds have the ability to act as capital to varying degrees, depending on where they sit in a company's capital structure," said Rogerio Bernardo, fixed-income syndicate director at Royal Bank of Scotland Group Plc in Singapore. RBS managed Noble's sale with JPMorgan and Standard Chartered Plc.
Hutchison's 6 percent coupon is the lowest paid on a dollar-denominated perpetual bond this year, compared with 2 percent in 2009, when credit markets rallied, handing investors the best returns in more than a decade, according to Bloomberg data and Bank of America Merrill Lynch's Global Broad Market Corporate Index.
"Asia-Pacific is leading the way globally in terms of the hybrid market resurgence," Melbourne-based S&P analyst Paul Draffin said in an online broadcast Oct. 21. "Given the level of market interest we'd expect this to continue."
Before it's here, it's on the Bloomberg Terminal.
LEARN MORE