De Niro, Spacey Boost Festival, Tribeca Comes to Qatar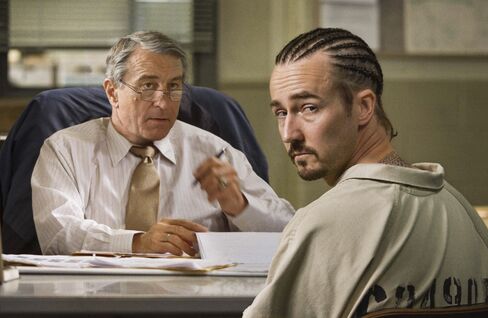 Robert De Niro, Kevin Spacey and Julian Schnabel are taking part in the second Doha Tribeca Film Festival.
Qatar, the Persian Gulf emirate whose population boasts the second-highest standard of living in the world behind Lichtenstein, is seeking to boost its cultural image with the festival, launched in 2009 as a partnership between the Doha Film Institute and Tribeca Enterprises.
Tribeca is New York's biggest cinematic event, co-founded by De Niro, 66, and includes a presense from the Doha Film Institute such as a movie workshop and comedy night.
DTFF is the Doha Film Institute's annual film festival. It is being held as as media companies build stronger ties with the Middle East and studios at home curb investments. This year's event is a day longer than last year and runs to Oct. 30. It features 51 films, 20 more than last year, from 30 countries.
"This is a phenomenal attendance for a festival," its executive director Amanda Palmer said. Directors and casts from 41 of the movies are attending, Palmer said.
Qatar has used revenue from the world's third-largest gas reserves to develop its arts. It may bid for Christie's International Plc, the Financial Times said, citing an interview with the emir, Sheikh Hamad bin Khalifa al-Thani. Christie's owner Artemis SA said on Oct. 26 that no sale process had begun and it was still committed to the development of Christie's.
The festival opened with a screening of Algerian director Rachid Bouchareb's "Outside the Law," a film about the Algerian war of independence that sparked protests when it was screened in Cannes earlier this year.
Opening Party
Actress Salma Hayek, who is on the jury, and Schnabel joined the opening party. His film "Miral" is showing at the festival.
De Niro showcases locally made 10-minute films and speaks on a panel. Spacey is in town for the preview of "Casino Jack" and he conducted a workshop today.
As artistic director at London's Old Vic Theatre, Spacey said today he is scheduling a world tour of Shakespeare's Richard III and wants to put the play on somewhere in the Middle East.
"I was in Beirut over the summer, I was in Abu Dhabi last year, I was in Dubai and now here in Doha," he said. "I want to bring with us an educational ethos, a strain of work in terms of working with emerging talents. I don't want to just go to each city and go, 'Look at me, I am doing a play.' I want to go and create a sense of excitement about theater."
Later this year, Qatar plans to open Mathaf: the Arab Museum of Modern Art. I.M. Pei designed the country's Museum of Islamic Art on the crescent-shaped waterfront.
Arab Films
The Doha Film Institute was established to develop a sustainable movie industry in a sheikhdom of about 1.5 million people. The DFI has a commitment to financing films, including at least 10 Arab films a year as well as international productions.
"We have never announced how much money," Palmer said. "We are trying to create a sustainable film financing fund. What you will see is a commitment to invest in films, all different types of commitments."
The festival opening, held in the newly opened Katara theater, included an indoor and outdoor screening of "Outside the Law" attended by more than 2,000 people.
Other films to be screened include John Curran's "Stone," Ahmed Ahmed's "Just Like Us," Abbas Kiarostami's "Certified Copy," Randall Wallace's "Secretariat" and Justin Chadwick's "The First Grader."
The festival runs through Oct. 30. For information: http://www.dohafilminstitute.com/filmfestival