CSN Bond Flop May Mean Higher Yields for Cosan: Brazil Credit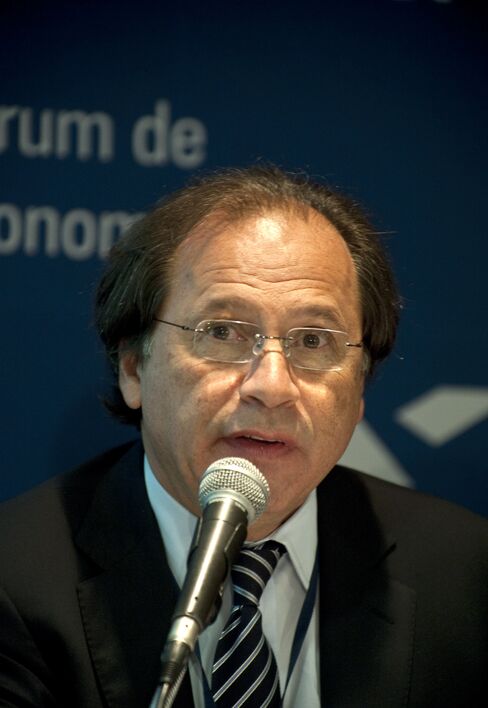 Perpetual bonds issued by Cia. Siderurgica Nacional SA, Brazil's third-largest steelmaker, are underperforming the country's debt market after the company sold the securities at a lower yield than some investors expected.
CSN's bonds returned 0.3 percent since their Sept. 16 issue, compared with a 2.4 percent rally in Brazilian corporate bonds, according to JPMorgan Chase & Co.'s CEMBI index. Bonds sold by similarly rated ArcelorMittal, the world's biggest steelmaker, returned 2 percent during the same period, according to data compiled by Bloomberg.
The debt is slumping after the Rio de Janeiro-based company boosted the size of the sale by 25 percent to $1 billion and paid a yield of 7 percent, or 75 basis points less than investors anticipated, according to Jefferies & Co. Cosan SA Industria & Comercio, the world's largest sugar-cane processor, and shopping mall operator General Shopping Brazil SA may be forced to pay higher yields on planned offerings of perpetuals, bonds that have no set maturity, because of the decline in CSN notes, RBS Securities Inc. said.
"It all depends on how they want to trade in the secondary market," said Bevan Rosenbloom, an analyst with RBS in Stamford, Connecticut. "If they care, they will have to offer more than CSN."
Brazilian companies sold $2.48 billion of perpetual bonds this year, an all-time high, as record-low interest rates in the U.S., Europe and Japan sparked demand for the securities, which offer a higher yield than fixed-maturity debt and allow companies to repay principal at their discretion, according to data compiled by Bloomberg. Emerging-market corporate borrowers sold $9.7 billion of the notes this year, more than double the $3.9 billion issued in 2009.
Asian companies are selling a record $6.6 billion of perpetual bonds. Commodity supplier Noble issued $350 million of the notes yesterday to yield 8.5 percent, after offering 4.875 percent five-year securities in August.
'Aggressive'
The yield on CSN's bonds rose 6 basis points, or 0.06 percentage point, since the company sold the notes, compared with a decline of 30 for Brazilian corporate debt tracked by JPMorgan's CEMBI index.
"The yield was aggressive and the size was aggressive," said Eric Ollom, chief emerging-markets strategist with Jefferies in New York. "There's no upside at 7 percent."
Flavia Ferreira, a spokeswoman for CSN, didn't return a call and an e-mail seeking a comment.
Luz Padilla, who manages the DoubleLine Emerging Markets Fixed Income Fund in Los Angeles and bought CSN's bonds last month, said there's speculation Cosan may pay a yield of 8 percent on its perpetual offering.
"That yield doesn't strike me as all that unattractive," Padilla said.
Cosan Offering
The yield on Cosan's existing 8.25 percent perpetual bond was 8.16 percent yesterday, according to data compiled by Bloomberg.
Cosan, which hired Credit Suisse Group Inc., JPMorgan Chase & Co. and Morgan Stanley to arrange the transaction, may sell $300 million of bonds as soon as this week, said a person familiar with offering who declined to be identified because terms aren't set.
A spokesman at an outside public relations firm representing Cosan didn't return a call and an e-mail from Bloomberg News seeking comment.
Cosan, which shares control of the world's largest sugar-cane processor with Royal Dutch Shell Plc., owns 23 sugar-cane mills, four sugar refineries, two sugar terminals and about 4,500 service stations in Brazil. The Barra Bonita-based company transferred $2.52 billion of liabilities to the venture with Shell, Chief Executive Officer Marcos Lutz said Aug. 25.
Yield Spread
The extra yield investors demand to own Brazilian government dollar bonds instead of U.S. Treasuries fell two basis points to 169 at 9:36 a.m. New York time, according to JPMorgan's EMBI+ index.
The yield on the overnight interest-rate futures contract due in January 2012 rose one basis point to 11.37 percent.
The real gained 0.5 percent to 1.7131 per dollar.
The cost of protecting Brazilian bonds against default for five years climbed two basis points to 100 yesterday, according to CMA DataVision. Credit-default swaps pay the buyer face value in exchange for the underlying securities or the cash equivalent should a government or company fail to adhere to its debt agreements.
General Shopping, based in Sao Paulo, is meeting with bond investors through Nov. 2 and plans to sell perpetual notes, said a person familiar with the transaction who declined to be identified because he's not authorized to speak publicly.
Postponed Sale
BR Properties, based in Sao Paulo, was the last Brazilian company to sell perpetual bonds, issuing $200 million of the securities to yield 9 percent on Sept. 30. The yield on the notes was 8.87 percent yesterday, according to data compiled by Bloomberg.
Votorantim Cimentos, South America's largest cement maker, postponed a planned sale of perpetual bonds last month, according to a banker involved in the transaction who declined to be identified because he's not authorized to speak publicly.
A Sao Paulo-based Votorantim Group official declined to comment.
Votorantim, rated one level higher than CSN at BBB, may have pulled its offering "because they were expecting to price even tighter," said Natalia Corfield, a corporate debt analyst with ING Groep NV in New York. "CSN might have made the life of Votorantim more difficult. CSN set a very tight benchmark."
Before it's here, it's on the Bloomberg Terminal.
LEARN MORE