Macquarie Urged to Reverse Staff Expansion in No-Show Recovery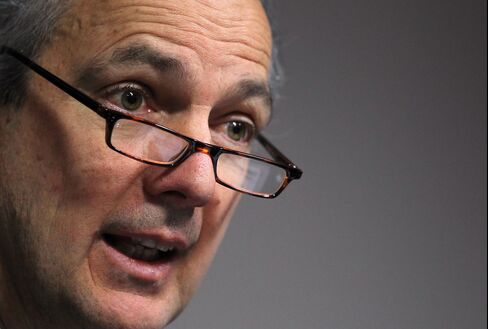 Macquarie Group Ltd., the Australian investment bank that increased staff by 46 percent since March 2007, faces calls to shrink its workforce as a slump in trading and fees from arranging mergers erodes profit.
Chief Executive Officer Nicholas Moore, 52, added employees even as banks worldwide slashed 330,000 jobs during the credit crisis as he bought European and U.S. assets to position for a recovery. Macquarie, Australia's largest investment bank, last month said markets are "weak" and predicted first-half profit would drop 25 percent.
"They went out and hired a lot of people in preparation for the recovery, and the recovery hasn't been what they thought," said Matthew Kidman, who oversees about $400 million at Wilson Asset Management in Sydney. "This year and next year are hard years for them."
Net income in the six months to Sept. 30 fell 24 percent to A$366 million ($364 million), according to the median estimate of six analysts surveyed by Bloomberg. That would be the smallest fiscal first-half profit since 2004. Sydney-based Macquarie will report earnings on Oct. 29.
Macquarie shares have tumbled 29 percent this year, the third-worst performance on the 38-member S&P/ASX 200 finance index. Zurich-based Credit Suisse Group AG has slipped 21 percent and Goldman Sachs Group Inc. has fallen 6.3 percent in New York.
Paula Hannaford, a Sydney-based spokeswoman for Macquarie, declined to comment on the bank's results or staffing. The Financial Times yesterday said Macquarie cut 60 jobs at its infrastructure investing unit.
Trading Slump
Goldman Sachs, Citigroup Inc. JPMorgan Chase & Co., Morgan Stanley and Bank of America Corp. posted an average 24 percent drop in third-quarter trading revenue, according to data compiled by Bloomberg.
Credit Suisse said Oct. 21 that third-quarter profit slumped 74 percent. UBS AG, Switzerland's biggest bank, this week reported a surprise loss at its investment bank as trading fell. CEO Oswald Gruebel in part blamed "very low levels of client activity" for the division's shortfall.
Macquarie expanded its workforce by 15 percent last fiscal year to 14,657 as of March 31 after it bought Philadelphia-based Delaware Investments from Lincoln Financial Group for $428 million and CI Financial Corp.'s Blackmont Capital unit, which included 13 offices and 450 employees. The firm cut almost 1,200 jobs between September 2008 and March 2009, company reports show.
Trailing Goldman
Wes Nason, an analyst at Citigroup in Melbourne, said in an interview last month that Macquarie should cut jobs to weather a slowdown in deals, declining to say how many workers ought to go. JPMorgan analysts Scott Manning and James Nicholias said in an Oct. 15 note that they'll be assessing staff costs in judging whether Macquarie can post a second-half earnings rebound.
Revenue per Macquarie employee has fallen for five straight six-month periods to A$351,027 in the half-year through March, from A$604,283 in the six months to September 2007, data compiled by Bloomberg show.
Macquarie workers bring in less than half the $1.15 million average annual revenue generated by staff at global rivals including Goldman Sachs, Credit Suisse and Deutsche Bank AG, UBS analyst Jonathan Mott estimated in a Sept. 6 report.
"Macquarie is behind most of the big guys," said Zia Rahman, who helps manage A$700 million including Macquarie shares at Equity Trustees in Melbourne. "They'll have to cut people."
Asia Rankings
In the latest fiscal year, Macquarie's fixed-income, currencies and commodities division, known as FICC, accounted for 79 percent of profit. The investment bank and the securities division were the second- and third-biggest earners. FICC workers generated three times more profit per person than investment-banking employees, data compiled by Bloomberg show.
Macquarie gets about half of operating income from Australia, where its ranking among takeover advisers is the lowest since 1999, according to data compiled by Bloomberg.
The firm is 15th among arrangers of takeovers in Australia this year, a list led by Goldman Sachs & Partners Australia Pty and Bank of America Corp., according to Bloomberg data. The bank -- which wasn't among advisers on this week's $8.3 billion offer by Singapore Exchange Ltd. to buy Australia's main stock exchange -- hasn't finished a year outside the top 10 since 1999.
Among equity underwriters in the Asia-Pacific region, Macquarie is 11th this year, down from 10th in 2009, Bloomberg data show. The bank is No. 2 in Australia. Stock underwriting fees in Asia-Pacific totaled about $3.9 billion in the first nine months of 2010, unchanged from the year-earlier period, according to Bloomberg data.
Last month, Macquarie said earnings for the 12 months through March 2011 will fall from the year-earlier period unless trading and deal-making return to "more normal levels" in the second half.
"Macquarie will find it hard to get definite revenue prospects out of their current business mix," said Peter Vann, who helps manage about A$800 million at Constellation Capital Management Ltd. in Sydney. "They've really got to work out their strategy and what their big picture is and make sure the market understands it."
Before it's here, it's on the Bloomberg Terminal.
LEARN MORE