Hong Kong's Luxury Home Prices Surpass 1997 Peak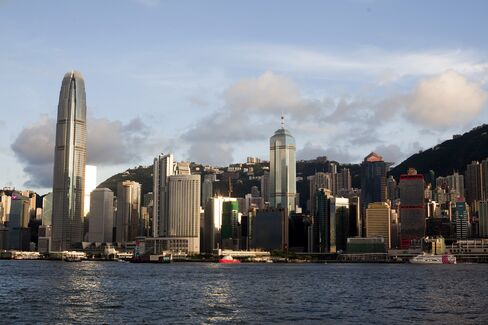 Hong Kong luxury home prices have exceeded the previous peak of 1997, fueling speculation the government may introduce further steps to prevent the housing bubble from bursting.
Prices of apartments with an area of at least 100 square meters (1,076 square feet) are 13.8 percent higher than in the third quarter of 1997, the Hong Kong Monetary Authority said in a slide presentation posted on its website yesterday.
Measures introduced by the government this year, including higher mortgage down payments and increased land supply, failed to stem an almost 50 percent surge in home prices since early 2009. The Hang Seng Property Index, which tracks the city's seven biggest developers, climbed 11 percent this year, outpacing a 6 percent gain in the benchmark Hang Seng Index.
"The government must do more" to curb home prices in the near term, said Nicole Wong, a Hong Kong-based analyst at CLSA Ltd. "Things like increasing land supply have very limited impact on current price levels. The focus should be more about curbing lending."
The HKMA on Aug. 13 raised down-payment ratios on investment properties and any homes with a value of HK$12 million or more in a bid to contain home values.
The property gauge fell 1 percent at the 4 p.m. close of trading in Hong Kong today.
Land Sales
The central bank should consider increasing down payments for properties with a value of as low as HK$8 million to curb speculation, Wong said. Homes with a value of HK$12 million account for less than 5 percent of the total market, she said.
The government, the main supplier of land for development in the city, partially resumed regular land auctions this year after they were halted in 2004 to support falling home prices. Since Aug. 13, the government has initiated two sites for auction, though was forced to withdraw one in the Chai Wan district after it failed to draw any bids from developers.
Hong Kong home prices more than doubled from a trough in 2003 on a recovering economy, low interest rates, and an influx of mainland Chinese buyers whose travel restrictions to the city have been gradually relaxed. Prior to 2003, home values went through a six-year slump that began shortly after the Asian financial crisis hit in 1997, the height of the previous bubble.
"This means the government measures haven't really hit the speculators where it hurts," said Francis Lun, general manager at Hong Kong-based Fulbright Securities Ltd. "To bring down home prices we need something radical, such as a more drastic increase in land supply."
Mainland Buyers
Mainland Chinese buyers accounted for a third of new luxury home purchases in Hong Kong in the first half, up from about 20 percent in the previous six months, according to Centaline Property Agency Ltd.
Sun Hung Kai Properties Ltd., Hong Kong's biggest developer and the world's largest by market capitalization, said Oct. 24 it sold about 300 houses in a luxury project in Sheung Shui since sales began early October. As many as 60 percent of the buyers were from the mainland or Hong Kong executives who base their businesses across the border, the company said.
The government will stop offering residency to foreigners who buy properties in the city and will begin a rent-to-buy program for first-time buyers, Chief Executive Donald Tsang said in his annual policy address Oct. 13.
Prices of mass residential units, defined as those with areas less than 100 square meters, are still 10 percent lower than the 1997 peak, the HKMA said.
Before it's here, it's on the Bloomberg Terminal.
LEARN MORE