Hermes Birkin Bags, IPhone Cases Spark LVMH's Stake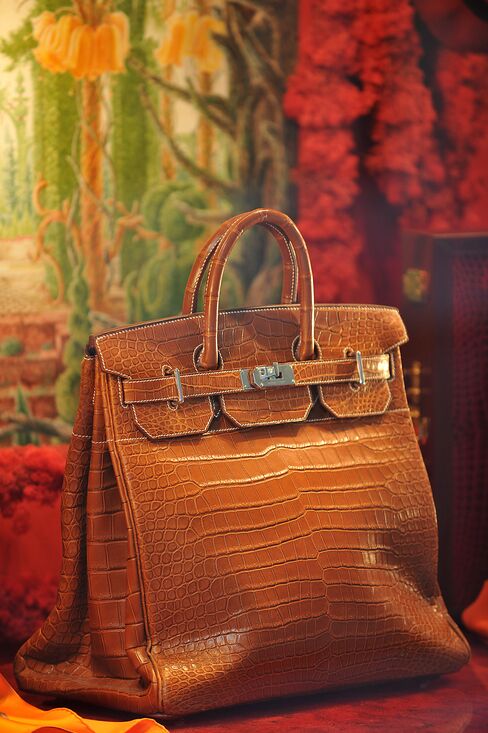 LVMH Moet Hennessy Louis Vuitton SA Chairman Bernard Arnault's investment in Hermes International SCA brings him closer to the luxury brand he has been trying to emulate for years.
LVMH said late yesterday it may buy more Hermes shares after announcing on the weekend it spent 1.45 billion euros ($2 billion) on 17.1 percent of its Paris-based rival. The investment comes as Louis Vuitton steps up efforts to become more like Hermes by increasing prices, investing in leather production and focusing a marketing campaign on craftsmanship.
"It looks like they've decided, 'if you can't be them, buy them,'" said Paola Brandi, visiting professor at Paris-based fashion university ESMOD, in a phone interview.
Mirroring the waiting lists to obtain a coveted Hermes Birkin bag, some Vuitton customers have had to sign up for its laminated canvas purses as demand outstrips supply, Arnault said in July. Since September, he's shuttered 13 of the company's 14 standalone stores in France an hour early each day, saying Vuitton, known for its LV monogram, needs to preserve stock for the holiday period. Vuitton has 458 stores worldwide.
Hermes shares, most of which are held by members of its founding family, have more than doubled over the past five years, valuing the company at 16.9 billion euros. They fell for a third day today, dropping 1.5 percent to 163.45 euros at 4:35 p.m. in Paris. LVMH's stock has increased 57 percent in the same period, giving it a market capitalization of 55 billion euros. LVMH shares advanced 0.4 percent to 112.35 euros in Paris trading today.
'Strategic' Stake
"LVMH's investment in Hermes International has a strategic and long-term character," LVMH said in a statement to France's stock market regulator late yesterday, using the word "strategic" for the first time. "LVMH supports Hermes International's strategic vision, its growth and positioning."
Hermes, which didn't know about LVMH's stake-building, said the family wants to maintain the company's independence.
Hermes's best-seller is the Kelly bag, named after Princess Grace, which retails from 7,000 euros in the euro-zone, according to Allegra Perry, an analyst at Nomura International Plc in London. Vuitton's is the 500-euro Neverfull. Vuitton makes an iPhone 3G case for $250 in monogrammed canvas. Hermes sells a $315 calfskin case for the Apple Inc. device.
"Relative to Louis Vuitton, Hermes has a tighter range with a higher average price point," Perry said in an Oct. 25 report.
$540 Tea Cups
Sales at LVMH's fashion and leather goods division grew 15 percent in the third quarter, excluding currency moves, the company said Oct. 14. Sales at Vuitton rose by a double-digit percentage on the same basis. Hermes posted a 20 percent gain in the first half, excluding currency moves, and forecast in August growth of 12 percent this year.
Buying Hermes would reduce LVMH's dependence on Vuitton, which, according to Deutsche Bank estimates, accounts for about 55 percent of the company's profits. LVMH's other leather-goods brands, including Fendi, Loewe and Celine, have lagged Vuitton for many years, according to Luca Solca, an analyst at Sanford C. Bernstein in London.
Hermes was founded as a harness-maker in Paris in 1837, expanding into saddles in 1880 when it moved to 24 Rue du Faubourg Saint-Honore, then a busy intersection. It now sells products ranging from a set of tea cups for $540 to $8,100 Jypsiere shoulder bags.
All Hermes's leather products are hand-crafted in France by artisans, whom the company only considers accomplished at the full range after 15 years at their station. Each bag is made by a single craftsman, who signs their work to prove it.
Investing in Leather
Until LVMH can control the business, which it said yesterday it doesn't "foresee," it's investing in its own leather production. Vuitton, founded in 1854, has hired more leather workers and is building a new leather-goods factory in Marsaz, France, to meet demand, Yves Carcelle, the head of LVMH's fashion and leather goods division, said in July. Vuitton also started using a new tannery, LVMH said at the time.
The Marsaz "atelier" will be Vuitton's 12th in France and will boost production by about 10 percent, LVMH Finance Director Jean-Jacques Guiony said this month. Vuitton also plans to introduce a new supple leather line in the fourth quarter.
The investment comes as consumers demand more transparency from brands and seek products that will last longer, researcher Mintel International said yesterday in a report on 2011 trends.
A Birkin, which has graced the arms of celebrities from singer Lady Gaga to Martha Stewart, takes an average of 15 hours to make.
Marketing Edge
"Because its products are genuinely crafted by hand, it's able to charge prices that, while high, are justifiable for the wealthy consumer," said Brandi, who also runs her own communications company called INKParis. "It's more difficult for others to do that."
While Vuitton also makes pricey purses, such as the $4,370 Intrigue calfskin doctor's bag, the bulk of its sales come from the monogrammed canvas range, such as the $1,030 Alma top handle. Vuitton's craftsmen use sewing machines to make some of the products, an LVMH official said.
Vuitton's strength lies in its marketing, Nomura's Perry said. Its high-visibility stores in prime locations, glossy advertising campaigns and avant-garde runway shows "all greatly enhance and constantly refresh the brand's image," she said.
Image also grants Vuitton a 40 percent operating margin, compared to Hermes's 24 percent, Perry estimates. Overall, Hermes is more profitable than LVMH, which also sells liquor.
'Crown Jewel'
Hermes's Birkin was created after a chance meeting between former CEO Jean-Louis Dumas and the actress Jane Birkin, who told him what she wanted in a bag. Today, certain customers can tweak designs at no extra cost and make custom orders, which can cost tens of thousands of dollars and take years to deliver, depending on the animal skin. Vuitton, which also offers made-to-order, started a personalization service last year.
The perceived timelessness of an Hermes item and its tightly controlled distribution allow the company to command exclusive status and charge $315 for an iPhone case. That's $116 more than the entry-level fourth-generation version of the phone with a two-year service contract on Cupertino, California-based Apple's U.S. website.
That's why Hermes is "the crown jewel of the luxury industry," according to Rogerio Fujimori, an analyst at Credit Suisse in London.