Electrolux Stock Falls as Supply Costs Cut Third-Quarter Profit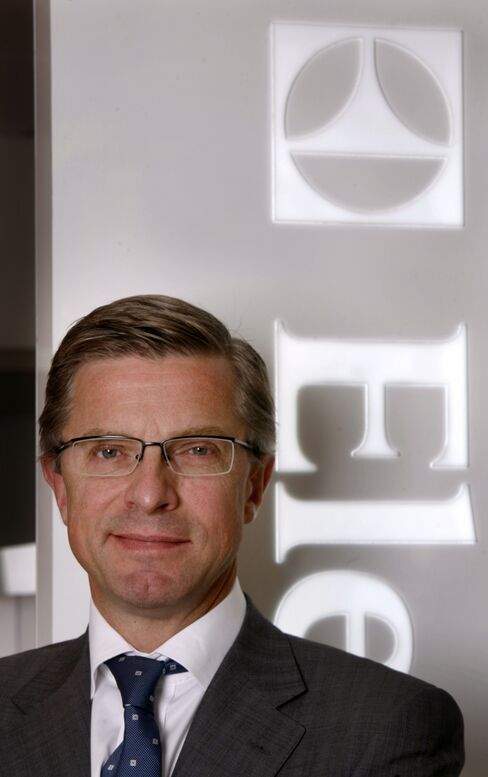 Oct. 27 (Bloomberg) -- Electrolux AB, the world's second-biggest appliance maker, fell the most in more than three months in Stockholm trading after the company said third-quarter profit declined because of increased raw-material and marketing costs.
Net income dropped 15 percent to 1.38 billion kronor ($204 million) from 1.63 billion kronor a year earlier, the Stockholm-based company said today in a statement. The average estimate in a Bloomberg survey of 15 analysts was for profit of 1.11 billion kronor. Sales fell 5 percent to 26.3 billion kronor.
Spending on materials such as steel and plastics increased by almost 500 million kronor from the year-earlier quarter, Electrolux said. Prices are rising again, which will increase costs next year by 1 billion kronor to 1.5 billion kronor, based on current market prices, Straaberg said on a conference call.
"Earnings topped consensus, but there is always a lot of focus on margins and the impact of raw-materials charges and their effect on profitability," said Bjoern Enarson, an analyst at Oehman Fondkommission. "It spooked investors when Electrolux said it expects a headwind next year, though it can cope with that, given its lower cost base and richer product mix."
Electrolux fell as much as 10 kronor, or 5.9 percent, to 159.8 kronor, the biggest intraday drop since July 19, and was down 4.1 percent as of 5:23 p.m.
Replacement Purchases
Chief Executive Officer Hans Straaberg predicted demand in North America will rise 3 percent to 5 percent next year as customers replace aging refrigerators, ovens and dishwashers, marking a turnaround from a contraction in the third quarter. Europe will show "some growth" next year, he said.
"There were more products sold each year from 1998 up until 2006, so more products will break, say 12-year-old products, so there is underlying growth, but it won't be strong growth, not at all," Straaberg said in a telephone interview.
While North American demand declined 2 percent in the quarter, Electrolux's other main markets continued to show signs of recovery, the company said. Straaberg, who will be succeeded by Keith McLoughlin as CEO on Jan. 1, attributed the lower earnings in the quarter to a "substantial increase in raw-material costs and increased investments in marketing."
Electrolux stock has declined 2.9 percent this year, in contrast to a 16 percent gain in the OMX Stockholm 30 Index. The world's largest appliance maker, Whirlpool Corp., has declined 0.2 percent.
Operating profit in the quarter was 1.98 billion kronor, for a margin of 7.5 percent of sales, compared with income of 2.29 billion kronor a year earlier with a margin of 8.3 percent. For the first nine months of the year, the margin was 6 percent.
'Within Reach'
"This result strengthens my conviction that our goal of a 6 percent operating margin for the full-year 2010 is within reach," Straaberg said in the statement.
Straaberg, who said last month that he'll leave at the end of the year, initiated a reorganization in 2004 that the Swedish company aims to complete next year, resulting in annual cost savings of 3 billion kronor. Once the program ends, about 60 percent of the company's products will be made in lower-cost countries such as Poland, Hungary, Mexico, China and Thailand.
Sales of Electrolux's consumer-durable goods in North America fell 6 percent in the quarter to 8.35 billion kronor, while operating profit slipped 38 percent to 439 million kronor, "primarily as a result of considerably higher costs for raw materials, lower volumes and increased price promotion," the company said.
Consumer-durables sales rose 7 percent in Latin America and 11 percent in the Asia-Pacific region. The division's European sales fell 10 percent to 10.21 billion kronor.
'Volatile' Consumer Market
"The market continues to be volatile, and different types of stimulus measures make the forecasting of developments difficult, not least in North America," Straaberg said.
The maker of Frigidaire dishwashers and refrigerators agreed on Oct. 11 to buy a 52 percent stake in Egyptian household appliance maker Olympic Group Financial Investments to tap demand in the fast-growing appliance markets in the Middle East and North Africa.
To contact the reporter on this story: Kim McLaughlin in Stockholm at Kmclaughlin6@bloomberg.net
To contact the editor responsible for this story: Benedikt Kammel at bkammel@bloomberg.net.