Democrats Say Jon Stewart Rally Will Spur Enthusiasm to Vote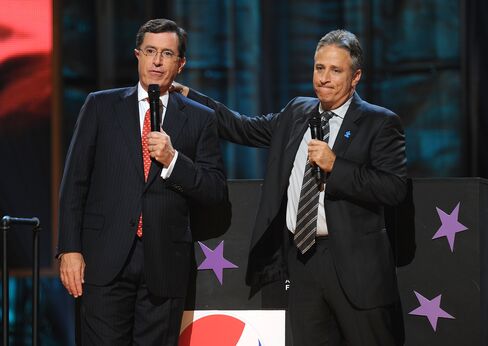 Democrats are looking to a pair of comedians to do what President Barack Obama, former President Bill Clinton and dozens of other leaders haven't done yet this election season: Get party members excited about voting.
Comedy Central television hosts Jon Stewart and Stephen Colbert expect tens of thousands of fans to join them at the "Rally to Restore Sanity" in Washington Oct. 30, three days before congressional elections across the U.S. The president will appear on "The Daily Show" tonight in his first visit to Stewart's program since he was elected.
"It will be a great chance to rally the base, especially among young people," said Curtis Gans, director of the Center for the Study of the American Electorate at American University in Washington. "For Stewart, sanity is a code word for Democratic."
White House spokesman Robert Gibbs said yesterday Obama is going on Stewart's show because it "reaches an audience that isn't watching cable television every day, or the nightly newscasts, but they're probably going to participate in this election."
Stewart is promoting the rally as a "million moderate march" to counter what he calls extreme rhetoric dominating the national political discussion.
Glenn Beck Rally
The event mimics the "Restoring Honor" rally held Aug. 28 in Washington by Glenn Beck, a Fox News commentator popular with Tea Party and other conservative activists. Like Beck, Stewart says his rally isn't a political event. Rather, he says, it's an alternative format for the "fake news" humor he and Colbert do on their television shows. "The Colbert Report" follows "The Daily Show" each night from Monday through Thursday.
"It is in fact not a political rally in any way, shape or form," Stewart said on CNN's "Larry King Live" on Oct. 20.
The event's organizers said in a permit application filed with the National Park Service that they expect about 60,000 to attend, said Comedy Central senior vice president Steve Albani. Guest stars for the event haven't been announced.
According to a Facebook web page created for the rally, more than 310,000 people have said they plan to be there, and hundreds of satellite events are planned in sites as far away as Tel Aviv and the Mt. Everest base camp.
Media experts say that just as fans rely on Stewart's and Colbert's "fake news" shows for real information, they view the rally as an actual political event.
'Alternative Form'
"It's an alternative form of activism," said Danna Young, an assistant professor of communication at the University of Delaware. "The goal is to have a real rally for moderates."
When the Pew Research Center for the People and the Press in Washington asked Americans to rank their favorite journalists in March 2007, Stewart tied for fourth place with anchormen Brian Williams, Tom Brokaw, Dan Rather and cable host Anderson Cooper.
Stewart's show has become an important media stop for presidential candidates. Former North Carolina Senator John Edwards announced his presidential campaign on the show. Obama sat for an interview a few days before the 2008 election and his Republican opponent, Arizona Senator John McCain, has been a frequent guest.
Obama said during a Sept. 29 appearance in Richmond, Virginia, that he was "amused" by plans for the rally and that most voters are looking for "common sense" and "courtesy."
Struggling to Motivate
Democrats have struggled to motivate the young voters who helped the party win the White House in 2008. This year, 45 percent of voters under age 30 say they will definitely cast ballots Nov. 2, compared with 76 percent of those 30 and older, according to a Pew study conducted in September.
Voting rates for people under 30 were at least 20 percentage points lower than for older people in every midterm congressional election since 1972 and six of 10 presidential elections, according to a chart by Circle, a youth-voting research group at Tufts University in Medford, Massachusetts.
The only years in which the national under-30 voting rate topped 50 percent were in 1972, the first time 18-to-20-year-olds had the vote, in 1992 when Clinton was elected, and in 2008 when Obama won, according to the Circle chart.
Stewart is more popular among Democrats and independents than Republicans, according to a Oct. 7-10 Bloomberg National Poll. The survey by Des Moines, Iowa-based Selzer & Co. found that 43 percent of Democrats and independents had a favorable view of Stewart, compared with 20 percent of Republicans.
Younger Audience
His audience is also younger than for other cable programs. Almost 8 in 10 viewers who say they regularly watch "The Daily Show" and "The Colbert Report" are younger than 50, according to a March report by the Pew Research Center's Project for Excellence in Journalism. More than 60 percent who regularly watch Fox News Channel shows hosted by Bill O'Reilly or Sean Hannity are 50 or older, the report said.
On the same day as the rally, Democratic groups will be focusing on traditional get-out-the-vote efforts. The Democratic Senatorial Campaign Committee's website said it is coordinating buses to take volunteers to Pennsylvania, West Virginia and Kentucky.
"The vast majority of hard-core volunteers and hard-core Democrats are not picking up and paying money to go to a rally in D.C. the weekend before the election," said Laurie Moskowitz, founder of FieldWorks, a grassroots organizing firm. "It's a critical weekend."
Rock the Vote, a nonpartisan group that seeks to involve young people in civic life, plans to host events at satellite rallies held across the U.S.
"It feels like the country's largest public service announcement just a few days prior to the midterm elections," said Heather Smith, president of Rock the Vote.
Before it's here, it's on the Bloomberg Terminal.
LEARN MORE