ANZ Bank Posts Record Profit on Lower Bad Debts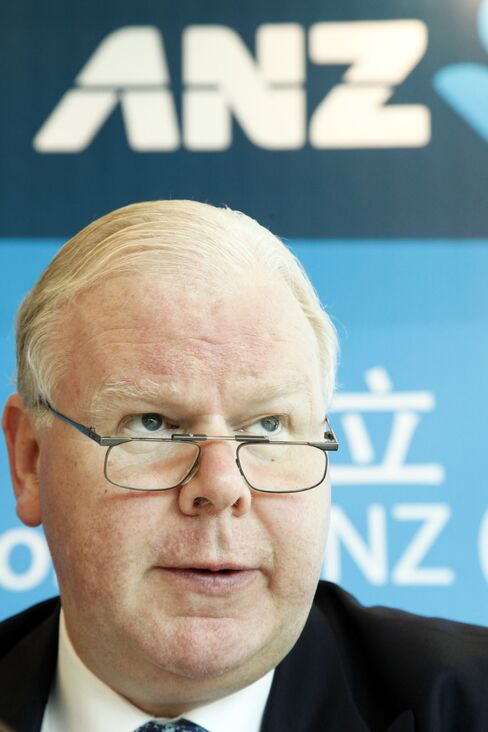 Oct. 28 (Bloomberg) -- Australia & New Zealand Banking Group Ltd., the best-performing bank in Sydney trading this year, said second-half profit jumped 69 percent to a record as bad debts declined and lending to home buyers increased.
Net income in the six months ended Sept. 30 rose to A$2.58 billion ($2.5 billion) from A$1.53 billion a year ago, the Melbourne-based bank said in a statement. The shares advanced the most since July after the result beat the A$2.53 billion median estimate of seven analysts surveyed by Bloomberg News.
Chief Executive Officer Michael Smith, 54, is expanding in Asia to tap faster growing markets at the same time the bank's Australian mortgage business outpaces rivals. ANZ Bank is studying the books of Korea Exchange Bank for a purchase that Citigroup Inc. estimates may cost as much as A$6.5 billion.
"On all counts it can best be described as a cracker," said Paul Xiradis, who manages about $12 billion including ANZ Bank shares as chief executive officer of Ausbil Dexia Ltd. in Sydney. "Their Asian strategy is proving to be a major point of difference compared to other Australian banks."
The bank's shares gained 2.9 percent to A$24.73 in Sydney today, extending this year's gain to 8.1 percent. ANZ Bank is the best performer on the six-member S&P/ASX 200 bank index, which has slumped 6.1 percent.
KEB Stake
ANZ Bank, which CEO Smith says is alone in reviewing the finances of KEB, is at "the back end of that process," he said today. "The due diligence goes on. It's not an easy process in somewhere like Korea. It's just progressing," he told reporters in Melbourne.
KEB said in March that Dallas-based Lone Star Funds planned to sell its controlling stake in the South Korean Lender. When asked if an announcement will come in next few weeks, Smith said today "I think it's going to be a bit longer than that."
On price, he said estimates are "very speculative."
Australian lenders are confronting a slide in demand for lending after central bank Governor Glenn Stevens led Group of 20 policy makers by boosting borrowing costs in six quarter percentage-point steps between October 2009 and May to 4.5 percent. Policy makers said last week their decision to keep the rate unchanged this month had been "finely balanced."
Mortgage lending across the country rose 8.1 percent in August from a year earlier, the weakest growth in 10 months, the Reserve Bank of Australia said last month. Business lending slumped 4 percent from a year earlier.
Lending at ANZ Bank's Australian businesses rose 12 percent in the full year, driven primarily by mortgages which grew 1.4 times the overall market, the bank said today.
'Good Start'
ANZ Bank's second-half net interest income, or revenue from borrowers after deducting interest paid to depositors, climbed 8 percent from the first half to A$5.63 billion. Provisions for credit impairments in the second half shrank 35 percent from six months earlier to A$705 million, the bank said.
"We continued to see momentum in our underlying business in the second half of the year which positions us well for a good start to 2011," said Smith in today's statement. "The backdrop however is continuing uncertainty in the global environment, particularly in the U.S. and European economies."
Full-year net income rose 53 percent to A$4.5 billion, which matched the median of seven analysts surveyed by Bloomberg News.
Second-half underlying profit, which excludes some acquisition costs and tax charges, climbed 19 percent from the first half to A$2.73 billion. The bank will pay a second half dividend of 74 cents, taking the full-year payout to A$1.26 a share.
Asian Expansion
Smith plans to boost earnings from the Asia-Pacific region to about 20 percent by 2012. The lender got approval last month from the banking regulator in China, where it aims to increase its outlets to 20 from 7, to become locally incorporated. Smith agreed last year to pay Royal Bank of Scotland Plc $550 million for units in six Asian countries.
"They're getting into some higher growth markets which will fare them well for the diversification benefit," Peter Vann, who helps manage about A$800 million at Constellation Capital Management Ltd. in Sydney, said ahead of today's results. "Their domestic business only has so much to offer."
Profit from businesses in Asia, Europe and America rose 18 percent in the second half to A$275 million from the previous six months, and 25 percent in New Zealand to A$382 million. The Australian business generated a 39 percent gain in profit to A$1.92 billion.
Funding Needs
ANZ Bank's Tier-1 capital ratio, a measure of its ability to weather losses, was 10.1 percent on Sept. 30, down from 10.6 percent a year earlier.
Australia's largest banks lend more each year than they accept in deposit accounts at home. That forces them to turn to offshore markets for about 30 percent of their wholesale funding. Smith, along with chief executives at Westpac Banking Corp. and Commonwealth Bank of Australia said this month that mortgage rates will need to rise to cover the increased cost of raising capital to fund loans.
According to Moody's Investors Service, ANZ Bank and National Australia Bank Ltd. need to raise as much as A$25 billion each year selling long-term bonds to help fund lending.
"Higher funding costs are here to stay and there are regulatory uncertainties associated with new capital and liquidity requirements," Smith said in the statement today.
National Australia Bank, the nation's biggest business lender, yesterday said second-half cash profit rose 32 percent as it expanded its share of the business loan market by targeting smaller borrowers. Chief Executive Cameron Clyne predicted a stronger economy will drive demand for corporate loans in 2011.
Westpac's fiscal second-half cash earnings probably gained 24 percent to A$2.9 billion, according to the median forecast of seven analysts surveyed ahead of the bank's Nov. 3 results. Commonwealth Bank, the country's largest, will publish September quarter figures on Nov. 15.
To contact the reporter for this story: Jacob Greber in Sydney at jgreber@bloomberg.net
To contact the editor responsible for this story: Philip Lagerkranser at lagerkranser@bloomberg.net