UBS Set Aside More in Investment Banker Pay Than Credit Suisse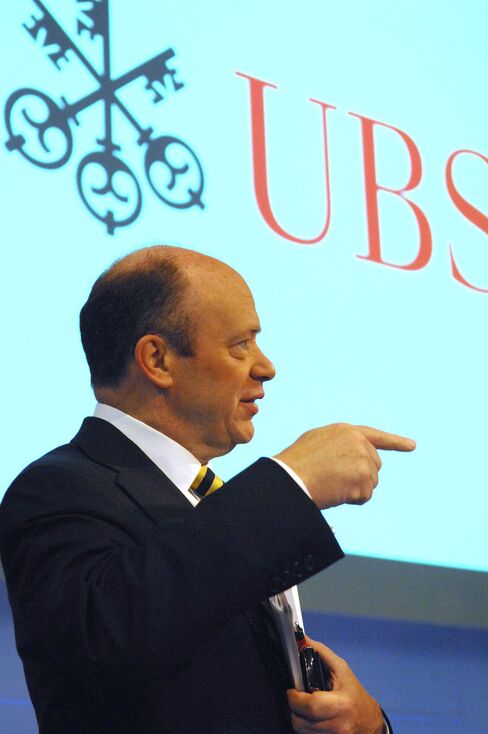 Oct. 26 (Bloomberg) -- UBS AG, the Swiss bank that added more than 1,300 people to its securities unit this year, is setting aside 10 percent more in compensation for each employee of the division than Credit Suisse Group AG.
UBS set aside enough to pay the 17,006 employees 322,592 Swiss francs ($330,321) each in the first nine months of the year, company data show. Personnel costs per employee at Credit Suisse's investment bank were 292,925 francs in the same period.
"We will obviously try to be in line with the market" on compensation, Chief Financial Officer John Cryan said in a Bloomberg TV interview in Zurich today. "But it's difficult to gauge at the moment where that market will be."
UBS has been rebuilding the investment bank this year after the unit accumulated more than 57 billion francs in pretax losses in three years through 2009. The division reported a surprise loss for the third quarter today on a slump in trading revenue and a charge on its own debt.
"They're not generating enough trading income to sustain that staff base," said Simon Maughan, an analyst at MF Global in London. The loss at the investment bank was "the most pressing and negative thing from the results," he said.
UBS fell as much as 6 percent in Swiss trading, the biggest decline in 17 months, after the 406 million-franc pretax loss at the securities unit. Net income was 1.66 billion francs in the quarter, boosted by an 825 million-franc tax gain. That compares with a loss of 564 million francs a year earlier.
'Aggressive' Hiring
Though the bank hired "fairly aggressively," this year, it wasn't too much, Cryan said. "We believe that the business is scaled to make money in a relatively normalized level of client activity. So we're relatively confident that it will make money over longer periods in the future."
UBS said the drop in trading revenue was the result of "very low levels of client activity" in the quarter, though that has improved somewhat in October. The bank cut personnel expenses at the investment bank 25 percent from the second quarter to 1.49 billion francs.
"We essentially have a relatively large cost base in the investment bank, and we saw revenues being very, very slow, especially in the summer months," said Cryan, 49. "The client-flow-based model relies on clients being around and trading with us. When client volumes are volatile, unfortunately it means the results of the division will be volatile."
To contact the reporter on this story: Elena Logutenkova in Zurich at elogutenkova@bloomberg.net
To contact the editors responsible for this story: Frank Connelly at fconnelly@bloomberg.net