SocGen's 'Double Liquidity' Customers Drink Their Investments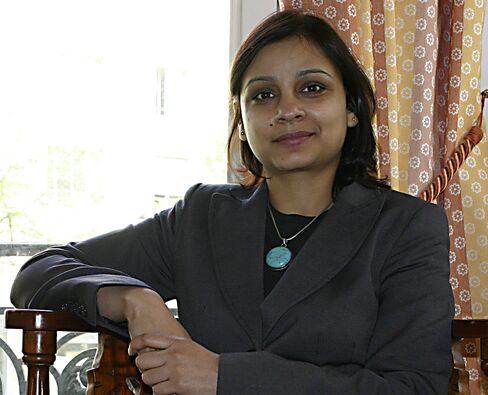 Oct. 27 (Bloomberg) -- Indian wine-investment guru Meenu Kohli's mantra is don't get high on your own supply.
"Wine is an asset class," says Kohli, director of Winetage Investments Ltd. in Paris. "My clients would never dream of asking for a taste, which is somewhat regrettable," the Bordeaux analyst from Mumbai adds, tempted to break her fiduciary responsibilities with an investment-grade 2003 Les Forts de Latour Pauillac.
"Why take the risk?" Kohli reckons, sipping reluctantly. "Wow," says the former Essar Oil Ltd. executive, who in 2008 left petroleum for Petrus. "This is a terrific wine."
To glug or not to glug, that's the question that niggles investors, who this year poured between $300 million and $500 million into some seven global wine funds that boast a turnover of about $3 billion, according to Jack Hibberd, 31-year-old research manager at Liv-ex The Fine Wine Exchange in London.
"Eventually, you know, someone must drink it," Hibberd says.
So who's doing the sipping?
"Millionaires and billionaires are the ones who can afford to enjoy the end product," Kohli says over a vegetarian lunch of lentils. "But you only need an annual income of 80,000 euros ($112,168) to 100,000 euros to become an investor -- so long as you understand that the value of any wine is no indication of its quality, that French Bordeaux is the only wine worthy of investment and that the exit from the investment must be quick and easy."
'Double Liquidity'
"We do have the odd few investors who we send bottles to for drinking," says Steven Lim, chief executive officer of SG Trust (Asia) Ltd., the Societe Generale SA unit that handles SG Private Banking's $100 million Ultimate Wine Fund portfolio in Singapore. "Double liquidity" is how the 54-year-old wine investor describes his clients who like to taste their transactions. "The minimum investment is $300,000."
Back in Paris, amid the 35,000 bottles of wine in the cave at Le Royal Monceau Raffles hotel, sommelier-in-chief Manuel Peyrondet wags a corkscrew at those involved in lay-away wine funds. "They cause great sadness," the 31-year-old Peyrondet says. "Soon nobody will remember what a great Bordeaux tastes like. No restaurant can afford the millions required to buy and then store a Bordeaux for the required 10 years."
Kohli's Winetage is in the business of seeking folks willing to invest at least 5,100 pounds ($8,076) in the wine fund. The company's closely held eight private clients, who include corporate executives, private-equity managers and bankers, never set eyes on their vintage investments.
Secret Storage
"The wine sits in a guarded warehouse, like gold bullion or copper ingots," Kohli says, pointing out that investment wine pays no tax duty. "Don't even think about opening the original wood case, otherwise the price drops dramatically."
As for deals, Kohli says the best "short-term returners" over the past few years have included 2003 Margaux picked up for around 700 euros a bottle and 2000 and 2008 Chateau Petrus at about the same price and now worth 1,000 euros to 1,500 euros. The luncheon Pauillac second-pressing 2003 Les Forts de Latour, which in Paris retails for 157 euros a bottle, could have been scooped up by investors 5 years ago for 40 euros a bottle.
"Bordeaux is the benchmark and the best thing about them is they're as volatile as gold and fixed deposits," says Kohli, whose company shuns management fees in favor of taking 20 percent of the net profit on all sales.
Investing in Lafite
Kohli's research shows that the financial crisis caused high-net-worth individuals to lose a quarter of their wealth and become disillusioned with traditional investment vehicles. Instead of continuing to borrow money against the security of their remaining assets, many have put their money in Bordeaux.
"A top Bordeaux has a 50-year life span," Hibberd adds. "We've seen a massive global demand for investing in Bordeaux brands produced in limited quantities."
Hibberd says the mother of all liquid-investment benchmarks is Chateau Lafite Rothschild. "Only 20,000 cases are released annually, 250,000 bottles," Hibberd explains of the Pauillac uncorked for anywhere between 550 euros and 3,900 euros a bottle for any vintage after 1982. "The rate at which Lafite is now being poured is diminishing."
Over at Winetage, Kohli designs portfolios that include 85 percent of the top Bordeaux vintages. "The rest are my dark horses," Kohli says with a convincing smile.
Chateau Advisers
Kohli should be confident. Her investment advisory board includes Lilian Barton-Sartorius, owner of Chateau Leoville-Barton; Charles Sichel, negociant at Maison Sichel and Chateau Palmer; and Jean-Luc Thunevin, proprietor of Chateau Valandraud.
Investments in 2010 are up 31.7 percent since June and the company expects to increase total client investments to 1.5 million euros by the end of 2011 from 250,000 euros this year, according to Winetage's October report.
"The key to a successful wine portfolio is getting beyond the usual Bordeaux propaganda issued by the chateaux," says Kohli, who got hooked on the market while scouring wine lists to find the perfect German Riesling to drink with spicy Indian food. "I go to all the auctions, visit the vineyards and listen."
Kohli's private cave contains 600 bottles. "They're mostly Bordeaux, financial instruments," she says. "Burgundies are not well developed as an asset class and I don't want to play with them on my investors' money because I can't chart the same viable risk-reward ratio that I can using Bordeaux classifications that go back to 1855."
Targeting India
At the same time, Kohli says she suspects her industry's future in large part rests with the rarity value of the pinot noir grapes of Burgundy. "India is the next big market for investment wines and part of my master plan," Kohli says. "A lot of our prospective Indian clients insist they want to taste what they're investing in and Burgundies are of great interest to them. In India, you drink whisky and vodka, but you drink."
Kohli stares at what's left of the investment-grade Pauillac on the table and takes a final sip. "You can't drink share paper," she sighs.
(A. Craig Copetas writes for Muse, the arts and leisure section of leisure section of Bloomberg News. The opinions expressed are his own.)
For more on wine investments:
Winetage (http://www.winetageinvestments.com)
Vintage Wine Fund (http://www.vintagewinefund.com)
Fine Wine Geared Growth (http://www.strattonstreet.com)
Fine Wine Fund (http://www.wamllp.com)
Nobles Crus (http://www.eliteadvisers.com)
Wine Investment Fund (http://www.wineinvestmentfund.com)
Lunzer Wine (http://www.lunzerwineinvestments.com)
Liv-ex (http://www.liv-ex.com)
To contact the writer on the story: A. Craig Copetas in Paris at ccopetas@bloomberg.net.
To contact the editor responsible for this story: Mark Beech at mbeech@bloomberg.net.