Home Prices Probably Receded as U.S. Sales Slumped After Credit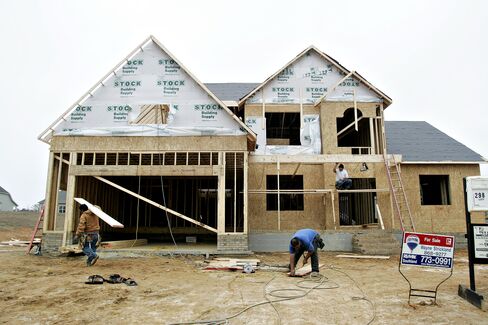 Home prices in 20 U.S. cities probably rose at a slower pace in August as sales plunged after a tax break expired, economists forecast before a report today.
The S&P/Case-Shiller index increased 2.1 percent from August 2009, the smallest year-over-year gain since February, according to the median forecast of 27 economists surveyed by Bloomberg News. Other data may show consumer confidence climbed in October from a seven-month low.
The end of a government credit worth as much as $8,000 precipitated a decrease in purchases that has yet to be reversed, keeping pressure on prices in coming months. At the same time, record foreclosures will dump more properties on the market and unemployment will restrain sales, indicating housing's role in the economic recovery will be limited.
"It's a fundamental imbalance between very, very weak demand and very, very high supply," said Paul Dales, a U.S. economist at Capital Economics Ltd. in Toronto. "Prices need to change and that points to downward movement."
S&P/Case-Shiller's figures are scheduled to be released at 9 a.m. Washington time. Estimates ranged from a drop of 0.6 percent to an increase of 3.5 percent.
The Conference Board will issue its consumer confidence data at 10 a.m. The New York-based research group's index rose to 49.9 from 48.5, according to the survey median. Economists forecast ranged from 45 to 53.
August Decline
Home prices fell 0.2 percent in August from the prior month, according to the Bloomberg survey, after decreasing 0.13 percent the prior month.
The year-over-year gauge provides better indications of trends in prices, according to the group. Economists Karl Case and Robert Shiller founded the index.
The government incentive gave housing a temporary lift in late 2009 and early this year, helping to stem a slide in prices. The initial tax break required contracts be signed by the end of November, pushing sales of existing homes to an almost three-year high 6.49 million annual pace that month, according to figures from the National Association of Realtors.
Demand dropped for the next three months, only to be revived by the extension of the deadline to the end of April, which caused purchases to peak at a 5.79 million pace that month. After tumbling to a 3.84 million pace in July, the lowest since comparable records began in 1999, sales have climbed for the past two months, reaching a 4.53 million pace in September.
Builder Shares
The industry's struggles help explain why builder shares are depressed. The Standard & Poor's Supercomposite Homebuilding Index has declined 7.3 percent so far this year, compared with a 6.3 percent gain in the broader S&P 500.
Foreclosure moratoria at JPMorgan Chase & Co. and other banks, along with government investigations into faulty paperwork, threaten to further delay a recovery as houses slated for repossession take longer to come to market.
The U.S. central bank and other regulators are "intensively" examining financial firms' home-foreclosure practices and expect preliminary findings next month, Federal Reserve Chairman Ben S. Bernanke said yesterday at a housing conference in Arlington, Virginia.
He said more than 20 percent of borrowers owed more than their home was worth. "With housing markets still weak, high levels of mortgage distress may well persist for some time to come," he said.
Fed officials have signaled they may start another round of unconventional monetary easing at their next meeting Nov. 2-3 to try to spur the economic recovery.
Fed's View
Housing markets were "weak," with "sluggish or declining" sales in many regions, the Fed said last week in its survey of regional districts for September and early October. "Respondents' outlooks suggested sales and construction would remain subdued through year-end," the Fed said.
Housing starts in September were 73 percent lower than the three-decade peak of 2.27 million reached in January 2006.
"We don't think home prices are going to get much lower than what they are today," Larry Sorsby, chief financial officer at Hovnanian Enterprises Inc., the largest homebuilder in New Jersey, said during an Oct. 7 conference call. "Unfortunately, fear is outweighing affordability today."
                   Bloomberg Survey

=====================================================
                         Case Shil  Case Shil Consumer
                           Monthly  Monthly     Conf
                              MOM%     YOY%    Index
=====================================================

Date of Release              10/26    10/26    10/26
Observation Period            Aug.     Aug.     Oct.
-----------------------------------------------------
Median                       -0.2%     2.1%     49.9
Average                      -0.3%     2.1%     49.6
High Forecast                 0.0%     3.5%     53.0
Low Forecast                 -1.1%    -0.6%     45.0
Number of Participants          15       27       75
Previous                     -0.1%     3.2%     48.5
-----------------------------------------------------
4CAST Ltd.                    ---      2.2%     51.0
ABN Amro Inc.                -0.1%     ---      49.0
Action Economics              ---      ---      50.0
Aletti Gestielle SGR          ---      ---      49.0
Ameriprise Financial Inc      ---      ---      50.0
Banesto                       ---      2.9%     49.4
Bank of Tokyo- Mitsubishi     ---      ---      51.8
Bantleon Bank AG              ---      ---      52.0
Barclays Capital             -0.1%     1.8%     50.0
Bayerische Landesbank         ---      ---      49.9
BBVA                         -0.2%     2.3%     49.0
BMO Capital Markets           ---      2.1%     48.0
BNP Paribas                   ---      ---      51.0
BofA Merrill Lynch Research   ---      1.7%     50.2
Briefing.com                  ---      2.0%     48.0
Capital Economics            -0.5%     1.6%     51.0
Citi                          ---      ---      48.0
ClearView Economics           ---      3.5%     49.0
Commerzbank AG                ---      1.7%     49.0
Credit Agricole CIB           ---      ---      50.0
Credit Suisse                 ---      ---      47.5
Daiwa Securities America      ---      ---      48.0
Danske Bank                   ---      ---      49.6
DekaBank                      ---      ---      52.0
Desjardins Group              ---      1.8%     47.0
Deutsche Bank Securities      ---      ---      50.0
Deutsche Postbank AG          ---      ---      48.0
First Trust Advisors          ---      ---      51.8
FTN Financial                 ---      ---      47.5
Goldman, Sachs & Co.          ---      ---      50.0
Helaba                        ---      ---      49.0
High Frequency Economics     -0.3%     ---      52.0
Hugh Johnson Advisors         ---      ---      49.9
Ibersecurities                ---      ---      52.9
IDEAglobal                    ---      2.9%     51.0
IHS Global Insight            ---      ---      47.0
Informa Global Markets        ---      ---      49.0
ING Financial Markets        -0.8%    -0.6%     50.0
Insight Economics             ---      ---      51.0
Intesa-SanPaulo               ---      ---      50.0
J.P. Morgan Chase             ---      2.1%     49.0
Janney Montgomery Scott       0.0%     1.8%     48.5
Jefferies & Co.               ---      ---      50.0
Landesbank Berlin             ---      ---      48.0
Landesbank BW                 ---      2.8%     ---
Maria Fiorini Ramirez         ---      ---      49.0
MF Global                    -0.3%     1.8%     50.0
MFC Global Investment         ---      ---      49.0
Moody's Analytics             ---      ---      50.0
Morgan Stanley & Co.          ---      ---      50.0
National Bank Financial       ---      ---      49.0
Natixis                       ---      2.7%     49.3
Newedge                       ---      ---      49.0
Nomura Securities Intl.       ---      2.1%     51.0
Nord/LB                       ---      ---      50.0
Pierpont Securities LLC       ---      ---      49.5
PineBridge Investments        0.0%     ---      52.0
Raiffeisen Zentralbank        ---      ---      48.0
Raymond James                 ---      ---      49.5
RBC Capital Markets           ---      ---      52.0
RBS Securities Inc.           ---      ---      46.0
Scotia Capital                ---      2.6%     ---
Societe Generale             -0.6%     2.6%     53.0
Standard Chartered           -0.5%     ---      45.0
State Street Global Markets   ---      2.4%     51.1
Stone & McCarthy Research     ---      ---      47.0
TD Securities                -1.1%     ---      51.0
Thomson Reuters/IFR           ---      2.4%     50.0
Tullett Prebon                ---      ---      50.0
UBS                          -0.2%     ---      51.0
UniCredit Research            ---      2.1%     49.5
Union Investment              ---      ---      48.5
University of Maryland       -0.2%     1.8%     50.0
Wells Fargo & Co.             ---      ---      49.0
WestLB AG                     ---      2.5%     49.0
Westpac Banking Co.           ---      ---      47.5
Woodley Park Research         ---      2.4%     ---
Wrightson ICAP               -0.2%     ---      52.0
=====================================================