Michelin San Francisco Gives Meadowood Third Star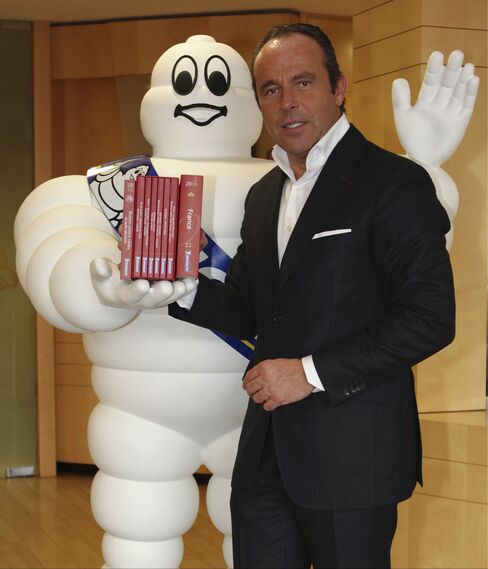 The Restaurant at Meadowood, a Napa Valley establishment that matches local wines with seasonal dishes, today wins its third star in the Michelin guide to the San Francisco area, joining the French Laundry in the top tier.
Eleven more restaurants are awarded single stars, taking the total to 39; three hold two stars, with no additions. A total of 74 eateries earn Bib Gourmands for good value. Of these, 29 are new. Alice Walters's Chez Panisse lost its star.
The Michelin guide is published as San Francisco prepares for the baseball World Series, which starts tomorrow.
"This is quite simply one of the finest culinary regions in the world, Jean-Luc Naret, director of the guides, said in an e-mailed release. "We spent a full year studying this region to produce our guide and the effort is immensely satisfying."
Chef Christopher Kostow, 33, is influenced by his East European heritage, according to the website of the Restaurant at Meadowood, where the dishes on his Thanksgiving Menu for Nov. 25 include roasted sturgeon, bone marrow, crispy Brussels sprouts, compressed pear. The cost is $195, or $300 with wines. Kostow works closely with his French sommelier, Rom Toulon.
Among the new one-star venues: Dio Deka serves Hellenic cuisine in downtown Los Gatos; Spruce is an American restaurant in San Francisco; Wakuriya is a Japanese kitchen in San Mateo.
Seasonal Ingredients
Chez Panisse, which opened in Berkeley in 1971, pioneered the use of fresh seasonal ingredients. Ubuntu retained its star after the departure of Jeremy Fox, its chef. Restaurant Michael Mina was excluded from the guide after it closed and relocated.
Michelin also publishes a guide to restaurants in New York, and a guide to Chicago makes its debut on Nov. 17.
Three stars mean exceptional cuisine, worth a special journey; two stars are for excellent cooking, worth a detour; one star denotes a very good restaurant in its category.
Other scheduled Michelin announcements include Germany (Nov. 10), Switzerland (Nov. 16), Belgium & Luxembourg (Nov. 22) and Italy (Nov. 24), the same day as Tokyo. The U.K. guide is published in January and the French one in March.
Michelin & Cie. is the world's second-biggest tire maker after Bridgestone Corp. of Japan. It produced its first so-called Red Guide at the turn of the 20th century to encourage motoring. The guides have expanded internationally under Naret.
"The Michelin Guide San Francisco, Bay Area & Wine Country 2011" goes on sale tomorrow at $18.99 in the U.S. and at the beginning of February in France, costing 17.90 euros.
Here are the starholders. (N signifies New)
     Three Stars:
French Laundry
Restaurant at Meadowood (N)
     Two Stars:
Coi
Cyrus
Manresa
      One Star:
Acquerello
Alexander's Steakhouse (N)
Ame
Applewood (N)
Auberge du Soleil
Aziza
Baume (N)
Bouchon
Boulevard
Campton Place (N)
Chez TJ
Commis
Dining Room at the Ritz-Carlton
Dio Deka (N)
Etoile
Farmhouse Inn & Restaurant
Fleur de Lys
Frances (N)
Gary Danko
La Folie
La Toque
Luce
Madera (N)
Madrona Manor
Masa's
Mirepoix (N)
Murray Circle
One Market
Plumed Horse
Quince
Redd
Saison (N)
Sante
Solbar
Spruce (N)
Terra
Ubuntu
Village Pub
Wakuriya (N)
(Richard Vines is the chief food critic for Muse, the arts and leisure section of Bloomberg News. Opinions expressed are his own.)
Before it's here, it's on the Bloomberg Terminal.
LEARN MORE