Ford Pares Debt, Posts Record $1.69 Billion Third-Quarter Net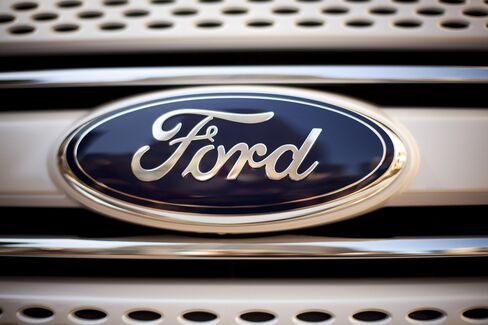 Ford Motor Co., the world's most profitable automaker, is generating enough cash to pay off billions in debt after reporting third-quarter net income of $1.69 billion, the most in its 107-year history.
By the end of the week, Ford will have paid down $10.8 billion in obligations this year and reduced its auto unit's debt to $22.8 billion, the company said today. New models like the Fiesta subcompact car are fetching high prices, helping to boost the automotive cash to $23.8 billion on September 30. By year's end, Ford said its cash will about equal its liabilities.
"We continued to invest heavily in new products in the 2008 and 2009 time frame when we had, frankly, great need of our scarce cash," Lewis Booth, Ford's chief financial officer, said in an interview. "And we're paying back debt faster than we'd hoped."
Ford's results topped the previous third-quarter high of $1.13 billion, set in 1997. Excluding some items, profit was 48 cents a share, beating the 38-cent average of 12 analysts' estimates compiled by Bloomberg. The second-largest U.S. automaker had net income of $997 million in last year's third quarter and adjusted per-share profit of 26 cents.
Chief Executive Officer Alan Mulally has revived Ford by improving quality and expanding offerings of the namesake brand. Ford, the only major U.S. automaker to avoid bankruptcy, won 15.1 percent of U.S. light-vehicle sales in the quarter, up from 13 percent two years ago, as buyers pay more for new models such as the Taurus sedan and Super Duty pickups.
Elevated Brand
"Ford has elevated its brand," said Jessica Caldwell, director of pricing and industry analysis for automotive researcher Edmunds.com. "They're attracting a more discerning buyer who has more income and can afford more options."
Buyers of Ford cars and trucks paid an average of $30,636 per model in September, up 10 percent from five years ago, as they loaded up on options like voice-activated telephone and stereo systems, according to Santa Monica, California-based Edmunds. That's the highest average price Edmunds has recorded for Ford since the researcher began gathering such data in 2002, Caldwell said.
Higher average prices helped to add $400 million to Ford's pretax automotive profits in the quarter, the company said. The Fiesta, which went on sale in June, commands $3,000 to $4,000 above its $13,995 base price as buyers choose options like leather seats, according to George Pipas, Ford sales analyst.
"The general perception of Ford four years ago was this kind of loser company in a loser industry," said Bernie McGinn, president of McGinn Investment Management in Alexandria, Virginia, which owns 330,000 Ford common shares. "Now people are buying Fords because it's cool."
Sales Top Estimates
Ford's third-quarter sales fell 4.3 percent to $29 billion as the company boosted North American production 16 percent to 570,000 cars and trucks. The average of eight analysts' estimates was for revenue of $27 billion. Excluding last year's revenue from Volvo, which Ford has since sold, sales rose in the quarter by $1.7 billion, the company said.
Ford, based in Dearborn, Michigan, rose 21 cents to $14.36 at 4:15 p.m. in New York Stock Exchange composite trading. Ford shares have climbed 44 percent this year.
Ford's $23.8 billion in automotive cash on Sept. 30 was up from $21.9 billion on June 30. Ford began the year with $33.6 billion in automotive debt, which fell to $26.4 billion on Sept. 30 after the automaker paid down $2 billion on a revolving credit line.
Paying Debt
By Oct. 29, Ford will prepay the remaining $3.6 billion in debt it owes to a union retirement health-care trust. Ford said it will use cash to meet that obligation, rather than issuing new stock as allowed by the health-care trust.
Ford also said it was offering to convert two series of debt into common stock, which would remove another $2.6 billion in obligations from its balance sheet.
The debt reductions will save Ford about $800 million annually in interest payments, the company said. The automaker said its cash and debt is equalizing a year ahead of schedule.
"We're working really hard on improving the balance sheet," Booth said. "We've got some ways to go yet."
Ford has more debt than General Motors Co. and Chrysler Group LLC because it borrowed $23 billion in late 2006 before credit markets froze. That gave the automaker a cash cushion to withstand the recession and avoid bankruptcy. It also left Ford with obligations that Mulally has said put the automaker at a competitive disadvantage.
Balance Sheet
"Ford's balance sheet is stronger than generally perceived, which along with strong cash flow should continue to position Ford to pay a dividend by 2012 at the latest," Bank of America-Merrill Lynch analyst John Murphy, who rates Ford a "buy," wrote in a note today. Ford suspended its common dividend in 2006.
Moody's Investors Service raised Ford's credit rating two levels Oct. 8, saying its operating performance "significantly exceeded" expectations.
"They've done an excellent job in terms of debt management," Dennis Virag, president of Automotive Consulting Group based in Ann Arbor, Michigan, said today in an interview. "That reflects on profitability."
Ford's credit rating remains two levels below investment grade and Moody's said it doesn't anticipate another upgrade until the second half of next year, after contract talks with the United Auto Workers conclude. Ford's Booth has said returning to investment grade is "a rallying cry within the company."
Bonds Rise
Ford Motor Credit Co.'s $1.5 billion of 8 percent notes due in 2016 rose 0.75 cent to 117.75 cents on the dollar as of 8:25 a.m. in New York, according to Trace, the bond-price reporting system of the Financial Industry Regulatory Authority. The securities, issued in December 2006, climbed to the highest on record.
Credit default swaps on Ford's debt fell 25.8 basis points to a five-year low, according to data from Phoenix Partners Group.
Mulally, 65, has said Ford will deliver "solid profits" this year and generate positive automotive operating cash flow. Ford may have net income of $7.64 billion this year, according to the average estimate of four analysts. The company earned $6.37 billion in the first three quarters, topping Volkswagen AG's $5.6 billion.
Already Solid
"That's already a solidly profitable year, and we're confident we'll be solidly profitable next year as well," Booth said today.
Ford said today fourth-quarter production will rise to 1.35 million globally, about 89,000 more than in the third quarter. Ford said it would produce 590,000 cars and trucks in North America in the fourth quarter, 20,000 more vehicles than it announced in August.
All of Ford's business units will be profitable in 2011, Booth said today. Ford posted a pretax operating loss of $196 million in its European operations in the quarter, as sales in that region fell after governments stopped offering cash incentives to convince drivers to trade in older models.
"We expect Europe to be profitable in the fourth quarter and profitable next year," Booth said. "We've got a slew of new products coming."
Ford Divestitures
Since coming from Boeing Co. in September 2006, Mulally has focused on the Ford brand and unloaded European luxury lines Jaguar, Land Rover and Aston Martin. Ford sold Volvo to Zhejiang Geely Holding Group Co. in August for $1.5 billion, the largest overseas acquisition by a Chinese automaker. Ford bought Volvo for $6.5 billion in 1999.
Ford also has said it will discontinue the mid-priced Mercury model line at the end of the year to focus on reviving the Lincoln luxury brand. The automaker told Lincoln dealers this month it plans to reduce metropolitan stores by 35 percent. The automaker has reduced its dealers by 21 percent since 2005, Booth said today.
Last year, Mulally ended three years of losses at Ford, which earned $2.7 billion in 2009. From 2006 through 2008, Ford's losses totaled $30.1 billion as a collapse in sport- utility vehicle sales was followed by the most severe recession since the Great Depression.
"We all want this job to be permanent, improving Ford Motor Co.," Booth said. "Not just a temporary blip in history."
Before it's here, it's on the Bloomberg Terminal.
LEARN MORE