Cablevision's World Series at Risk as FCC May Not Act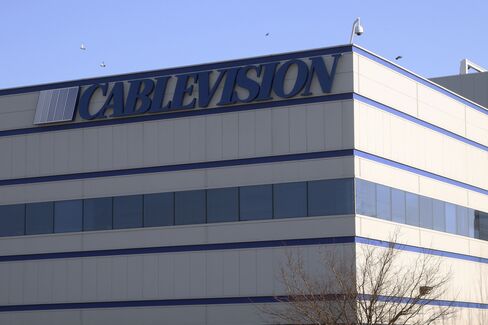 Cablevision Systems Corp. may lose its bid for government help in a dispute that threatens 3 million subscribers' access to World Series baseball games on News Corp.'s Fox network.
While the Federal Communications Commission asked for the companies to explain what they're doing to end the spat that's disrupted viewing in the Philadelphia and New York markets since Oct. 16, it may lack the power to do anything to resolve it, said Rebecca Arbogast, an analyst with Stifel Nicolaus & Co.
"There's a real limit to what the FCC can do," Arbogast, who's based in Washington, said in an interview. "It would be extraordinary for them to order Fox to put programming back on."
News Corp., run by billionaire Rupert Murdoch, cut its Fox signal to Cablevision after the sides failed to agree on how much the cable company should pay for programming. Bethpage, New York-based Cablevision has called for arbitration to resolve the dispute, something News Corp. has refused.
The FCC would need to find a lack of so-called good faith in the talks before acting, and even then the law probably doesn't let it order arbitration, Arbogast said.
Examples of a "good faith violation," as defined in the 1992 Cable Act, include one party refusing to put forth more than a single, unilateral proposal to the other party, a company trying to "unreasonably delay" negotiations, and failing to respond to a proposal, among others.
"It's going to be tough to find a lack of good faith in negotiating," Arbogast said. "What they're fighting over is the money."
'Fair Compensation'
FCC spokeswoman Jen Howard declined to comment. Finding fault in the negotiations may be elusive, FCC commissioner Michael Copps said in a statement on Oct. 20.
On Oct. 22, the FCC's media bureau said in a letter to the companies that the agency is "deeply concerned" over the dispute and asked for information about the talks.
Cablevision says Fox is asking for $150 million a year in fees, more than it pays for ABC, CBS, NBC and the Spanish-language Univision combined. News Corp. said the $150 million figure isn't accurate and that it's seeking "fair compensation."
By demanding a single "take it or leave it rate" for Fox, News Corp. hasn't negotiated in good faith, Cablevision said in a response to the FCC's request. Cablevision said it made four new proposals to News Corp. from Oct. 15 to Oct. 17, which were rejected. The cable company also urged the FCC to order the companies to accept arbitration.
Fox countered, saying it has negotiated in good faith and never made any "take it or leave it" demands. Cablevision's statement is "yet another example of their ploy to secure an advantage through government intervention," Fox said.
No Help From Congress
Rich Greenfield, an analyst at BTIG LLC in New York, agrees that the FCC may not have the power to demand arbitration or mediation, or fine anyone who's not negotiating fairly.
"The FCC is simply supposed to ensure 'good faith negotiations,' however Congress gave them no authority to take action if so-called 'good faith negotiations' weren't occurring," Greenfield said in an Oct. 21 note.
Cablevision shouldn't expect assistance from Congress either, he said.
"With Congress currently out of session and a lame-duck session set to resume later this year, we would not rely on Congress to act any time soon to help Cablevision and the broader multichannel industry," Greenfield said.
Calling for Arbitration
Cablevision is deliberately playing tough with News Corp. to draw in the government, said Chris Marangi, an analyst at Gabelli & Co. Fifty elected officials have sided with the cable operator, calling for binding arbitration, according to Cablevision. Fox has rebuffed arbitration, saying direct negotiation is the only way to resolve the dispute.
A government intervention would benefit Cablevision, said Marangi, who is based in Rye, New York. He said an arbitration process would mean that News Corp. had to put its signal back on Cablevision's systems while the two parties negotiated, essentially stripping News Corp. of the one trump card it has in the talks: The ability to withhold its signal.
World Series
Getting the Fox broadcast signal back would let Cablevision negotiate without having to worry about angering and losing customers, said Marangi, who recommends buying Cablevision shares and doesn't own any. Additionally, if News Corp. were found to be asking more for Fox than what the cable operator pays for other broadcast networks, arbitrators would likely ask the programmer to lower its price.
"If indeed Fox is asking for unreasonable fees, that would be found out in arbitration," Marangi said. "There's no way Fox could get away with charging more than all of the other networks combined."
Cablevision gained 5 cents to $26.48 at 4:15 p.m. in New York Stock Exchange composite trading. News Corp., based in New York, rose 6 cents to $14.31 on the Nasdaq Stock Market.
Whatever the government decides, the stakes are high for both companies if the stalemate continues.
With the World Series coming up on Oct. 27, Cablevision risks further alienating its viewers. The games between the Texas Rangers and San Francisco Giants are to be televised on Fox. News Corp. also faces a loss in advertising revenue if it loses Cablevision viewers for the games.
News Corp. has more signal-carriage negotiations coming up. Some Fox station contracts with Dish Network Corp. expire Oct. 31, potentially affecting more than 3 million of the satellite company's 14 million subscribers.
"I'm sure Dish is looking to see if Cablevision can get the government to intervene for them," said Todd Mitchell, an analyst at Kaufman Bros LP in New York. "But Fox has said they're willing to go dark if they don't get what they want. With or without government intervention, Fox is most likely going to take the same hard line with Dish."
Before it's here, it's on the Bloomberg Terminal.
LEARN MORE