Weber Says He Won't Change His Stripes to Become ECB President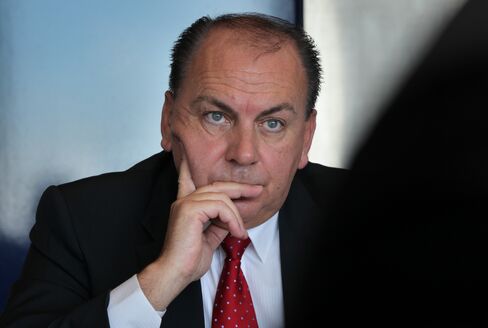 Axel Weber is refusing to change his style even as speculation mounts that a lack of diplomacy is damaging his chances of becoming the next European Central Bank president.
"I always follow my own path and that has always served me well," Weber, Germany's Bundesbank president, said in a panel discussion in Stuttgart late yesterday when asked if he wants to head the ECB. "It's better to do a good job for eight years than always look to the next one."
Weber has broken ranks with his ECB colleagues by campaigning against the bank's bond-purchase program, raising doubts about whether he will be chosen to succeed Jean-Claude Trichet, whose non-renewable term ends in a year's time. Critics say Weber lacks the ability to forge consensus on the ECB's Governing Council at a time when Europe's monetary union is facing its sternest test.
"It may make it difficult politically for Weber to be appointed," said Julian Callow, chief European economist at Barclays Capital in London, who has covered the ECB since its inception in 1998. Political leaders may now look for a compromise candidate who is more apt at representing the views of the entire ECB council, Callow said.
Weber's role as head of Europe's largest national central bank, and the fact that Germany hasn't held a top European post since the 1960s, made him the front runner to succeed Trichet in a Bloomberg survey of economists in February.
Political Jockeying
The political jockeying that will determine who gets Europe's top economics job is only beginning and may culminate at a leaders' summit next June.
While neither French President Nicolas Sarkozy nor German Chancellor Angela Merkel have publicly backed any candidate, France's La Tribune newspaper reported on Oct. 22 that Sarkozy opposes Weber because of his forceful style and policy positions. He backs Italian central bank head Mario Draghi, the newspaper said.
Weber has isolated himself on the ECB's 22-member Governing Council with calls for the bank to stop the bond purchases that are a key plank in Europe's battle against its sovereign debt crisis.
Weber openly opposed the decision when it was first announced on May 10, and reiterated his concerns in a speech in New York on Oct. 13, saying there was "no evidence" the purchases were reducing bond yields.
'Spat With Trichet'
Trichet, who regularly insists he is the sole spokesman for the ECB's 22-member council, dismissed Weber's views five days later, saying they don't reflect the consensus.
"I am a stability-oriented policy maker and that won't change," Weber said in Stuttgart yesterday.
Bond-market tensions have eased since the ECB started buying, though yields remain near euro-era highs in Ireland and Portugal. The ECB, which has bought 63.5 billion euros ($89.1 billion) of bonds so far, refrained from any purchases in the past two weeks.
"His latest spat with Trichet has just confirmed that he's not suitable for the position of ECB president," said Werner Langen, a member of the European Parliament and of Merkel's Christian Democratic Party. "Draghi is far more qualified for an EU position of that stature" and "there is already talk of other compromise candidates," he said.
Candidates
Those names include Finnish central bank governor Erkki Liikanen and Germany's Klaus Regling, said Langen. Yves Mersch from Luxembourg and Nout Wellink of the Netherlands are other potential candidates. Still, the tendency to distribute top EU jobs on the basis of nationality may work against them.
"The EU appointment process is mostly a lottery, with tickets allocated on the basis of nationality and good connections to the top leaders," said Daniel Gros, director of the Centre for European Policy Studies in Brussels.
While Liikanen's nine-year spell at the European Commission between 1995 and 2004 means he knows how to navigate the political landscape in Brussels, Finland already has someone in a top EU post with Olli Rehn serving as the region's Economic and Monetary Affairs Commissioner.
Likewise Mersch, who lost out on the ECB vice presidency earlier this year, may find his chances reduced by the fact that Luxembourg Prime Minister Jean-Claude Juncker chairs the group of euro-region finance ministers. Wellink shares the same nationality as Wim Duisenberg, the ECB's first president.
International Profile
Regling, who currently runs the 750 billion-euro bailout fund set up to fight the debt crisis, has the advantage that he is German, says Carsten Brzeski, an economist at ING Group. Still, he has never sat on the ECB's Governing Council.
"Weber has stepped on people's toes and Regling is the only other German with a high enough international profile, which is why his name comes up," said Brzeski, who used to work at the European Commission. "While for me there is no real alternative to Weber or Draghi, it's the politicians who will decide at the end of the day."
Draghi's candidacy is also complicated by the fact that he used to work for Goldman Sachs Group Inc., which arranged currency swaps that helped Greece hide the extent of its budget deficit. Draghi had no role in those arrangements, a spokeswoman for the Italian central bank said yesterday.
Key to the decision is agreement between Germany and France, the euro region's largest and second-largest economies. Germany bowed to French pressure last week in agreeing to water down proposed sanctions on deficit violators. That compromise will be discussed by EU leaders at an Oct. 28-29 summit in Brussels.
Weber's Credentials
On paper, Weber has the credentials for the job.
Like Federal Reserve Chairman Ben S. Bernanke, he is a former academic. He joined the Bundesbank as president from the University of Cologne in 2004 and carved out a reputation as an advocate of the inflation-fighting policies that made the deutsche mark Europe's benchmark currency until the introduction of the euro in 1999.
"We need someone like Weber to stamp Germany's stability culture on the currency," said Frank Schaeffler, a financial spokesman for the Free Democrats, Merkel's junior coalition partner. "The question of who succeeds Trichet is terrifically important."
Weber is likely to be more conciliatory in his approach once he becomes ECB President, said Christoph Kind, who helps invest about $20 billion at Frankfurt Trust in Frankfurt.
"He's still head of the Bundesbank and as such he's right to push German interests," Kind said. "When he started, people were saying he had no experience and he was too dogmatic, but he has shown how pragmatic he can be. He'll grow into the role."
No Diplomat
Weber signaled in August that he wasn't prepared to bite his tongue to land the ECB job.
"It's important to be a diplomat for the diplomatic corps, it's not so important for a central bank," Weber said in a Bloomberg interview.
At the same time, one shouldn't underestimate the ability of politicians to make surprise decisions, said former European Commissioner for Internal Markets Charlie McCreevy, citing the appointment last year of Herman Van Rompuy as the EU's first president.
"I was living in Brussels for five and a half years and to be brutally honest, I had never heard of him," said McCreevy, who predicts "much horse-trading" in "backrooms" before the question of who will succeed Trichet is resolved. "You never know what might happen."