Potter Will Retire as U.S. Postmaster General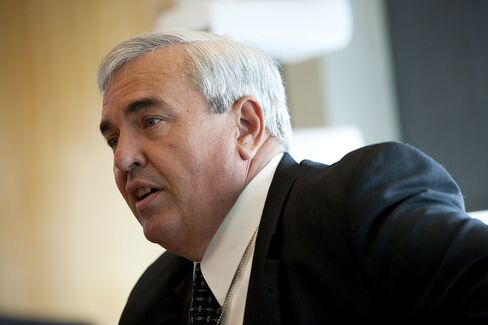 Oct. 26 (Bloomberg) -- U.S. Postmaster General John Potter, who rose from mail clerk in the Bronx, New York, to lead the Postal Service, will retire in December after 32 years as the agency struggles to be profitable.
Potter, 55, is leaving amid a campaign he began in March to raise mail rates and eliminate Saturday delivery. Patrick R. Donahoe, the deputy postmaster general and chief operating officer, will succeed Potter, the Washington-based agency said yesterday in a statement on the changes.
"We laid out a plan that puts the Postal Service on a profitable track," Potter said today in an interview. "I believe that if the actions are taken in the immediate future that the Postal Service will be a very healthy and viable organization. But it's after they get through a transition."
The Postal Service had a $6 billion loss in the year that ended Sept. 30 and projected a deficit of $238 billion through 2020 as fewer items are mailed. Potter has fought to retain as much mail volume as possible after the recession led more people to pay bills, order products and communicate with businesses using the Internet.
The Postal Service last week appealed to a federal court a decision by the Postal Regulatory Commission denying a rate increase that exceeds inflation.
Potter said the timing of his retirement is unrelated to the regulator's decision and that he hopes Congress will approve a postal reform measure.
Employees Praise
Potter, who took over in 2001 four months before anthrax-laced letters sent through the mail killed two postal workers, said employees "define our organization and it is their dedication and sense of purpose that drives our business." During Potter's tenure, Postal Service employment fell 26 percent to about 584,000, chiefly through attrition.
Donahoe, who started in 1975 as a clerk in Pittsburgh, has been Potter's deputy since 2005. As chief operations officer, he is responsible for 33,000 facilities and 219,000 vehicles.
Potter said Donahoe is a better choice than hiring a leader from outside the agency, a move Potter said the board had considered.
"He brings a very, very strong track record, and this will be in my opinion a rather seamless transition," Potter said. "I don't think that would have been possible if they'd brought in somebody from outside the postal service."
Potter said he plans to seek employment in the private sector after leaving the agency on Dec. 3.
Potter, who joined the Postal Service in 1978, said a supervisor early in his career mentioned that he should aim to become postmaster general.
"Certainly, when I came into the Postal Service, that wasn't an aspiration of mine," he said today.
To contact the reporter on this story: Angela Greiling Keane in Washington at agreilingkea@bloomberg.net
To contact the editor responsible for this story: Larry Liebert at lliebert@bloomberg.net.