Existing Home Sales in U.S. Probably Rose for a Second Month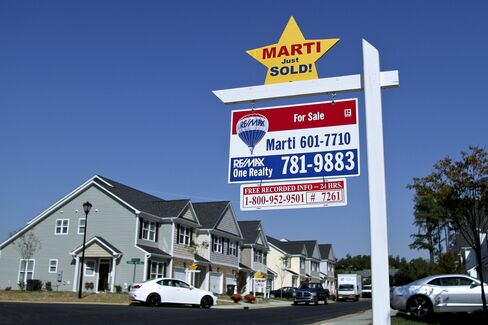 Sales of U.S. existing homes probably climbed in September for a second month as the industry that precipitated the worst recession since the 1930s struggled to overcome mounting foreclosures, economists said before a report today.
Purchases rose to a 4.3 million annual rate, up 4.1 percent from August, according to the median of 64 estimates in a Bloomberg News survey. The readings over the past three months would be the lowest since comparable records began in 1999.
An overhang of distressed properties and a jobless rate that is hovering near 10 percent may depress home values and rob Americans of the confidence needed to commit to major purchases. Concerns over faulty foreclosure proceedings at some of the nation's biggest banks also threaten to delay the mending process even more.
"Housing is very much a casualty of the recession," said Robert Dye, a senior economist at PNC Financial Services Group Inc. in Pittsburgh. "Despite extremely low rates and favorable pricing, buyers are still extremely cautious. I do think we've hit a bottom, but that does not imply a quick turnaround."
The National Association of Realtors is scheduled to release the sales figures at 10 a.m. in Washington. Survey estimates ranged from 4 million to 4.8 million. Comparable data, which combines single-family houses and condominiums, began in 1999.
Tax Credit
A government tax credit of as much as $8,000 gave housing a temporary lift late last year and into 2010. Purchases plunged in July, the month after buyers were originally required to close deals in order to get the incentive. Sales of existing houses are lower than the 4.83 million average pace set during the recession that ended in June 2009, and are well off the record 7.25 million peak reached in September 2005.
Foreclosure moratoria at JPMorgan Chase & Co. and other banks, along with government investigations into faulty paperwork, threaten to further delay a recovery as houses slated for repossession take longer to come to market.
Foreclosures are mounting as out-of-work Americans can't meet monthly payments while growing numbers of homeowners, seeing their home prices slide to less than their mortgage values, also default.
Unemployment forecast to exceed 9 percent through 2011 is another reason why any recovery in housing may take years to evolve, even with 30-year mortgage rates near record lows.
Federal Reserve
Fed officials have signaled they may start another round of unconventional monetary easing at their next meeting Nov. 3. Most economists, including Nobel laureate Joseph Stiglitz and Goldman Sachs Group Inc.'s chief U.S. economist Jan Hatzius, see the measures having little effect on economic growth.
Housing markets were "weak," with "sluggish or declining" sales in many regions, the Fed said last week in its survey of regional districts for September and early October. "Respondents' outlooks suggested sales and construction would remain subdued through year-end," restrained in part by lending standards and "general economic uncertainty," the Fed said.
Housing starts in September were 73 percent below the three-decade peak of 2.27 million reached in January 2006.
"The homebuilding market remains quite challenging, but there are a number of signs that we're bouncing along the bottom," Larry Sorsby, chief financial officer at Hovnanian Enterprises Inc., the largest homebuilder in New Jersey, said during an Oct. 7 conference call. "The first sign of recovery is we've got to reach bottom, and it certainly appears that we have."
The lack of demand has depressed homebuilding stocks this year. The S&P Supercomposite Homebuilding Index, which includes D.R. Horton Inc. and Lennar Corp., is down 7 percent since Dec. 31. The broader S&P 500 is up 6.1 percent.
President Barack Obama and the Democrats are confronted with voter anger over the state of the economy less than two weeks before the congressional election. An Oct. 7-10 Bloomberg National Poll shows almost two-thirds of voters believe the country is on the wrong track and unemployment is the top concern for about half of the electorate.
                    Bloomberg Survey

=======================================================
                             Exist    Exist  Dallas Fed
                             Homes    Homes   Monthly
                              Mlns     MOM%      MOM%
=======================================================

Date of Release              10/25    10/25     10/25
Observation Period           Sept.    Sept.      July
-------------------------------------------------------
Median                        4.30     4.1%     -8.5%
Average                       4.30     4.2%     -8.5%
High Forecast                 4.80    16.2%      2.3%
Low Forecast                  4.00    -3.2%    -17.5%
Number of Participants          64       64         6
Previous                      4.13     7.6%    -17.7%
-------------------------------------------------------
4CAST Ltd.                    4.21     1.9%      ---
ABN Amro Inc.                 4.30     4.1%      ---
Action Economics              4.60    11.4%      ---
Aletti Gestielle SGR          4.15     0.5%      ---
Ameriprise Financial Inc      4.15     0.5%     -8.0%
Banesto                       4.30     4.1%      ---
Bank of Tokyo- Mitsubishi     4.23     2.4%      ---
Bantleon Bank AG              4.24     2.7%      ---
Barclays Capital              4.30     4.1%      ---
BMO Capital Markets           4.45     7.8%      ---
BNP Paribas                   4.30     4.1%      ---
Briefing.com                  4.20     1.7%      ---
Capital Economics             4.40     6.5%      ---
CIBC World Markets            4.25     2.9%      ---
Citi                          4.40     6.5%      ---
ClearView Economics           4.35     5.3%      ---
Commerzbank AG                4.40     6.5%      ---
Credit Agricole CIB           4.22     2.2%      ---
Credit Suisse                 4.20     1.7%      ---
Danske Bank                   4.28     3.6%      ---
DekaBank                      4.40     6.5%      ---
Desjardins Group              4.30     4.1%      ---
Deutsche Bank Securities      4.00    -3.2%      ---
First Trust Advisors          4.22     2.2%      ---
FTN Financial                 4.25     2.9%      ---
Helaba                        4.30     4.0%      ---
Hugh Johnson Advisors         4.80    16.2%      ---
IDEAglobal                    4.20     1.7%      ---
IHS Global Insight            4.27     3.4%      ---
Informa Global Markets        4.20     1.7%      ---
ING Financial Markets         4.40     6.5%    -17.5%
Insight Economics             4.40     6.5%      ---
Intesa-SanPaulo               4.20     1.7%      ---
J.P. Morgan Chase             4.25     2.9%      ---
Janney Montgomery Scott       4.26     3.2%      ---
Jefferies & Co.               4.40     6.5%      ---
Landesbank Berlin             4.30     4.1%      ---
Landesbank BW                 4.31     4.4%      ---
Maria Fiorini Ramirez         4.35     5.3%      ---
Moody's Analytics             4.45     7.8%      ---
Morgan Stanley & Co.          4.25     2.9%      ---
National Bank Financial       4.30     4.1%      ---
Natixis                       4.21     1.9%      ---
Nomura Securities Intl.       4.35     5.3%      ---
Pierpont Securities LLC       4.20     1.7%      ---
PineBridge Investments        4.34     5.0%     -9.0%
PNC Bank                      4.25     2.9%      ---
Raiffeisen Zentralbank        4.30     4.1%      ---
Raymond James                 4.25     2.9%      ---
RBC Capital Markets           4.60    11.4%      ---
Scotia Capital                4.40     6.5%      ---
Societe Generale              4.30     4.1%      ---
Standard Chartered            4.25     2.9%      ---
State Street Global Markets   4.28     3.6%      2.3%
Stone & McCarthy Research     4.40     6.5%      ---
TD Securities                 4.20     1.7%      ---
Thomson Reuters/IFR           4.30     4.1%      ---
UniCredit Research            4.30     4.1%      ---
University of Maryland        4.30     4.0%      ---
Wells Fargo & Co.             4.35     5.3%      ---
WestLB AG                     4.10    -0.7%      ---
Westpac Banking Co.           4.19     1.5%     -7.0%
Woodley Park Research         4.37     5.8%      ---
Wrightson ICAP                4.40     6.5%    -12.0%
=======================================================