Gemalto Sues Google, HTC, Samsung Over Java Technology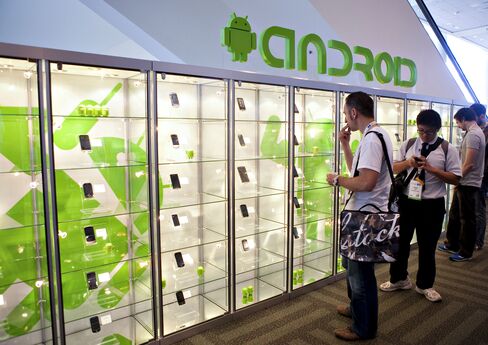 Oct. 25 (Bloomberg) -- Gemalto NV sued Google Inc. and phonemakers HTC Corp., Motorola Inc. and Samsung Electronics Co. Ltd., claiming the Android mobile-phone operating system used its technology without permission.
The manufacturer of digital-security technology filed the patent-infringement suit against the companies in Texas federal court on Oct. 22, according to the complaint. Gemalto said the development platform for Android improperly includes its Java Card technology, which allows software written in Java and other "high-level programming languages" to run on mobile phones.
Google's Android is now the most popular operating system for smartphones in the U.S., with Apple Inc.'s iOS and Research in Motion Inc.'s Blackberry platforms tied for second place, Nielsen Co. said earlier this month.
The Java Card allows applications developed on other platforms to run on "a resource constrained device" like a mobile phone, Gemalto said in a statement on its website. The technology was developed in the 1990s at the company's Texas research facilities, according to the statement.
HTC "absolutely respects innovation and intellectual property patents," and is investigating the Java Card issue, the company said in an e-mailed statement. Motorola is reviewing the Gemalto complaint and "will vigorously defend itself," it said in an e-mailed statement.
Samsung spokeswoman Chenny Kim declined to comment. Google spokesman Bill Echikson didn't return calls seeking comment.
Gemalto, based in Amsterdam, last week reported a 25 percent increase in third-quarter revenue, led by its security and secure payments business.
The case is Gemalto v. HTC Corporation, HTC America Inc., Exedea Inc., Samsung Electronics Co. Ltd., Samsung Telecommunications America LLC, Motorola Inc., and Google Inc., case no. 6:10-cv-00561, United States District Court for the Eastern District of Texas (Tyler Division).
To contact the reporter on this story: Matthew Campbell in Paris at mcampbell39@bloomberg.net.
To contact the editor responsible for this story: Vidya Root at vroot@bloomberg.net.