Deutsche Bank's Biggest Deal in Decade May Hurt Profit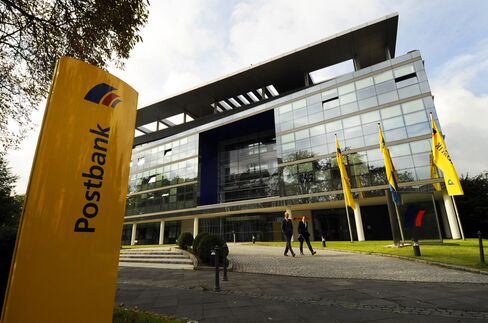 Deutsche Bank AG's plan to build a German consumer-banking powerhouse with the $8.9 billion purchase of Deutsche Postbank AG, its biggest takeover in a decade, may end up weighing on profitability.
While the takeover will more than double Deutsche Bank's German retail clients and add about 1,100 branches, the Frankfurt-based company may struggle to boost earnings in a market dominated by savings banks and cooperative lenders.
"German retail banking isn't very lucrative," said Daniel Hupfer, who helps manage about $45 billion at M.M. Warburg in Hamburg, including shares of Deutsche Bank. "You can add size, but it's a market where you can't make a lot of money because there are so many competitors."
Germany has almost 2,000 credit institutions, five times as many as the U.K. and almost three times as many as France, figures from the European Central Bank show. The splintered market has typically held German banks "to low risk-adjusted returns," Moody's Investors Service said Oct. 14, reiterating a negative outlook on the industry. Deutsche Bank will report a third-quarter loss tomorrow as it writes down its existing stake in Postbank by about 2.3 billion euros ($3.2 billion), the company said Sept. 21.
Deutsche Bank raised 10.2 billion euros this month to finance its bid for a controlling stake in Postbank and to meet stricter capital rules. Germany's biggest bank has fallen 10 percent since Sept. 9, when Bloomberg News first reported it was considering a share sale. The stock dropped 2.2 percent to 40.95 euros as of 1:48 p.m. in Frankfurt trading today.
Consumer Expansion
Chief Executive Officer Josef Ackermann is building up his consumer-banking and asset-management operations to counterbalance the investment bank, where earnings are more vulnerable to financial market swings. Since 2006, Deutsche Bank acquired Berliner Bank AG, Nuremberg-based Norisbank AG and private wealth manager Sal. Oppenheim Group, as well as a 30 percent stake in Bonn-based Postbank.
Postbank's pretax return on equity, a measure of profitability, was 8.3 percent in the first half of 2010, lagging behind the 22 percent return at Deutsche Bank as a whole, and the investment bank's ROE of 42 percent, company reports show. Deutsche Bank's profitability exceeded Postbank's every year since 2004, with the exception of 2008, when both lost money.
'Intense Competition'
"This takeover isn't a particularly good idea," said Dirk Becker, an analyst at Kepler Capital Markets in Frankfurt, who recommends selling Deutsche Bank and Postbank shares. "Postbank's main product is a free checking account. What's the benefit for Deutsche Bank to have fee-free accounts?"
Germany's 431 savings banks held 48 percent of all savings deposits in 2009, according to the nation's savings banks association. They're followed by the 1,156 cooperative lenders, with 29 percent of deposits and large commercial banks, such as Postbank, Deutsche Bank and Commerzbank AG, with 13 percent.
The country's lenders are struggling with "fragmentation, overcapacities and intense competition," Moody's said. Commerzbank, which acquired unprofitable Dresdner Bank for about 5 billion euros in January 2009, remains far from its earnings goal for the consumer-banking unit. The division posted an operating profit of 49 million euros in the first half of this year, compared with its 2012 target of about 1 billion euros.
The Frankfurt-based lender, which is still integrating Dresdner's operations, has blamed "declining deposit margins" and customers' "dwindling securities activity."
Better Than 'Perceived'
Deutsche Bank may report a third-quarter loss of 1.47 billion euros, according to an estimate of 12 analysts surveyed by Bloomberg News. The consumer unit, led by Rainer Neske, 46, probably had pretax profit of 213 million euros, after 423 million euros in the first half, analysts said.
Earnings at the investment bank, led by Anshu Jain, 47, may amount to 938 million euros before tax, following profit of 3.37 billion euros in the first half, the survey showed.
Consumer banking in Germany is "much better than normally perceived in the world," Ackermann said at a conference last month. The country has a "healthy macro-environment, with a very large retail market with lower risk," he said. Buying Postbank "allows for a similar success story as seen in investment banking during the last 10 years, coming from a very low level and building up to a top-size position," he said.
Spokesman Michael Lermer reiterated that Deutsche Bank and Postbank together would be the retail market leader in Germany among commercial banks, and among the leaders in Europe.
Profit Target
Deutsche Bank, which is offering 25 euros a share in cash to Postbank investors, initially agreed to buy a stake in September 2008 from Deutsche Post AG, and then renegotiated the transaction in January 2009 after the collapse of Lehman Brothers Holdings Inc. roiled markets. Deutsche Bank also holds a mandatory exchangeable bond for a 27.4 percent stake and an option to buy Deutsche Post's remaining 12.1 percent holding.
Deutsche Bank, which said it's making the bid for Postbank now to minimize the price, expects the full takeover to cost about 6.4 billion euros if all outstanding shareholders accept the 25 euro bid. It's the biggest purchase since the $9 billion acquisition of New York-based Bankers Trust Corp. in 1999.
Ackermann, 62, set a target to boost pretax profit at the retail business, including Postbank, to 3 billion euros by 2015-2016, from 458 million euros last year. Germany's savings banks, which have more than six times as many branches as Deutsche Bank and Postbank together, had a combined pretax profit of 4.9 billion euros last year.
In Germany, 55 percent of customers cite price as a reason for switching lenders, compared with 16 percent in the U.K. and France, a study by consulting firm Ernst & Young LLP showed.
"There's harsh competition in the retail-banking market that's hurting margins," said Olaf Kayser, an analyst at Landesbank Baden-Wuerttemberg in Mainz, Germany. "There is not much more that can be done in terms of external growth."
Before it's here, it's on the Bloomberg Terminal.
LEARN MORE