CommScope in Talks With Carlyle for $3 Billion Buyout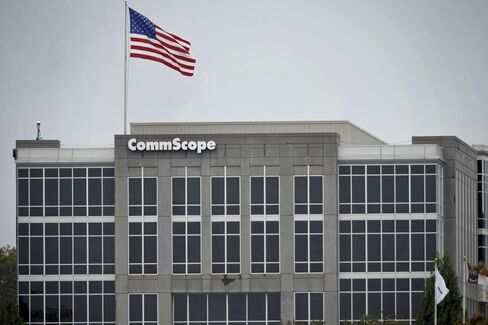 CommScope Inc. said Carlyle Group, the Washington-based leveraged buyout firm, is in talks to buy the company in a deal that would value the telecommunications equipment maker at about $3 billion.
CommScope soared 30 percent in New York trading after saying Carlyle may buy all its outstanding shares for $31.50 apiece in cash. That's about 36 percent more than the Oct. 22 closing price for the Hickory, North Carolina-based company, whose cable and wiring are used by phone- and Internet-service providers.
"The demand for fiber-optic cable is going to go through the roof in the next three to five years," said Will Draper, a telecommunications analyst at Execution Noble in London.
Telecommunications-equipment suppliers are benefiting as phone companies roll out fiber-optic networks that will eventually replace many copper lines. In Europe, France Telecom SA has said it will spend about 2 billion euros ($2.8 billion) on its domestic fiber optic network by 2015, while in Australia the governing Labor Party is building an A$43 billion ($43 billion) fiber network.
CommScope jumped $7.04 to $30.16 in New York Stock Exchange composite trading at 4 p.m. The shares have gained 14 percent this year.
The interest from Carlyle comes as private-equity firms resume takeovers after the credit crisis stymied deal-making for two years. The firms have led $133 billion of transactions this year, more than double the amount in the same period of 2009, according to data compiled Bloomberg.
'Cheapest'
CommScope, which sells its products throughout the world, said no agreement has been reached and there can be no assurance that a deal will result from the talks. Emma Thorpe, a Carlyle spokeswoman in London, declined to comment.
Lee Ainslie, managing partner at Maverick Capital Management LLC, which counts CommScope among its "important holdings," said this month that technology stocks are the cheapest in 20 years.
There have been 14 deals for telecommunications equipment companies over $1 billion in the past five years worldwide, according to Bloomberg data. The average premium was 21 percent, and the average deal size disclosed was $4.33 billion.
CommScope bought Andrew Corp. for $2.65 billion less than three years ago to add antenna technology to its product line. Still, the company's sales dropped 25 percent last year as orders in Europe, Africa, the Middle East and the U.S. declined.
Juniper, ADC
The company's largest customers are Anixter International Inc., a company that distributes communications and cable wiring systems, and Alcatel-Lucent SA, France's largest telecommunications-equipment maker, according to regulatory filings. The two made up about 14 percent of net accounts receivable each as of June.
Juniper Networks Inc., with a market capitalization of $16.6 billion, is the company closest in size to CommScope by revenue received from networking equipment, according to Bloomberg data. ADC Telecommunications Inc., a $1.23 billion company, is the second closest.
CommScope predicted in July that third-quarter sales will rise to $815 million to $865 million, signaling a gain of at least 8.6 percent from a year earlier.
Phone operators are looking to boost sales by upgrading their networks to allow faster data speeds. Verizon Communications Inc., the second-largest U.S. phone company, has benefited this year from its FiOS fiber-optic network even as sales decline for its fixed-line business overall. The company added 226,000 Web and 204,000 video subscribers to the service last quarter.
Allen & Co. is serving as financial adviser to CommScope and Gibson, Dunn & Crutcher LLP is acting as legal adviser, the company said in the statement.
Before it's here, it's on the Bloomberg Terminal.
LEARN MORE