AIG Chief Undergoes 'Aggressive' Cancer Treatment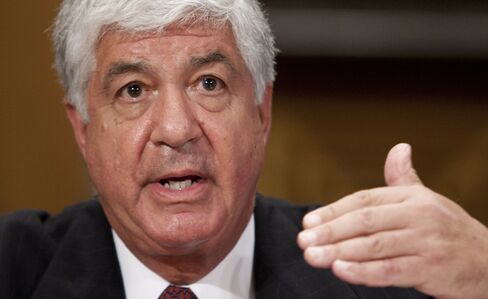 Robert Benmosche, chief executive officer of American International Group Inc., said he was undergoing treatment for cancer and remained committed to repaying the insurer's $182.3 billion taxpayer bailout.
Benmosche, 66, began an "aggressive round of chemotherapy" last week, he told employees yesterday in a letter. The New York-based insurer's board began preparing for a successor before disclosing Benmosche's condition late yesterday because the chief intended to retire in 2012, he told staff.
"While I have every intention of staying on that timetable, it's important that we prepare for any alternate plan that fate may have in mind," Benmosche said in the letter. "As for my long-term prognosis -- I will have a better idea over the next couple of months of what that will look like as I continue to undergo treatment and my doctors refine their diagnosis."
Benmosche has presided over a 37 percent rise in AIG's stock this year through yesterday as he announced deals to sell businesses and repay taxpayers by converting a $49.1 billion Treasury Department preferred stake into common stock. The former MetLife Inc. CEO clashed with regulators after starting at AIG in August 2009 and has since been credited for stabilizing credit ratings and hiring top managers.
'Normal Schedule'
"The good news is that I feel fine, and I continue to work according to my normal schedule," Benmosche said. "Frankly, learning that I have cancer makes me even more committed to working with all of you to turn AIG into the success story we all envision. It's a turnaround I want to complete."
AIG didn't say what type of cancer Benmosche has. The insurer's board will "engage in appropriate contingency planning to ensure management continuity," Chairman Steve Miller said in a statement. AIG gained 5 cents to $41.15 at 9:40 a.m. in New York Stock Exchange composite trading.
There are more than 100 different types of chemotherapy drugs, many given every two to three weeks, said Otis Brawley, chief medical officer of the American Cancer Society. Without knowing the type of cancer or the specific treatment, it's impossible to predict the severity of side effects, Brawley said. He declined to comment specifically on Benmosche's cancer.
Chemotherapy
"There are many aggressive chemotherapy regimens where it is indeed possible for people to continue to work," Brawley said in a telephone interview. "Many people will not want to work the day they get chemotherapy or the day after, but they can work for the remainder of the week," he said. Other regimens force patients to remain in the hospital, he said.
Chemotherapy got its reputation in the early days of its use, when high doses of the toxic drugs caused severe bouts of nausea and vomiting, Brawley said. Medicines developed in the past decade can keep those symptoms at bay, he said.
AIG has "a lot of seasoned folks" who can take on larger roles as Benmosche fights cancer, said Ernest Patrikis, AIG's ex-general counsel, who left the insurer in 2006 and is now a partner at White & Case LLP. Peter Hancock, Thomas Russo, Jay Wintrob and Kristian Moor are among the company's more capable leaders, Patrikis said in an interview today on Bloomberg Television.
'Thoughts are With Him'
The insurer's board would probably tap a director as interim CEO if Benmosche had to step down temporarily, the Wall Street Journal said, citing an unidentified person familiar with the matter. The board is scheduled to discuss the issue tomorrow, the newspaper said.
Treasury Chief Restructuring Officer Jim Millstein learned of Benmosche's condition yesterday, he said in a statement. Mark Herr, an AIG spokesman, declined to comment and said Benmosche and Miller were unavailable.
"Our thoughts are with him and his family, and we wish him the best of luck with his treatment," Millstein said. "We are also very pleased that he is feeling fine and able to continue his exemplary work at AIG."
Benmosche helped stabilize AIG's ratings with Standard & Poor's and Moody's Investors Service, imposed risk-management controls and filled manager vacancies, the insurer said in an August filing.
AIG hired Hancock to oversee finance and risk in February. Hancock had spent about 20 years at a predecessor to JPMorgan Chase & Co. Russo was hired this year as general counsel, Wintrob oversees life insurance operations in the U.S., and Moor manages property-casualty businesses.
"Benmosche has done a good job at shepherding AIG through some very rough waters, and at times he's thrown his weight around," said Clark Troy, senior analyst at Aite Group in Chapel Hill, North Carolina.
Personnel Moves
Benmosche pushed for the ouster this year of former Chairman Harvey Golub because they disagreed about how to monetize AIA Group Ltd., AIG's main Asia unit, two people familiar with the matter said in June. Benmosche also pushed for the replacement of AIA's chief, Mark Wilson, said one of the people. Mark Tucker replaced Wilson in July.
Under Benmosche, who last year became the insurer's fourth head since 2008, AIG is focusing on property-casualty coverage and U.S. life insurance products. The firm is divesting non-U.S. life units, including AIA and American Life Insurance Co., as part of a plan to win independence from U.S. oversight.
"Benmosche has had the force of will and skill needed to move AIG substantially forward," Troy said in a telephone interview. "None of his predecessors had that weight."
AIG is also winding down the derivatives unit responsible for housing-market losses that pushed the insurer to the brink of collapse in September 2008. The company's 2008 bailout swelled to $182.3 billion, a package that includes a $60 billion Fed credit facility, a Treasury investment of as much as $69.8 billion and up to $52.5 billion to buy mortgage-linked assets owned or backed by AIG.
"In the last year, Bob has made a profound impact on AIG, and under his leadership, AIG has built a very strong management team that is working hard to repay taxpayers," Miller said. "Our thoughts and prayers are with Bob and his family."