Singapore Exchange's $8.3 Billion ASX Bid Prompts Share Slump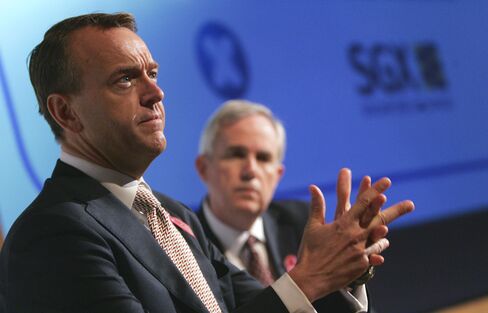 Singapore Exchange Ltd. agreed to buy ASX Ltd., Australia's main stock exchange, for A$8.4 billion ($8.3 billion) in cash and shares in a drive to compete with Hong Kong and Tokyo. Shares in the Singapore company tumbled the most in two years after the announcement.
The operator of Singapore's stock market is offering A$48 per ASX share, 37 percent more than the company's last price on Oct. 22, the companies said. Shares in ASX closed below the offer price at A$41.75 on concern the deal may not be approved by Australia's government or regulators. The two exchanges will remain separate legal entities and be regulated locally.
The enlarged company will oversee $1.9 trillion of shares, making it better able to compete with electronic trading platform Chi-X Global Inc, which plans to open in Australia in March. It will also vie for initial public offerings with Hong Kong, which has attracted Asia's four biggest initial public offerings since 2006, including last week's $17.8 billion IPO of American International Group's Asian unit. The exchanges expect $30 million a year in savings to result from the deal.
"We see SGX's acquisition of ASX as being richly priced," Srikanth Vadlamani, an analyst at Nomura Holdings Inc. wrote in a note to clients. "The extent of cost savings implies to us that the success of the deal hinges upon the combined entity being able to realize material revenue synergies. However, we do not see obvious revenue synergies."
Shares in Singapore Exchange fell 6.2 percent to close at S$8.95 in Singapore, the most since Oct. 24, 2008. The company's spokeswoman Magdalyn Liew didn't immediately return calls seeking comment on the stock's decline.
'Regulatory Hurdles'
ASX shareholders will receive A$22 cash and 3.473 new shares in Singapore Exchange for every share they hold in the Australian bourse operator, the exchanges said.
"The biggest issue for them right now is going to be the regulatory hurdles," Chris Weston, a Melbourne-based institutional dealer at IG Markets, said. "Given ASX shares' discount to the offer, traders are clearly erring on the side of caution."
Singapore Exchange Chief Executive Officer Magnus Bocker, a former president of Nasdaq OMX Group Inc., will be CEO of the combined company and Chew Choon Seng will be non-executive chairman. David Gonski, chairman of ASX, will be group deputy chairman, while Peter Hiom, current deputy CEO of ASX, will head the Australian operation.
The combination, to be named ASX-SGX Ltd., will have revenue of $1.1 billion and earnings before interest and tax of $700 million, the companies said. With an estimated market value of $12.3 billion, it will become the world's fifth-largest listed exchange company, they said.
'Stronger Player'
Merging the Asia Pacific's fifth- and eighth-largest exchange operators will create a company overseeing $1.9 trillion of shares, compared with Tokyo's $3.7 trillion and Hong Kong's $2.6 trillion. The companies expect the deal to be implemented in the second quarter of 2011. The merger is in the interests of both countries and the companies are confident they will win regulators' approval, ASX CEO Robert Elstone said.
"I'd expect any merger between the Australian Stock Exchange and its Singapore counterpart to be closely scrutinized by regulators," said Tim Schroeders, who helps manage about $1 billion at Pengana Capital Ltd. in Melbourne. "Regulators will want to ensure any merger upholds the integrity of the Australian stock exchange and does not compromise it in any shape or form."
The combination will result in a more balanced portfolio of listed companies, Bocker said. Morgan Stanley advised Singapore Exchange and UBS AG is ASX's adviser, the companies said.
"The world of exchanges is rapidly changing," Bocker said in Sydney. "This will make us a stronger player."
'Marketing Effort'
ASX posted a 13 percent increase in second-half profit this year as trading accelerated on the back of a recovering global economy. Net income rose to A$160.1 million in the six months ended June 30, from A$141.7 million a year earlier.
Singapore Exchange posted net income of S$320.1 million ($247.2 million) in the year ended June 2010, compared with S$305.7 million the year before.
"More than anything, this deal will help with the marketing story to attract company listings," said Simon Bonouvrie, who helps manage about $1.8 billion at Platypus Asset Management Pty. in Sydney, which owns some ASX shares. "The tie-up, however, would also give listed companies easier and more seamless access to deeper capital markets."
Regional Competition
Competition in the region is increasing. Chi-X Global has won preliminary approval to become a competitor to ASX. The Singaporean bourse and Chi-X Global, part owner of Europe's largest alternative trading system, agreed in August last year to start the first exchange-backed dark pool in Asia.
Companies have raised $37 billion in initial stock sales in Hong Kong this year, almost seven times the total for the Singapore and Australia exchanges combined, according to data compiled by Bloomberg.
Hong Kong Exchanges & Clearing Ltd., the world's largest listed exchange operator, declined to comment on Singapore Exchange's transaction with ASX. Shares in the Chinese city's bourse rose 4.9 percent to close at HK$181.90 today.
"HKEx will not pursue alliances, partnerships or other relationships purely for investment gains," said Henry Law, a spokesman for the exchange, via e-mail. "HKEx will consider selected opportunities in the areas where it can enhance its capability and strengths in technology, business and services."
Bocker Initiatives
Singapore Commodities Exchange, a unit of the Singapore bourse, faces competition from the Singapore Mercantile Exchange, which started operating in the city-state in August. SMX is backed by Financial Technologies (India) Ltd., which operates the largest commodity exchange in India.
Australia's stock market is worth about $1.36 trillion, compared with Singapore's $558.2 billion, based on Oct. 22 prices according to data compiled by Bloomberg. Even so, Singapore Exchange is the larger company, with a market value of about $7.86 billion, compared with ASX's $6 billion.
Since Bocker took over from Hsieh Fu Hua as CEO of Singapore Exchange last year, the company has announced new initiatives to enhance the bourse's position as an Asian capital markets hub. The exchange on Oct. 22 started trading 19 American depositary receipts of Asian companies to boost trading volumes.
In June, the bourse said it will invest S$250 million in a new trading system that will be the world's fastest when it goes live in 2011. The following month, Singapore Exchange and the London Metal Exchange said they will introduce cash-settled metals futures contracts by the first quarter of next year.
Before it's here, it's on the Bloomberg Terminal.
LEARN MORE