BP Trailing Shell Pressures Dudley to Return Dividend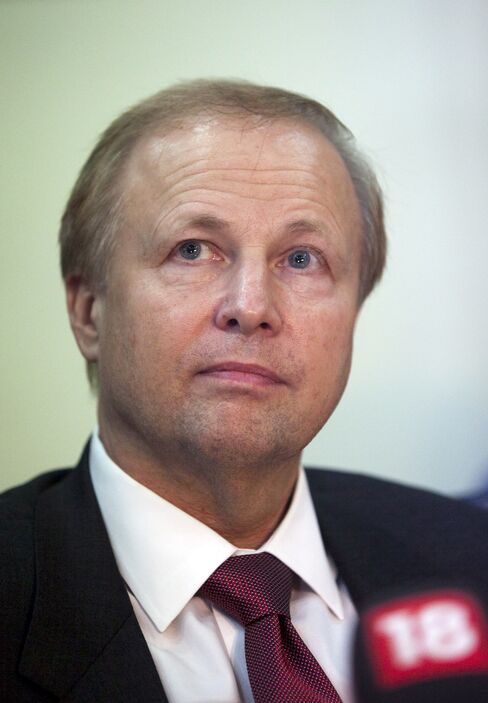 BP Plc Chief Executive Officer Robert Dudley's task of lifting the share price after the Gulf of Mexico disaster is gaining urgency as the company falls further behind Royal Dutch Shell Plc.
BP's market value is about 43 billion pounds ($67 billion) lower than its rival, the widest gap since the height of the crisis on June 30. The Hague-based Shell, Europe's largest oil company, has gained 4.6 percent this month, while BP shares have risen 0.2 percent. BP was worth more than Shell as recently as January.
The sluggish performance puts pressure on Dudley to follow through on pledges to sell $30 billion of assets and to start paying dividends again. Investors will abandon BP if he fails, reigniting speculation that the London-based company will be split up or taken over, said investors and analysts including SVM Asset Management's Colin McLean.
"BP is held by a lot of private investors and pension funds because of the dividend," said McLean, who helps manage about $900 million at SVM Asset Management in Edinburgh and sold all his BP shares this year. "If Dudley doesn't pay it, the stock price will go lower and they'll be more vulnerable."
BP was little changed at 428.7 pence as of the 4:30 p.m. London close after announcing the sale of stakes in four Gulf of Mexico fields for $650 million. The shares are still down 35 percent since the April 20 accident in the Gulf of Mexico that led to the spill. Shell was also little changed at 2,004 pence.
Fourth-Quarter Dividend
Tony Hayward, Dudley's predecessor who lost his job because of the Gulf spill, canceled BP's 14-cents-a-share dividend for the first three quarters of 2010 to free up cash to pay for cleanup and compensation. Dudley said Sept. 30 that the board will meet before the end of the year to consider restoring the dividend "in some form" for the fourth quarter.
In the future, "the reason for any potential takeover would be if Dudley doesn't bring back the dividend," said Iain Armstrong, an analyst at investment manager Brewin Dolphin Ltd. in London. "He's almost promised it, and if he doesn't deliver, the stock will fall and the Chinese will be hovering over it."
BP spokesman Robert Wine declined to comment for this story.
BP has a history of giving back more money to shareholders than competitors. The dividend yield, or annual return from the dividend compared to the price of the shares, was 6 percent on April 20, the day of the Gulf accident and the highest share price this year. That compared with a dividend yield of 5.2 percent for Shell and 2.4 percent for Exxon Mobil Corp.
Dividend Options
Investors expect BP to restore the dividend early next year for the fourth quarter at 3.26 pence a share, or about 5 cents. The payout would increase gradually over the year, Bloomberg dividend options data show.
"The expectation is for them to return to the dividend list in the fourth quarter, paying the dividend in the first quarter of 2011, the question is at what level it will come back," said Ivor Pether, a fund manager at Royal London Asset Management, which holds $9.2 billion in securities and added to its BP shareholding during the crisis. "I would guess that it would be around two-thirds of what it was."
Higher oil prices will bolster earnings for both Shell and BP. The price of crude in New York trading has gained 10 percent since the end of May to $81 a barrel.
Earnings Expectations
BP reports third-quarter earnings on Nov. 2, and Shell publishes results on Oct. 28. Excluding one-time items and inventory changes, BP's profit will be $4.8 billion, down 11 percent from $5.4 billion a year earlier, according to a Bloomberg survey of six analysts. Shell's profit will be $4.4 billion, up 33 percent from $3.3 billion in 2009, a separate survey of seven analysts shows.
"BP experienced an impact on volumes from the Gulf moratorium," Royal London's Pether said, referring to delays from the ban on drilling in the Gulf of Mexico. "Production will be down year on year, whereas the rest of the majors should show some growth. Shell's production is benefiting from a number of new projects coming onstream, so project execution risk is receding while for BP we still have uncertainty on what is the ultimate level of liability from Macondo."
Shell CEO Peter Voser has accelerated asset sales of as much as $8 billion, shed jobs and reduced exposure to the less profitable downstream business by selling refineries. Shell is also boosting production by targeting hard-to-reach rock formations and focusing investment on the Asia Pacific region, where demand growth is stronger than in the U.S. or Europe.
Takeover Speculation
BP shares dropped to a 14-year low of 302 pence on June 29 and bondholders priced in more than 40 percent chance of default at the height of the disaster, prompting speculation that the company would be taken over. The stock has recovered 42 percent since that low after BP set up a $20 billion compensation fund with the U.S. government and set aside $32 billion for spill costs in the second quarter.
BP this month brought the total amount of cash raised from asset sales higher than $11 billion by selling operations in Vietnam and Venezuela to its Russian joint venture partner TNK-BP for $1.8 billion. It has also disposed of fields in the U.S., Canada, Egypt, Colombia, and Malaysia.
Just before taking the reins on Oct. 1, Dudley unveiled a reorganization of BP's business, announcing the departure of the head of the exploration and production unit, Andy Inglis, and splitting it into three. He also established an independent safety division.
U.S. Probe
Those measures won't affect whether the U.S. finds BP was negligent in the accident. The ruling will determine the size of the fine under the Clean Water Act, which could run as high as $17.6 billion, and whether BP's drilling partners pay a share of the costs.
A probe by U.S. Attorney General Eric Holder may lead to suspension of well operating licenses and debarment from government contracts under U.S. pollution law, BP said July 27.
That's going to weigh on BP shares for a while, even if the company isn't a target for larger rivals such as Exxon, Shell, or China National Offshore Oil Corp., said Dougie Youngson, an analyst at Arbuthnot Securities Ltd. in London who gives the company a "sell" rating.
"The share price will continue to perform poorly until the Department of Justice investigation is out of the way," Youngson said. "Dudley has a lot to do, and I'd like to see some big statements about strategy to give some confidence that he can turn things around."
Before it's here, it's on the Bloomberg Terminal.
LEARN MORE