BOJ May Leave Policy Unchanged After Cutting Rates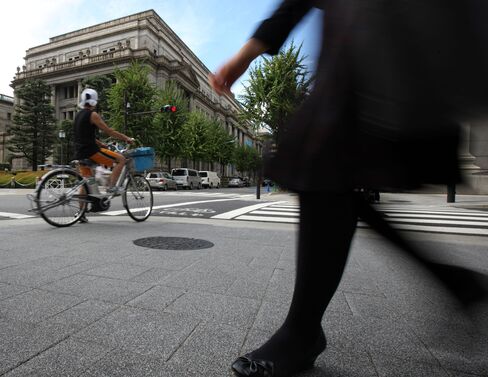 The Bank of Japan will probably leave policy unchanged this week to gauge whether cutting interest rates to near zero and pledging to buy financial assets will shield the economy from the yen's advance to a 15-year high.
All 15 economists surveyed by Bloomberg News say the bank will refrain from any action at its Oct. 28 gathering after unexpectedly cutting rates on Oct. 5 and creating a 5 trillion-yen fund ($62 billion) to purchase assets including corporate bonds, exchange-traded funds and real-estate investment trusts. The board is likely to discuss the types of company debt to buy.
This month's moves failed to stem the yen's climb, putting pressure on profits at exporters from Sony Corp. to Toyota Motor Corp. and threatening to fuel deflation. BOJ Governor Masaaki Shirakawa may have to further ease policy if the Federal Reserve engages in more quantitative easing to shore up growth, exacerbating the dollar's decline.
"The government and businesses will likely urge the BOJ to do more," said Akio Makabe, a professor of economics at Shinshu University in Matsumoto, central Japan. "Depending on moves in the currency and financial markets, the central bank may have to act again within the year."
Slower Exports
Adding to signs that the country's export-fueled recovery is losing steam, a Finance Ministry report showed that Japan's overseas shipments grew at the slowest pace this year in September, gaining 14.4 percent from a year earlier.
Fed Chairman Ben S. Bernanke said Oct. 15 that there appears to be a "case for further action," an indication that U.S. policy makers may start a second round of unconventional monetary stimulus when they meet on Nov. 3. The prospect of additional Fed easing sent the yen as high as 80.85 last week, the strongest level since April 1995.
"Developments in the BOJ's monetary policy in coming months will be heavily influenced by the Fed's decisions and currency market moves," said Hiromichi Shirakawa, a former BOJ official and now chief Japan economist at Credit Suisse Group AG in Tokyo.
'Competitive Devaluations'
Currencies dominated discussions at a meeting of Group of 20 finance chiefs in South Korea last weekend. They pledged to avoid "competitive devaluations" to boost exports and instead let markets increasingly set foreign exchange values to defuse mounting trade tensions before they hurt the world economy.
The Japanese currency has risen more than 5 percent against the dollar since the government stepped into the foreign-exchange market for the first time in six years and sold more than 2 trillion yen in September. It traded at 81.07 per dollar at 11:34 a.m. in Tokyo today. The Nikkei 225 Stock Average has slumped more than 10 percent this year, and slid 0.3 percent today at the 11 a.m. trading break in Tokyo.
"For Japanese companies, 90 yen is the limit" for profitability, Tadashi Okamura, former chairman of Toshiba Corp. and now head of Japan Chamber of Commerce, said on Oct. 21.
Lower-Rated Debt
The BOJ may consider purchasing BBB-rated corporate bonds and a-2 commercial paper at the gathering this week, three people with direct knowledge of the discussions said. Buying lower-grade securities would go beyond the bank's 2009 corporate debt purchases that followed the global financial crisis and were limited to bonds rated A or higher and a-1 commercial paper.
With money-market rates already low, the central bank is turning to purchases of riskier assets to reduce borrowing costs. The bank has already said it will devote 1 trillion yen of its latest fund to corporate debt, 3.5 trillion yen to government bonds and the rest for ETFs and J-REITs.
"It was a big surprise that the BOJ embarked on buying of risky assets like ETFs and J-REITs, probably because it can't find much room left to buy up other assets that will make an impact," said Teizo Taya, a former BOJ board member and now an adviser of the Daiwa Research Institute.
The government last week lowered its assessment of the economy for the first time in 20 months. Prime Minister Naoto Kan wants to submit his 5 trillion yen stimulus package to parliament on Oct. 29, paving the way to pump more money into an economy that some analysts forecast will shrink this quarter.
Growth, Price Outlook
Shirakawa and his board will update their predictions for economic growth and inflation for fiscal 2010 and 2011 at the meeting, as well as publish estimates for the year ending March 2013 for the first time.
They will probably avoid downgrading their price forecast for next fiscal year to a negative figure from the current 0.1 percent increase, according to three people with knowledge of the matter. The latest monetary stimulus measures will boost the economy and prices, one of the people said. Another said recent gains in commodity costs and an increase in the tobacco tax introduced this month will also bolster prices.
The BOJ forecasts consumer prices excluding fresh food will slide 0.4 percent in the current fiscal year, the second straight annual decline. The board this month pledged to keep rates near zero until "price stability is in sight."
Policy Commitment
That promise is "tantamount to an official statement that the current policy duration will be extended at least into the year ending March 2013," said Takehiro Sato, Japan chief economist at Morgan Stanley MUFG Securities Co. in Tokyo.
Japan's economy will expand 2.6 percent in the year to March 2011 and slow to 1.9 percent in the following year, the policy makers said in July.
That's more optimistic than economists, who predict 2 percent growth in the current fiscal year and 1.1 percent in the next, according to the median estimate of 15 analysts surveyed by Bloomberg. Prices will decline 1 percent this year and drop 0.2 percent in the following period, they said. In fiscal 2012, Japan will grow 1.7 percent and prices will rise 0.1 percent.
Before it's here, it's on the Bloomberg Terminal.
LEARN MORE