Iran Aid for Iraqi Militias Outlined in Leak Documents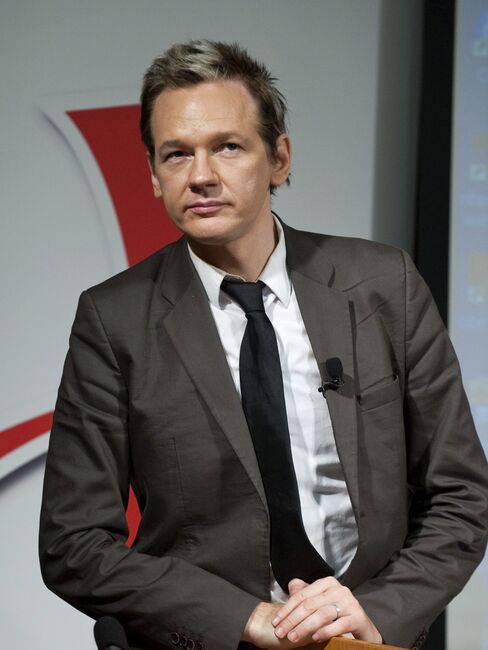 Iran provided extensive aid to Iraqi militias, such as training an operative who kidnapped American soldiers, according to classified U.S. military documents published yesterday.
Almost 400,000 documents obtained by WikiLeaks.org also document cases of U.S. military officials failing to investigate hundreds of reports of abuse, torture, rape and murder by Iraqi security forces and detail the deaths of 15,000 civilians in previously unreported incidents, the group said.
"We can see that Iraq was a bloodbath on every corner of that country and the stated aims for going into that war of improving the human rights situation and improving the rule of law did not eventuate," WikiLeaks founder Julian Assange told a press conference in London today. "In terms of raw numbers of people arbitrarily killed, it worsened the situation in Iraq."
The documents include field reports from 2004 through 2009 describing Iranian backing for Iraqi Shiite militia and provide details supporting warnings by U.S. officials of Iranian interference in Iraq.
In August 2005, for example, then-Defense Secretary Donald Rumsfeld said that "weapons clearly, unambiguously from Iran" had been found in Iraq, and that Iran's failure to prevent their transport across the border was "unhelpful." In March 2006, Rumsfeld accused Iran of sending the Revolutionary Guards, an elite military unit, into Iraq to foment violence.
'The Truth'
The documents, released in advance to the New York Times, the Guardian of the U.K., Germany's Der Spiegel and Le Monde of France, were posted on the WikiLeaks website late yesterday.
WikiLeaks receives confidential material that governments and businesses want to keep secret and posts the information on the Internet "so readers and historians alike can see evidence of the truth," the group says on its website.
The documents were worked through to remove names and specific locations that could lead to people's lives being endangered, Assange told the London press conference, which was attended by Daniel Ellsberg, who in 1971 leaked a top-secret study of Pentagon decision making in the Vietnam War to the New York Times. Assange said he had approached the Pentagon for help with the redactions and it had refused.
The U.S. Defense Department "strongly" condemned the unauthorized release of the documents, spokesman Geoff Morrell said in an e-mailed statement yesterday.
U.S. Assessing
Morrell in an interview today said the U.S. was assessing the documents for their potential damage, including the extent to which cooperative Iraqis have been identified.
The documents released yesterday were "absolutely" among the batch of 400,000 a 120-man team of Pentagon analysts had reviewed from a military "significant activities" database, Morrell said.
Those documents included the names of 60,000 Iraqis, "300 of which were particularly concerning to us" because the materials "clearly demonstrate" they were cooperating with the U.S., Morrell said.
U.S. Forces-Iraq have been notified of the names and are ready to take action to alert those 300 and safeguard them, if needed, Morrell said.
Still, "this may not be our primary concern any longer" because Wikileaks appears to have taken steps to redact names, Morrell said. U.S. analysts are assessing the extent of the redactions.
Pentagon officials remain concerned that the leaked documents could endanger U.S. troops because they expose military tactics, techniques and procedures, Morrell said
Iranian Training
The documents indicate that as far back as 2005, Iran armed and trained squads to kill senior Iraqi politicians and to undermine U.S. and British military operations, the Guardian reported.
One document from December 2006, posted on the New York Times website, describes a plan by a Shiite militia commander to kidnap U.S. soldiers in Baghdad in late 2006 or early 2007. For the mission, the commander tapped a subordinate who had been trained by Lebanese Hezbollah operatives in Qom, Iran, under the supervision of the Quds Force of the Revolutionary Guards, according to the document.
The next month, four American soldiers were abducted and killed before the U.S. military could free them, and the subordinate's fingerprints were found at the scene, the Times said. The U.S. tracked down and killed the subordinate four months later.
Iran Clash
In a separate incident in September 2006, American soldiers "well inside Iraqi territory" came under fire from Iranians after a U.S. soldier shot and killed an Iranian soldier who had aimed a rocket-propelled grenade launcher at the platoon, according to a document posted on the Times website. The platoon had been working with Iraqi troops near the border to search for "key infiltration routes" into the country, the document said.
Army General George Casey, then the top U.S. military commander in Iraq, said in June 2006 that Iran was providing weapons and training to Shiite extremist groups in Iraq who were attacking U.S. troops and Iraqi security forces.
"We are quite confident that the Iranians, through their covert special operations forces, are providing weapons and training," Casey said.
The WikiLeaks documents also cite detainee testimony, a captured militant's diary and discovered weapons caches in demonstrating how Iran provided Iraqi militias with weapons such as rockets and lethal roadside bombs, the Times said.
Civilian Deaths
The documents also indicate that the number of Iraqi civilians killed was greater than the U.S. revealed during the Bush administration, according to Iraq Body Count, a group which uses published reports to estimate the number of civilian deaths as a result of the war.
"Based on our careful sampling, we estimate that these logs will bring to public knowledge over 15,000 civilian deaths to add to the 107,000 already in our database," John Sloboda, IBC's co-founder, told reporters in London. The deaths include "check point killings and drive-by shootings," he said. "The effect that must have had on the Iraqi people is incalculable."
Mistreatment of Iraqi prisoners by their own forces appeared to be even more extreme than the accounts of abuse by the U.S. military at the Abu Ghraib prison, the Times said. The documents contain references to at least six prisoners who died in Iraqi custody during the six years covered as well as hundreds of accounts of beatings, burnings and lashings.
Release of the material is a "hugely irresponsible step on the part of WikiLeaks," Ryan Crocker, a former U.S. ambassador to Iraq, told a forum at the Center for Strategic and International Studies in Washington yesterday.
'Utterly Chilling'
"I'd really be worried if, as looks to be the case, you have Iraqi political figures named in a context or a connection that can make them politically and physically vulnerable to their adversaries," said Crocker, who is now dean of the Bush School of Government and Public Service at Texas A&M University in College Station.
"That just has an utterly chilling effect on the willingness of political figures to talk to us, not just in Iraq but anywhere in the world," Crocker said.
Kristinn Hrafnsson, an Icelandic journalist who worked on the redaction process for WikiLeaks, said they had been careful to avoid releasing details that would endanger people's lives. The team working through the documents had started by redacting everything and then un-redacting details as they established it was safe to do so, he said.
"We are confident that the documents in the highly redacted form contain no information that could be harmful to any individuals," Hrafnsson told reporters. "Any system can contain flaws, but the likelihood of any flaws in our model is minimal."
Assange said today that WikiLeaks will release further documents about the U.S.-led war in Afghanistan.
Before it's here, it's on the Bloomberg Terminal.
LEARN MORE