Green Bay Packers Legend Lombardi Tackles Broadway: John Simon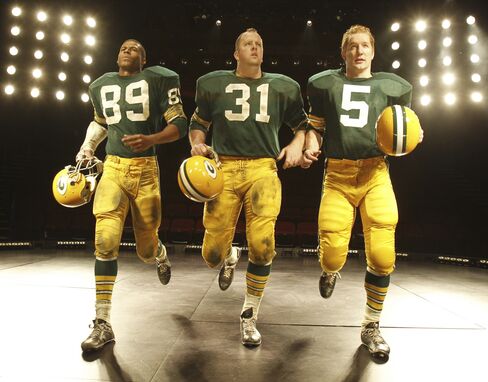 It is not easy to put the biography of a football coach on the stage. "Lombardi," by Eric Simonson, based on a book by David Maraniss, is just such a temerarious enterprise, and Broadway's arena-style Circle in the Square theater makes things even that much harder.
Although fictionalized, the play deals credibly enough with the efforts of sportswriter W.C. Heinz to write an article about Vince Lombardi, who turned the dubious Green Bay Packers into a spectacular team. His first attempt, despite a week spent in the Lombardi household, yielded little. A second shot, "a day-by-day account of Lombardi as he prepared for an important game" turned into a bestseller and remains a major book about football.
But a book is one thing and a play quite another. And theater in the round, where minimal scenery must come up from below the stage and sink back again in order not to block anyone's view, is another tough nut to crack. Especially if there are only three football players along with the journalist and Marie, the coach's stoical wife, to lend support to the protagonist. There are some slide projections, to be sure, but much -- perhaps too much -- is left to the imagination.
No Kids, Please
As for the domestic life -- we do not see the two Lombardi children -- it is mostly Marie putting up with an 800-pound gorilla who shuttles between the oft-repeated, stentorian command, "Shut up, Marie!" and occasional moments of tenderness. This Vince roars so much of the time that I wonder how long before he is disqualified by hoarseness, however capable Dan Lauria, the actor, may be.
Michael McCormick, as the reporter is named here, is also shouted at much of the time, alternatingly tolerated and banned from observing the practice sessions. As a house guest, too, he must display considerable fortitude, which the actor, Keith Nobbs, manages valiantly.
The three Packers we see are slippery Paul Hornung, from a white-collar background; gruff working-class Jim Taylor; and Dave Robinson, the patient players' representative, who is black. They are a trifle too typical, and Chris Sullivan, who plays Taylor, could pass for Bret Favre's elder brother. He, Bill Dawes (Paul) and Robert Christopher Riley (Dave) make the most of near-stereotypical roles under Thomas Kail's apt direction.
Fine Marie
The most interesting performance is the Marie of Judith Light, who has a kind of irony in her aspect, intonation, and even walk, which allow her to get laughs from lines that are not particularly funny.
Not being a football aficionado myself, and left borderline cold by the proceedings, I wonder whether there are enough football fans eager to catch "Lombardi," and whether even they would feel they're getting enough out of it. I, at any rate, was surprised to learn that Lombardi had also worked in a bank and that he was only 57 when the prostate cancer that long dogged him finally delivered its lethal tackle.
David Korins's spare scenery, Paul Tazewell's persuasive costumes and Howell Binkley's appropriate lighting are all eminently workmanlike. "Lombardi" never quite achieves the greatness of the coach's briefly invincible team.
At 235 W. 50th St. Information: +1-212-239-6200; http://www.telecharge.com Rating: **
What the Stars Mean:
****       Do Not Miss
***        Excellent
**         Good
*          Poor
(No stars) Worthless
(John Simon is the New York drama critic for Muse, the arts and leisure section of Bloomberg News. The opinions expressed are his own.)