Brazil Coffee Crop Seen at Four-Year Low on Drought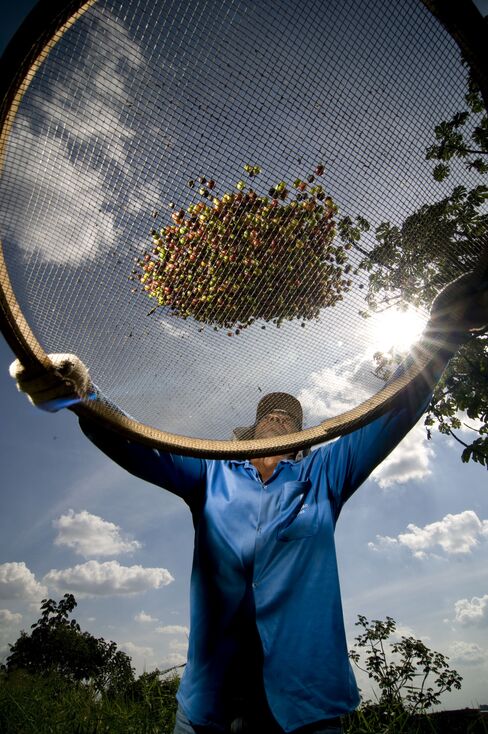 Coffee output in Brazil, the world's biggest producer, may drop to the lowest in four years in 2011 after a drought hindered flowering for the next crop, the head of a grower's group said.
Brazil may harvest about 36 million bags of coffee next year, down from 47.2 million this year and 39.5 million in 2009, Gilson Ximenes, the head of the National Coffee Council, said in a telephone interview. Brazil's Agriculture Ministry will release its first estimate for next year's crop on Dec. 14.
Coffee trees in Brazil's Southeast, which accounts about 85 percent of the country's output, need adequate levels of soil moisture to flower properly in October before developing beans for the following year. Dry weather between August and September reduced humidity and hindered flowering, Ximenes said. Output will also fall because trees will enter the lower-yielding half of a two-year cycle.
"Crops faced aggravating circumstances," Ximenes said in a telephone interview today from Minas Gerais. "We'll certainly have a smaller crop than in 2009."
Ximenes' estimate for next year's crop is lower than the market expects, said Marcio Bernardo, a coffee analyst at Newedge USA LLC in New York. Brazil may harvest about 38 to 40 million bags of the beans, he said.
"It's still very early to estimate the size of the crop because lots of weather impacts will still happen," Bernardo said in a telephone interview today. "But 36 million bags is a low forecast."
Drought Concern
Some members of Cooxupe, Brazil's largest coffee cooperative, are reporting losses of as much as 15 percent of their crops because the flowers are falling off of trees without producing beans, said Joaquim Goulart de Andrade, a manager at the group.
"We are seriously concerned," Andrade, whose cooperative is a member of the coffee council, said today in a telephone interview from Guaxupe, Brazil.
Rainfall in the Guaxupe region, where the cooperative's 11,500 growers produce about 13 percent of Brazil's arabica coffee, totaled 706.4 millimeters (28 inches) this year through September, the least since 2001. That compares with a 49-year average of 923.2 millimeters for the period, according to data on Cooxupe's website. Flowering runs from September through November and the harvest starts in April.
Expected rains could help the harvest, Brazilian Agriculture Minister Wagner Rossi said yesterday in an interview in Santiago.
Rainfall Compensates
"We expect to have showers in the next months that will compensate for the weakness in the last months," said Rossi.
"Coffee has one strong harvest and then one weak one," he said. "The last weak year was 39 million. We will probably see something close to that."
The National Coffee Council represents the country's biggest growers, including cooperatives and regional associations. A bag of coffee weighs 60 kilograms (132 pounds).
Before it's here, it's on the Bloomberg Terminal.
LEARN MORE