VTB State Asset Sale Winning Over Bond Investors: Russia Credit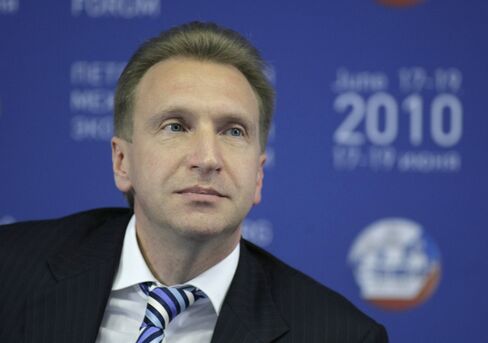 Russia's $59 billion asset sale program is stoking the biggest rally in VTB Group bonds since July and sending OAO Sberbank yields to record lows on speculation disclosure will improve with less state control.
VTB's dollar notes due in 2018 jumped the most since July 8 yesterday and yields on Sberbank notes maturing next year traded at the lowest since they were issued in 2006, after the government unveiled plans this week to sell stakes in Russia's two largest lenders. The state may give up control of VTB within three years and plans to reduce its Sberbank holding by 2014, First Deputy Prime Minister Igor Shuvalov said Oct. 20.
"A serious privatization push would be positive for all Russian assets," said Paul McNamara, who oversees $4.5 billion of emerging-market debt, including Russian corporate bonds, at Augustus Asset Management Ltd. in London. "It will outweigh the problems caused by a lack of state ownership."
Two decades after the fall of communism, the world's biggest energy exporter is selling shares in 900 state companies to help plug its budget deficit as Russia seeks to reduce dependence on commodities. Bondholders demand higher yields from Russia than lower-rated Brazil, Colombia and the Philippines, in part because of concerns over the former Soviet nation's reliance on energy sales and corporate transparency.
Energy Exports
Energy accounts for about 75 percent of Russian exports to the Baltics and countries outside the former Soviet Union, government data show. Russia ranks 146th on Transparency International's least corrupt nations list, worse than Brazil, India, China and Turkey.
"VTB is often criticized for the fact that the state is allegedly interfering in the bank's business, even though this is not really happening," Herbert Moos, deputy chairman of VTB Group in Moscow, said in a phone interview yesterday. "Bringing in investors, chiefly foreign, to our board will undoubtedly affect our profitability and effectiveness in a positive way."
An official at Moscow-based Sberbank, who wouldn't be identified in line with the bank's policy, declined to comment on the effect of a reduced government shareholding on the lender's debt.
The government, which owns 85.5 percent of Moscow-based VTB, plans to sell a 10 percent stake this year, another 10 percent next year, and a further 10 to 15 percent in 2012, Shuvalov said. Prime Minister Vladimir Putin's government is also ready to "discuss the possibility" of cutting its holdings in the nation's second-largest bank to less than a controlling stake of 50 percent plus one share within three years, he said. VTB shares, which closed at their highest since May 2008 yesterday, slipped 0.3 percent to 9.9 kopeks by 10:35 a.m. in Moscow today.
Shares Surge
Russia owns 60.3 percent of Sberbank, the country's biggest lender, data compiled by Bloomberg show. The state may sell more than the planned 9 percent stake, Shuvalov told reporters in Moscow on Oct. 12 after a meeting with foreign investors. Sberbank's shares surged to their highest since January 2008 yesterday, and were little changed at 103.20 rubles today.
The government also plans to offer as much as 15 percent of OAO Rosneft, Russia's largest oil producer, along with stakes in OAO Aeroflot, the national carrier, OAO Rostelecom, the main long-distance phone company, OAO Sovcomflot, Russia's biggest shipper, and OAO Russian Railways, the state-owned rail monopoly. Shares of OAO Transneft, Russia's oil pipeline monopoly, fell to the lowest in a week after Shuvalov cut it from the list of companies the Finance Ministry issued in July.
Budget Gap
The sales will help the government narrow its budget gap to 1.8 trillion rubles ($59 billion) next year, Shuvalov said. The deficit will amount to 3.6 percent of gross domestic product next year compared with 5.3 percent this year, according to government forecasts.
Bondholders demand higher yields from Sberbank and VTB than from Itau Unibanco Holding SA, Brazil's largest lender by market value, which is rated one step lower. Sao Paulo-based Itau's dollar bonds due next year yielded an average 2.54 percent this year compared with 2.9 percent for Sberbank's 2011 notes, data compiled by Bloomberg show.
The cost of protecting Russian state debt against non-payment for five years using credit-default swaps fell three basis points to 133.5 yesterday, down from this year's peak of 217, according to prices from CMA. The contracts pay the buyer face value in exchange for the underlying securities or the cash equivalent should a government or company fail to adhere to its debt agreements.
Default Swaps
Credit-default swaps for Russia cost 2.5 basis points less than contracts for Turkey, which is rated four levels lower at Ba2. Russian swaps cost as much as 40 basis points less on April 20.
The extra yield investors demand to hold Russian debt rather than U.S. Treasuries fell one basis point to 203 yesterday, according to JPMorgan Chase & Co.'s EMBI+ indexes. The difference compares with 153 for debt of similarly rated Mexico and 185 for Brazil, which is rated two steps lower at Baa3 by Moody's, 175 for the Philippines and 164 for Colombia.
The so-called yield spread on Russian bonds is 55 basis points below the average for emerging markets, down from a 15-month high of 105 in February, according to JPMorgan indexes.
The yield on Russia's dollar bonds due in 2020 fell one basis point today to 4.30 percent, 15 basis points short of a record low. The yield on the country's ruble notes due in August 2016 was unchanged at 7.14 percent.
Bonds Rally
Sberbank dollar bonds due 2017 rose for the first day in six yesterday, pushing the yield down two basis points to 5.38 percent, according to prices compiled by Bloomberg. The yield dropped six basis points to 5.32 percent today. The yield on Sberbank's 2011 dollar bonds slid 27 basis points to a record-low 2.04 percent today.
VTB bonds maturing in 2015 yielded 5.25 percent yesterday, down 10 basis points, in the biggest decline since Oct. 6, and traded at 5.28 percent today. The yield on debt due in 2018 fell for the first day in six yesterday, sliding nine basis points to 5.83 percent, the largest drop since July 8, according to data compiled by Bloomberg. The yield was at 5.86 percent today.
The government isn't talking about definitely giving up control of either VTB or Sberbank, which means their "quasi-sovereign status will not be affected while the entrance of new shareholders may improve governance," Dmitry Dudkin, head of fixed income research in Moscow at UralSib Financial Corp., said in an e-mail interview yesterday.
Controlling Stake
"I don't think losing the sovereign guarantee makes a huge difference," said Jerome Booth, who helps manage $35 billion in emerging market assets as head of research at Ashmore Investment Management Ltd. in London. "If the asset was strategic beforehand, it's going to continue to be strategic, and if it wasn't it won't be. I don't think it fundamentally affects the credit quality."
Russia will retain a controlling stake in Sberbank for the next five years, Deputy Finance Minister Alexei Savatyugin told reporters in Moscow yesterday. VTB's ties with the government won't be severed by a reduction in its stake as "no one is saying" they'll be giving up their investment altogether, VTB's Moos said.
Sberbank's "importance to the economy" means it would still receive state assistance in the event of a default, Guenter Schwabl, a fund manager at Erste Sparinvest KAG, which holds the equivalent of about $171 million of emerging-market corporate bonds, including Sberbank debt, said by phone yesterday from Vienna.
Crude Oil
The asset sale program is part of Putin's initiative to build investor support after last year's record economic contraction triggered the country's first budget deficit in 10 years. Oil and natural gas earnings make up about 25 percent of the economic output of Russia, the world's largest energy exporter. Crude prices have gained 1.6 percent so far this year, compared with a 78 percent surge in 2009, Bloomberg data show.
The Micex index, the chief platform for trade of Russian equities and bonds, is instituting reforms to make it easier for foreign investors to buy and sell securities, and the central bank is loosening its control on the ruble as it moves closer to a flexible exchange rate and inflation targeting regime by 2012.
Credit ratings for both VTB and Sberbank will be positively affected by the reduction in state control, Yaroslav Sovgyra, a senior analyst at Moody's Investors Service, said in an interview in Moscow yesterday. Sberbank and VTB share the same Baa1 credit rating as Russian sovereign debt at Moody's.
"The impact on corporate governance is unquestionably positive," Sovgyra said. Privatization "will affect the banks' standalone ratings which are low partly because of inefficiencies in management," he said.
Before it's here, it's on the Bloomberg Terminal.
LEARN MORE