U.S. Stocks Rise on Corporate Earnings, Jobless Claims Data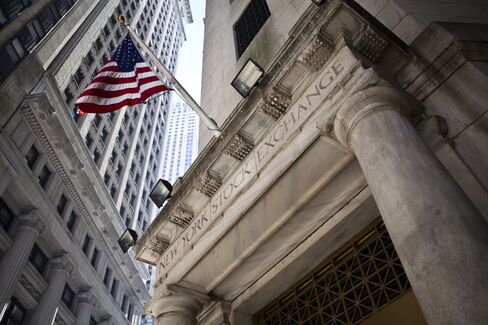 U.S. stocks rose, sending benchmark indexes higher for a second day, as better-than-estimated earnings from EBay Inc. to McDonald's Corp. and a drop in jobless claims helped offset a slump in financial companies amid speculation that banks face more losses from bad mortgages.
EBay, the owner of second-most visited e-commerce site, jumped 6 percent, while McDonald's climbed 1.3 percent. Netflix Inc., the movie-rental service, surged 13 percent after raising subscriber projections. Bank of America Corp. slid 3.3 percent. Alcoa Inc. and Occidental Petroleum Corp. slumped at least 1.3 percent as commodities prices sank amid a rebound in the dollar.
The Standard & Poor's 500 Index advanced 0.2 percent to 1,180.26 at 4 p.m. in New York, after earlier declining as much as 0.6 percent. The Dow Jones Industrial Average rose 38.60 points, or 0.4 percent, to 11,146.57 and earlier topped the highest level on a closing basis since the week Lehman Brothers Holdings Inc. filed for bankruptcy in September 2008.
"The turn in corporate profits is feeding into the economy itself," said Michael Strauss, who helps oversee about $27 billion at Commonfund in Wilton, Connecticut. "We're seeing the overwhelming majority of companies beating earnings estimates. There's a pick-up in spending activity and some of that may include hiring. That's a good environment for equities."
Earnings Scorecard
Benchmark gauges yesterday surged the most in two weeks as profit at Boeing Co. and Yahoo! Inc. topped projections and speculation grew the Federal Reserve will pump more cash into the economy in a tactic known as quantitative easing. Per-share earnings have topped estimates at more than 85 percent of companies in the S&P 500 that have reported results since Oct. 7, according to data compiled by Bloomberg. Net income has grown 47 percent for the group as sales increased 7.5 percent.
The S&P 500 rose 1.1 percent to 1,178.17 yesterday as the Fed said in its Beige Book business survey that U.S. economic growth showed little sign of accelerating last month, fueling speculation it will boost purchases of government debt.
Stocks maintained gains this morning after the index of U.S. leading indicators climbed in September for the third straight month, signaling the recovery will extend into 2011. Another report showed manufacturing in the Philadelphia region expanded less than forecast in October as a measure of orders contracted for a fourth month.
Jobless Claims
Initial jobless claims fell by 23,000 to 452,000 in the week ended Oct. 15, Labor Department figures showed today before markets opened. The total number of people receiving unemployment insurance fell, while those getting extended payments rose.
"The latest economic figures show that the jobs market is improving at a slow pace albeit in the right direction," said Jason Pride, director of investment strategy at Glenmede in Philadelphia, which manages $18 billion. "Corporate profits have been pretty good. Investors are reacting accordingly."
EBay rallied 6 percent to $27.20 after the auction site forecast higher-than-estimated sales and earnings. Chief Executive Officer John Donahoe, halfway through a three-year campaign to revive growth, has cut listing fees to lure more sellers and taken steps to make EBay's Marketplaces commerce site easier to use.
McDonald's rose 1.3 percent to $78.44. The world's largest restaurant chain posted a 10 percent gain in third-quarter profit after luring more customers with new menu items. Net income rose to $1.39 billion, or $1.29 a share. That compared with the $1.25 average of estimates compiled by Bloomberg.
Netflix
Netflix soared 13 percent to $172.69. The online and mail-order movie service provider projected fourth-quarter profit of as much as 74 cents a share, beating the average analyst estimate of 70 cents. Netflix raised its year-end subscriber forecast to as much as 19.7 million from up to 18.5 million.
Bank of America slid 3.3 percent to $11.36, leading the S&P 500 Diversified Financials Index down 1 percent, the largest decline among 24 industries. The lender has slumped 7.9 percent over the last three days as concerns grew that flawed foreclosure procedures could worsen the earnings outlook for the industry.
"There's a dark cloud over the financials," said Michael Nasto, senior trader at U.S. Global Investors Inc., which manages about $2.5 billion in San Antonio. "It's fear about the foreclosure situation. Even as earnings beat estimates, there's a potential for things to get worse in the future."
Steve Leuthold, whose Leuthold Core Investment Fund has beaten 88 percent of its rivals in the past five years, said he's willing to consider investing in banks.
'Another Look'
"We're getting some of the bank groups that are rating attractive at this time, so I will take another look," Minneapolis-based Leuthold said today in an interview on Bloomberg Television's "In the Loop with Betty Liu." "You are looking at values, and sometimes when you are trying to be a value player, you must look beyond the short-term negative fundamentals. We do not own any now, but it is possible."
Caterpillar Inc. fell 1.2 percent to $78.89 after the largest maker of construction and mining equipment predicted higher expenses for pensions, research and taxes in 2011.
Alcoa slumped 1.3 percent to $12.78, while Occidental Petroleum declined 2.7 percent to $78.80, leading gauges of raw-materials and energy lower as the dollar rose, reducing the appeal of commodities as an alternative investment. The S&P GSCI Spot Index of 24 commodities declined 1.7 percent.
The Dollar Index, which tracks the U.S. currency against six major peers, rose 0.4 percent to 77.49, rebounding from as low as 76.84.
"We've been running out of steam," said Peter Sorrentino, who helps oversee $13.3 billion at Huntington Asset Advisors in Cincinnati. "We've had a big run-up, especially in commodities. There's not a lot of conviction here. The whole financial sector is going to be haunted going forward. Banks are a sort of barometer for the entire market. If there's a cloud over them, they are going to cast a cloud over everything they touch.