Osborne Points to BOE Action If Cuts Lead to Slump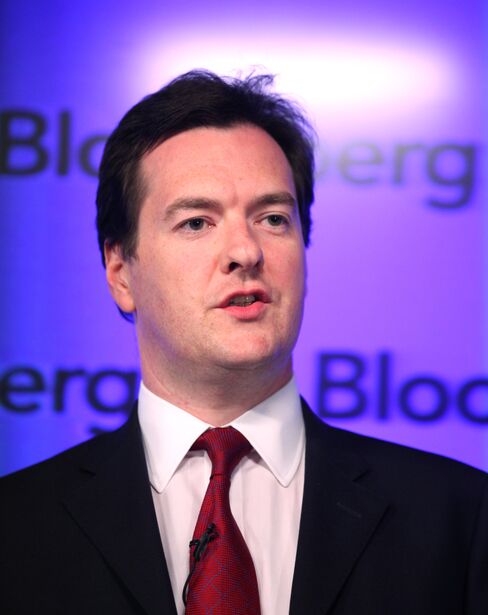 Oct. 21 (Bloomberg) -- Chancellor of the Exchequer George Osborne signaled that he's counting on Bank of England Governor Mervyn King to temper any economic slump that might be triggered by the government's deficit-reduction effort.
The austerity plan Osborne announced yesterday has "some caution built in to it and there is of course the freedom for the Bank of England to deploy monetary-policy tools as well," Osborne told BBC Radio 4's "Today" show.
Osborne's comments come as minutes of this month's Bank of England rate decision, published yesterday, suggest that policy makers are leaning toward expanding emergency bond purchases. The bank has spent 200 billion pounds ($316 billion) in a program called quantitative easing.
Two-year government notes rose, driving the yield down 2 basis points to 0.574 percent, close to the lowest on record, at 4 p.m. in London. Yields on 10-year gilts fell 5 basis points to 2.93 percent and the pound slid 0.8 percent against the euro to 88.81 pence.
"The risk of renewed quantitative easing makes sterling a sell," Mansoor Mohi-uddin, head of global currency strategy at UBS in Singapore, wrote to clients today. "Monetary policy may have to be loosened again sharply to support the economy."
Bank of England policy maker David Miles said that while he's "guardedly optimistic" about the economic outlook, the bank still has "weapons" at its disposal, according to an interview with the Stoke-on-Trent-based Sentinel newspaper published on its website.
Spending Cuts
Osborne yesterday detailed spending cuts to shrink the budget deficit to 2 percent of economic output by 2015 from more than 10 percent today. The plan may lead to the loss of half a million public-sector jobs.
The Bank of England held its benchmark interest rate at a record low of 0.5 percent this month. Policy makers split three ways over whether to add more stimulus, with Adam Posen voting to restart asset purchases and Andrew Sentance demanding an interest-rate increase to keep inflation in check. King signaled earlier this week he may be open to stepping up asset purchases to prevent deflationary pressures from emerging.
"It has become a popular view in the market that we will have another round of QE," said Alan Clarke, an economist at BNP Paribas SA in London. "It seems to be a matter of when and not if."
The Labour Party, which lost power to Prime Minister David Cameron's Conservative-led coalition in May, said the cuts risk derailing a recovery already showing signs of cooling.
Sales Fall
U.K. retail sales dropped in September for a second month as consumers curbed spending on items from clothing to gasoline, the Office for National Statistics in London said today.
"If we don't go back into double-dip recession we're going to be knocking along the bottom for some time," Labour's Treasury spokesman, Alan Johnson, told Francine Lacqua on Bloomberg Television's "On the Move" program today. Quantitative easing was now "back on the agenda," he said.
Osborne's reliance on welfare cuts to balance the budget left some economists and analysts doubting he will achieve his goals. The chancellor yesterday outlined an extra 7 billion pounds of savings from the social-security bill, spending over which the government lacks total control.
Cameron and Osborne say their austerity program is keeping interest rates low and securing the nation's top-grade credit rating. Their challenge is to persuade markets they will meet their targets while also convincing voters and their Liberal Democrat coalition partners that the cuts are worth the pain.
'No Room for Error'
"Basically, there's no room for error," said Peter Dixon, an economist at Commerzbank AG in London. "The likelihood is that something will go wrong. Even if it doesn't, and we're on track, and the costs of putting the fiscal squeeze in place are quite high, the coalition may start to have differing views on whether a tough fiscal stance may be maintained."
The Institute for Fiscal Studies said that with the exception of the richest 2 percent of the population, the poorest will be hit proportionately harder than the better off. Families with children are the biggest losers, it said.
The measures may not be enough to erase the structural deficit and further spending cuts or tax increases may be needed, the London-based research group said today. "The chancellor would be best advised to have a Plan B in his pocket," said IFS Acting Director Carl Emmerson.
To contact the reporter on this story: Andrew Atkinson in London at a.atkinson@bloomberg.net
To contact the editor responsible for this story: James Hertling at jhertling@bloomberg.net