Obama Meets With Jobs, Raises Cash on West Coast Campaign Swing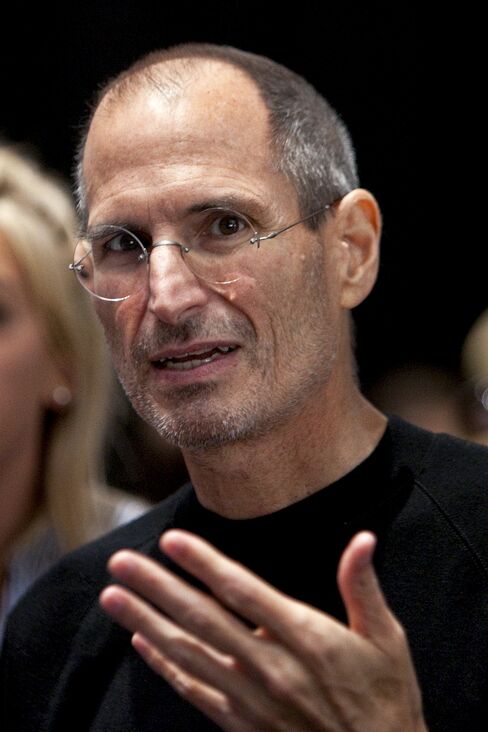 President Barack Obama appealed to Democratic donors in Silicon Valley and met with Apple Inc. Chief Executive Officer Steve Jobs on the second day of a western campaign swing to defend his party's congressional majorities against Republican gains in the Nov. 2 elections.
Obama sandwiched a 45-minute meeting with Jobs just after landing in the San Francisco area yesterday in between campaign appearances in Seattle on behalf of Washington Democratic Senator Patty Murray and two fundraisers where the party was aiming to raise about $1.8 million.
"They discussed American competitiveness and education, especially reforms such as the president's Race to the Top initiative," White House press secretary Robert Gibbs said in a statement afterward. "They then talked about energy independence and ways to increase job creation."
Gibbs told reporters earlier that the session with Jobs was "a meeting the president was interested in having" so they could discuss the economy and innovation.
The president arrived in the Bay Area to help the Democratic National Committee raise money at separate fundraisers held at the homes of clean technology venture capitalist Steve Westly and Marissa Mayer, Google Inc.'s vice president of search products.
At Mayer's Palo Alto home, Obama said the "can-do spirit" of Silicon Valley must be revived in the U.S. more broadly.
'Structural Problems'
"My task over the last two years hasn't just been to stop the bleeding, my task has also been to try to figure out, how do we address some of the structural problems in the economy that have prevented more Googles from being created, prevented more Hewlett-Packards from being created?" Obama said.
The meeting with Jobs wasn't on the president's official schedule. They last met during the 2008 campaign, according to Gibbs.
Jobs has supported Democratic candidates and organizations in the past. He donated $50,000 to the DNC in 2000 and $26,700 to the Democratic Congressional Campaign Committee in 2006, according to Federal Election Commission records. Jobs also contributed $1,000 to former White House Chief of Staff Rahm Emanuel when Emanuel was running for the U.S. House in 2004.
On Oct. 19, Apple predicted profit of $4.80 a share for this quarter, short of the $5.03 average of estimates compiled by Bloomberg before the announcement. Apple has risen 46.9 percent so far this year.
Senate Race
Obama is scheduled to leave for Los Angeles today for an event with California Democratic Senator Barbara Boxer. She is in a close race for re-election against Republican Carly Fiorina, the former chief executive officer of Hewlett-Packard Co..
California voters also will decide another of the year's most high-profile contests in the governor's race between former EBay Inc. CEO Meg Whitman, the Republican nominee, and Democratic state Attorney General Jerry Brown, a former governor.
A poll by the nonpartisan Public Policy Institute of California showed Brown with a 44-36 percent lead among likely voters. Boxer leads Fiorina 43-38 percent in the same poll.
In Seattle earlier yesterday, Obama focused on two key constituencies, women and young voters.
He told a group of women at a backyard town hall-style event that his initiatives will help them prosper in the workplace and benefit their families. There, and at a rally at the University of Washington, he took aim at Republicans, who are poised to make gains in the midterm elections, saying they would return to policies that led to the worst recession since the Great Depression.
Reminding Voters
"Well Seattle, it's up to you to tell them you haven't forgotten," Obama said to a crowd at the university. "It's up to you to say, 'We are not buying what you are selling.'"
With less than two weeks before the election, the president is seeking to rouse the party's base and revive some of the enthusiasm, especially among younger voters, that helped him win the presidency in 2008.
"We need you fired up, Seattle," Obama said at the rally.
Murray is being challenged by Republican Dino Rossi, a businessman and former state senator. Vice President Joe Biden and first lady Michelle Obama have also appeared for Murray in recent weeks.
Lead in Poll
A poll by the Seattle-based university conducted Oct. 5-14 found Murray leading Rossi by 8 percentage points, 50 percent to 42 percent among registered voters. The poll has an error margin of plus or minus 4.3 percentage points.
The campaign help from Obama, Biden and others "will only help solidify the lead," said Matt Barreto, an associate professor of political science at the university and director of the poll.
Obama is still popular in the western portions of the state, particularly Seattle, he said.
After the events in Southern California today, Obama heads to Nevada to campaign for Senate Majority Leader Harry Reid. Nevada's 14.4 percent jobless rate is the highest in the U.S., and the home foreclosure rate is five times the national average, according to RealtyTrac Inc. of Irvine, California.
Reid's race against Sharon Angle, who is backed by the Tea Party, is rated a toss-up by the non-partisan Rothenberg Political Report in Washington.
Before returning to the capital tomorrow, Obama is scheduled to campaign for Democratic gubernatorial candidate Mark Dayton in Minnesota.
Before it's here, it's on the Bloomberg Terminal.
LEARN MORE