Novartis's Alcon Offer More Attractive, Jimenez Says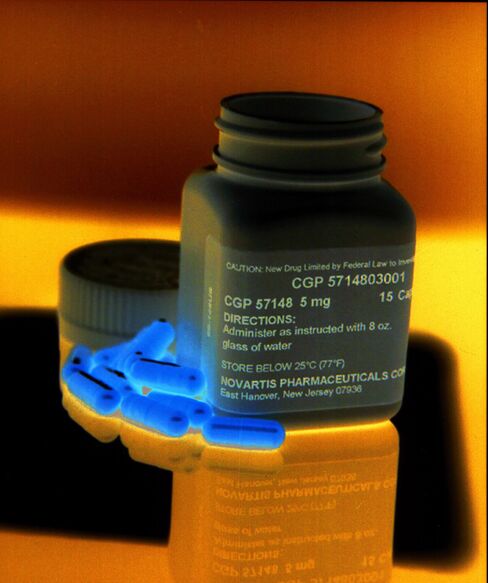 Novartis AG indicated Alcon Inc. shareholders should take another look at its $11.5 billion buyout offer now that an increase in the Swiss drugmaker's share price and a rally in the franc have lifted the value of the bid.
Novartis, which owns 77 percent of the eye-care company, isn't waiting to buy the remaining shares and instead is starting to work with Alcon at "arm's length," Novartis Chief Executive Officer Joe Jimenez said on a conference call after reporting an 8.4 percent increase in third-quarter profit. Novartis is willing to pay a fair price and no more, and the deal must benefit both companies, he said.
"We will see how things play out," Jimenez said. "This has to be a fair offer for Novartis and Alcon. The attractiveness of that offer has gone up."
The rise in Basel, Switzerland-based Novartis's stock eases pressure on Jimenez to sweeten the terms, said Andrew Weiss, an analyst at Bank Vontobel AG in Zurich. The independent directors committee of Alcon's board has demanded a higher price since Novartis offered Alcon's public shareholders less than Nestle SA received this year for its 52 percent stake.
Novartis finished unchanged at 30 Swiss francs in Zurich. The shares have risen 13 percent since touching their low for the year on July 30, while the Swiss franc has gained 7 percent against the dollar.
In announcing the purchase of Nestle's stake on Jan. 4 for $28.3 billion, or $180 a share, in cash, Novartis also said it would exchange 2.8 of its shares for each of Alcon's. That valued the publicly traded stock at about $153 a share that day. The offer is now worth about $165.80, based on today's closing price for Novartis and the franc's exchange rate with the dollar.
Higher Price
Nestle deserved a higher price than Alcon's public shareholders because the Nestle stake gave Novartis control of Alcon, Novartis has said. Alcon, the world's largest eye-care company, is based in Huenenberg, Switzerland, and its shares trade on the New York Stock Exchange. Alcon has traded at a premium to the Novartis bid as investors speculated on a higher offer.
Novartis bought 25 percent of Alcon from Nestle in 2008 for $143 a share. Combined with what it paid Nestle this year, the average price was $168.
"The offer is just short of $168, and at $168 it will be difficult for the IDC to block a merger," Weiss said in a telephone interview today, referring to the independent directors. "The terms are good, the price is in line. The ice under the IDC's feet is getting thin."
Alcon fell $1.06, or 0.6 percent, to close at $167.70.
Rising Profit
Novartis's net income rose to $2.28 billion in the third quarter from $2.1 billion a year earlier, the company said in a statement today. Analysts predicted $2.22 billion, according to the average of 15 estimates compiled by Bloomberg over the past month. Sales increased 13 percent to $12.6 billion. Demand for drugs to treat eye disease and high blood pressure and a new generic blood thinner helped lift earnings.
Novartis is rebuilding its stable of products to help replace revenue it will lose when its best-seller, Diovan for hypertension, starts to lose U.S. patent protection in 2012. Regulators approved Lucentis, an eye medicine, and Exforge, a blood-pressure drug, in the past four years. Novartis began selling a copy of Sanofi-Aventis SA's Lovenox blood thinner this year.
Sales growth this year will be in the mid teens on a percentage basis because of the inclusion of four months of revenue of Alcon, the company said. Excluding Alcon, Novartis maintained its forecast from July for growth at a mid-to-high single-digit pace on a constant currency basis.
Diovan, Gleevec
Prescription drug sales climbed 5 percent to $7.6 billion. Lucentis sales climbed 19 percent to $398 million, while Exforge increased 30 percent to $222 million.
Diovan generated $1.5 billion in revenue, a gain of 1 percent, and sales of Gleevec for leukemia rose 4 percent to $1 billion. Diovan faces competition from Teva Pharmaceutical Industries Ltd.'s generic version of Merck & Co.'s Cozaar hypertension pill, which won U.S. regulatory approval in April.
Revenue from the Sandoz generic-drug business gained 18 percent to $2.2 billion. Enoxaparin, the generic of Lovenox, had $292 million of sales. Novartis won U.S. regulatory approval in July to sell the drug, which uses technology from Momenta Pharmaceuticals Inc.
Momenta shares rose 85 cents, or 5.8 percent, to close at $15.57 on the Nasdaq Stock Market.
Alcon yesterday raised its profit forecast for the year and reported a 13 percent drop in third-quarter earnings on costs linked to the Novartis offer.
Before it's here, it's on the Bloomberg Terminal.
LEARN MORE