American Girl Dolls Face Disney, Toys 'R' Us Rivals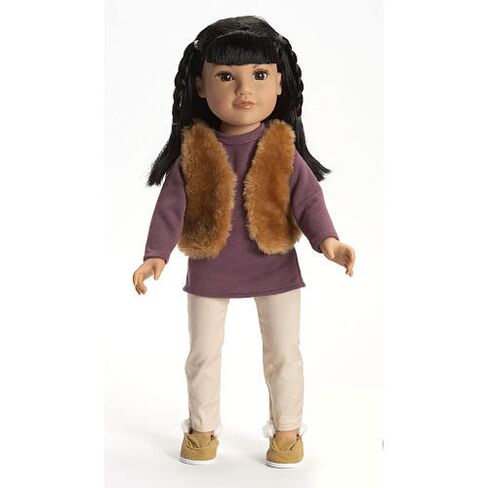 Oct. 21 (Bloomberg) -- American Girl, the Mattel Inc. doll that has dominated the big (18 inches, or 46 centimeters, tall) and expensive ($95) part of the market for 24 years, may have to watch her back this holiday season.
Toys 'R' Us Inc., Walt Disney Co. and MGA Entertainment Inc. are all out to get her. Toys 'R' Us, the world's biggest toy retailer, has introduced a line of ethnic dolls called Journey Girls for $29.99. Disney's $49.99 Princess & Me doll has made "most wanted" lists from Toy Insider and TimetoPlayMag.com. MGA's Best Friends Club features a $32.99 doll that promotes friendship through a storytelling website.
The trio of new big dolls may be the biggest threat to American Girl sales since a Wisconsin educator created the history-themed characters in 1986. With U.S. unemployment hovering at 9.6 percent, the cheaper entrants may be appealing to gift buyers seeking to economize.
"The angle most people seem to be pursuing is to price well below American Girl," said Edward Woo, an analyst at Wedbush Securities Inc. in Los Angeles. "That's an opportunity to break into this market."
Toys 'R' Us decided to enter the market after observing the continuing popularity of big dolls, Lisa Harnisch, a vice president of the Wayne, New Jersey-based retailer, said in an interview. About a year ago, she and her colleagues met with manufacturers and concluded 18-inch dolls -- more than six inches taller than Mattel's Barbie line -- would sell well during the 2010 holiday season; Journey Girl was born.
Each doll comes with a back story describing its travel experiences and hobbies. Taryn is a musician who dreams of playing at the New Orleans Jazz Festival; Meredith is a skier who hopes to visit the Alps.
'Like Friends'
"Kids can really relate to these larger dolls," Harnisch said. "They're like friends to the girls who play with them."
The Disney Princess & Me line, Disney's first foray into 18-inch dolls, features six popular movie characters including Cinderella, Ariel from "The Little Mermaid" and Aurora from "Sleeping Beauty." Among other accessories, girls can get the same outfits as their dolls.
"The popularity and success of American Girl has opened the market to other brands and opportunities," Jennifer Caveza, a marketing vice president at JAKKS Pacific Inc., which makes the Disney Princess dolls, said in an e-mail.
Nathalie Crausse, a flight attendant from Montpellier, France, was at the flagship Toys 'R' Us store in Times Square on Oct. 8, checking out Disney Princess & Me outfits for her 6-year-old daughter, Tara. Crausse is a regular in the store during her bimonthly stopovers in New York and says she has bought eight Disney Princess dresses in the past 18 months.
'Buy Something'
"If I can't get something for my daughter," said Crausse, "I always buy something for the doll."
MGA's Best Friends Club line aren't the only dolls the company makes that competes with Mattel products. MGA's Bratz line has gone head to head with Barbie. The two companies have tussled in court over the ownership rights to Bratz. In July, an appeals court overturned an earlier ruling that had awarded the rights to Mattel.
Pushing American Girl aside won't be easy, says New York-based toy industry analyst Sean McGowan of Needham & Co.
"American Girl is not purchased instead of any other doll," said McGowan, explaining that the dolls appeal to customers who aren't easily swayed by price. "It's just a different kind of purchase." McGowan expects this year's sales to surpass the record $463 million in both 2008 and 2009.
Educator
American Girl first appeared in 1986 after Pleasant T. Rowland, an educator and writer based in Madison, Wisconsin, was looking for dolls for her nieces. Rowland couldn't find any that represented girls aged nine to 12.
She decided to create a line of dolls and books representing periods of American history, from Felicity Merriman, a colonial girl from 1774, to Molly McIntire, a World War Two-era girl from 1944. The dolls' popularity attracted the interest of Mattel, which bought Rowland's company for $700 million in 1998.
The El Segundo, California-based toymaker kept the craze going by opening stores, which now number nine, and backing a series of movies. Mattel added contemporary dolls in 1995, with varying combinations of skin tone, eye color and hair style.
Sales Rose
Sales surged 15 percent in 2005 following the release of the first of five films, "Samantha: An American Girl Holiday." While the growth has since slowed, sales rose during the recession, climbing 7.3 percent between 2007 and 2009.
Mattel climbed 40 cents to $22.73 at 4 p.m. New York time on the Nasdaq Stock Market. The shares have climbed 14 percent this year, compared with a 5.8 percent increase in the Standard & Poor's 500 Index.
Valerie Fallon is an American Girl buyer of long standing. Over the past nine years, the mother of three from Newtown, Connecticut, has purchased a salon chair, hair brushes, a horse and an equestrian set for her three girls, as well as a matching soccer kit for doll and child.
Fallon's youngest daughter, Kiersten, celebrated her 8th birthday at American Girl's New York City store with cookies and cupcakes on Oct. 8. Each year, Fallon says, she spends "a couple of hundred dollars" on American Girl products.
Bring on the competition, Julie Parks, American Girl's director of public relations, said in a phone interview.
"We're really proud to have created this 18-inch doll genre," she said. "We feel we have a great product line for 2010. Our content has evolved into entertainment and theater, and that has been our point of difference from the outset."
To contact the reporter on this story: Ian Thomson in New York at ithomson2@bloomberg.net
To contact the editor responsible for this story: Robin Ajello at Rajello@bloomberg.net