Goldman Sachs Said to Mull Repaying Buffett's $5 Billion Stake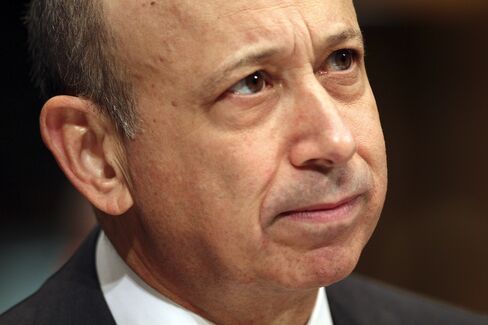 Goldman Sachs Group Inc. is considering repaying the $5 billion investment it received two years ago from Warren Buffett's Berkshire Hathaway Inc., said a person familiar with the company's plans.
A repayment isn't likely to happen imminently because the bank requires approval from the Federal Reserve, said the person, who declined to be identified because the deliberations aren't public. The person wouldn't say whether Goldman Sachs is already seeking the Fed's consent. The Wall Street Journal reported earlier today on the possible repayment.
Goldman Sachs turned to Buffett, the second-richest American and a cult figure in the investing world, to shore up the investment bank's capital and restore market confidence after its stock tumbled and borrowing costs spiked following the Sept. 15, 2008, collapse of Lehman Brothers Holdings Inc. News of Berkshire's investment also helped Goldman Sachs raise $5.75 billion from a stock offering a day later.
Chief Executive Officer Lloyd Blankfein, 56, repeatedly invoked the deal with Buffett, announced on Sept. 23, 2008, as evidence that Goldman Sachs wasn't relying on government funds received from the U.S. Treasury a few weeks later. And Buffett, 80, praised Blankfein's leadership after Goldman Sachs was sued for fraud by the Securities and Exchange Commission in April. The case was settled in July for $550 million.
$500 Million Cost
Goldman Sachs, the most profitable securities firm in Wall Street history, would like to retire the preferred shares it sold to Buffett at the height of the financial crisis and replace them with a cheaper form of capital, the person said. Refunding Berkshire would also free Goldman Sachs's top executives from a requirement that they retain 90 percent of the stock they own in the New York-based company.
David Wells, a spokesman at Goldman Sachs, declined to comment. Carrie Kizer, a spokeswoman for Omaha, Nebraska-based Berkshire, didn't immediately return messages seeking comment.
Berkshire's stake gets a 10 percent dividend, costing Goldman Sachs $500 million a year. By contrast, the $2.25 billion of five-year notes the firm issued in July yield 2.95 percent, according to data from Trace, the bond-price reporting system of the Financial Industry Regulatory Authority.
The firm held $173 billion in cash and other easy-to-sell assets at the end of September and could use some of that money to repay Buffett, the person said. The company is also responding to new capital rules imposed by international regulators under the Basel III regime, which wouldn't count Berkshire's stake as Tier One capital, the person said.
Warrants
Buffett's $5 billion investment in perpetual preferred shares, announced on Sept. 23, 2008, can be called at any time at a 10 percent premium. Berkshire also received warrants to buy $5 billion of common stock with a strike price of $115 per share, which can be exercised at any time within five years.
Under the terms of Berkshire's investment, Blankfein, Chief Financial Officer David Viniar and Co-Presidents Gary Cohn and Jon Winkelried were named in the "material definitive agreement" that prevents them, their families and their estates from selling more than 10 percent of the common stock they own until Oct. 1, 2011, or until Berkshire redeems its $5 billion in preferred stock, whichever comes soonest. Winkelried left Goldman Sachs in March 2009.
The agreement pertained to stock owned by the executives as of Sept. 28, 2008.