Fed's Bullard Favors $100 Billion Start to Easing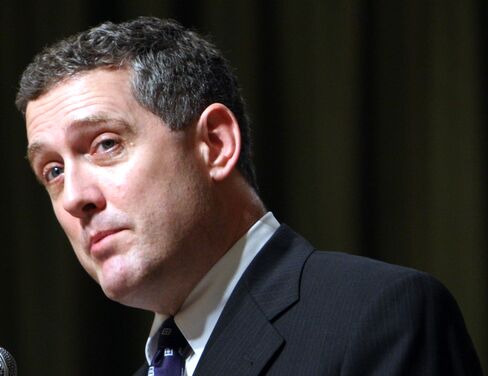 Federal Reserve Bank of St. Louis President James Bullard proposed the central bank buy $100 billion in long-term Treasuries next month and calibrate subsequent purchases based on the course of economic recovery.
"If we do decide to go ahead with quantitative easing, I think there is a good program we could adopt, one I like, which is to think in units of $100 billion between meetings" of the Federal Open Market Committee, Bullard said today at a conference hosted by the district bank. "We could give forward guidance for the next meeting that would suggest how likely the committee thinks we would continue these purchases."
The Fed is considering buying more Treasury securities, as well as taking steps to boost inflation expectations, to stimulate the economy and reduce unemployment persisting near 10 percent, according to minutes of the Sept. 21 meeting of policy makers released last week. The central bank was prepared to ease monetary policy "before long," the minutes said.
Bullard's proposal, described to reporters at the conference, is in line with his prior comments urging the gradual calibration of monetary policy to changes in the economy. He said he is in "sharp disagreement" to the idea of starting the program with big purchases of assets, which he criticized in an August speech as a "shock and awe" approach.
Best Policy
"This decision could be reviewed at each meeting," Bullard said. "That would give the ability at some point to pause if the economic data were particularly strong or increase amounts if the data came in weak. This is the kind of flexibility the committee really needs to get the best monetary policy we can have."
In response to reporters' questions, Bullard said he retains the option to back away from urging introduction of his program at the November meeting, noting that some additional economic data including that for U.S. gross domestic product hasn't been reported.
The U.S. economy's performance has been steady over the past few months, free of the "economic shock" that could bring about a broad-based decline in prices similar to the experience in Japan, he said.
Bullard compared his proposal the making quarter-point changes in the federal funds rate. The changes, while having small effects over time, add up to a larger impact, he said.
Yields Already Fell
"If we do go ahead at the meeting in November, we might not actually see much effect" because long-term yields have already fallen on investors' expectation of asset purchases, he said.
Bullard warned in July of a rising risk of a Japanese-style deflation in the U.S. and called for purchases of Treasury securities as a response to any negative shock. The latest plan echoes Bullard's call a year ago for a quantitative rule to determine the suitable amount of asset purchases over time.
The St. Louis Fed president said while he hasn't prepared his 2011 economic forecast, he believes the current slowdown may prove temporary.
"I am cautiously optimistic about the holiday season, which looks reasonable, and about 2011," he said, and many of the business people he speaks with in the Midwest are more upbeat about their businesses.
"You don't expect an economic recovery to be always smooth," he said. "It is reasonable to think what we have gone through is a rough patch," with the recovery strengthening next year.
The economy expanded at a "modest pace" in September and early October with little sign of accelerating and companies still hesitant to hire, the Fed said yesterday in its Beige Book survey of regional conditions. Fed Chairman Ben S. Bernanke said Oct. 15 that there's a case for additional stimulus because inflation is too low and unemployment is too high.
Joshua Zumbrun in Chapel Hill at jzumbrun@bloomberg.net