China 9.6% Growth Adds Weight to Calls for Yuan Gains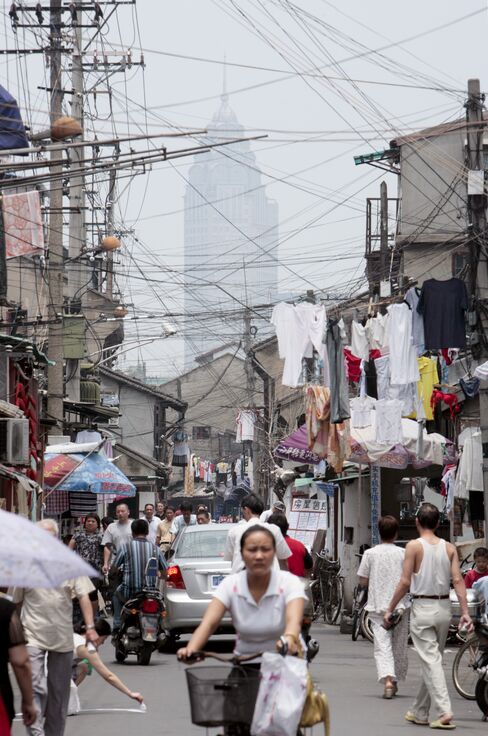 China's economy grew 9.6 percent in the third quarter and inflation accelerated to the fastest pace in almost two years, adding weight to calls for the engine of the global recovery to let its currency appreciate more rapidly.
Growth exceeded the 9.5 percent median estimate of economists in a Bloomberg News survey. Consumer prices jumped 3.6 percent in September from a year earlier, the statistics bureau said in Beijing today. That matched the median forecast.
China's expansion, running at more than three times the pace of growth in the U.S., may add fuel to arguments that the second-largest economy can withstand a stronger yuan as Group of 20 officials gather to discuss currencies in South Korea tomorrow. China raised interest rates on Oct. 19 for the first time since the global crisis, affirming policy makers' confidence in the recovery and concern at price pressures.
"Foreign critics would look at today's data and argue for stronger yuan gains," said Ben Simpfendorfer, a Hong Kong-based economist at Royal Bank of Scotland Plc. Chinese officials "may worry about tightening too aggressively on both interest rates and the currency."
Goldman Sachs Group Inc. estimated quarter-on-quarter growth accelerated to 10 percent. The statistics bureau only gives a year-on-year figure.
Asian currencies rose, with the yuan strengthening 0.1 percent to 6.6449 per dollar as of 3:46 p.m. in Shanghai.
Stocks Decline
The Shanghai Composite Index, which is in a so-called bull market, declined 0.7 percent from a six-month high.
Economic growth was the slowest in a year, pared by a higher comparative base in the same period in 2009, after a second-quarter expansion of 10.3 percent that pushed China's economy past Japan's. First-quarter growth was 11.9 percent.
Officials have reined in new lending and clamped down on speculation in the housing market to limit the risk of asset bubbles after record property-price gains this year. A crackdown to meet energy-efficiency and pollution targets has also cooled the economy.
Industrial output rose a less-than-estimated 13.3 percent in September from a year earlier compared with 13.9 percent in August, the statistics bureau data showed. September's inflation rate was driven up by food prices and residential costs such as rent and renovations. In August, prices rose 3.5 percent.
Economy 'Stabilizing'
"Today's data provide further confirmation that the slowdown in Chinese growth is very moderate and that conditions are stabilizing," said Brian Jackson, an emerging-market strategist at Royal Bank of Canada. "The economy is strong enough to tolerate further gradual policy normalization," he said, forecasting half a percentage point of interest-rate increases in 2011 and the yuan rising to 6.2 per dollar.
This week's interest-rate increase followed China's decision in June to scrap a crisis policy of pegging the yuan to the dollar to aid exporters. Since then the Chinese currency has gained about 2.7 percent. U.S. Treasury Secretary Timothy F. Geithner wants more, arguing this week that the yuan remains "significantly undervalued, more so than is true of any major, significant emerging-market currency."
G-20 nations' finance ministers and central bankers will meet in South Korea to discuss currencies, stimulus efforts and economic policies amid tensions over nations' exchange-rate interventions to protect exporters.
Rising Investment
In China, urban fixed-asset investment gained 24.5 percent in the nine months through September, compared with economists' 24.6 percent median estimate, today's data showed. Retail sales rose 18.8 percent in September and producer-price inflation cooled to 4.3 percent.
Analysts are split on whether interest rates will rise again this year. Credit Agricole CIB and HSBC Holdings Plc expect an increase. Morgan Stanley disagrees.
Industrial Bank Co. economist Lu Zhengwei said he didn't rule out as many as two increases in banks' reserve requirements by year-end. The central bank this month told six banks to temporarily set aside larger reserves, according to three people with knowledge of the matter.
Inflation is higher than the government's full-year target of 3 percent and a jump in the nation's foreign-exchange reserves to $2.65 trillion last quarter highlighted the risk that extra money in the financial system will push up prices. Record lending and a 4 trillion-yuan ($600 billion) stimulus package pumped up growth during the financial crisis.
Zhou Cites Risks
Central bank Governor Zhou Xiaochuan said China will face increasing risks from excessive liquidity, inflation, asset bubbles and non-performing loans after withstanding the test of the financial crisis. His comments, published on the central bank's website today, were at an Oct. 18 conference in Shanghai, co-hosted with the International Monetary Fund, on post-crisis macro-prudential policy.
Pledges by China's government to boost the construction of public housing and speed the completion of stimulus projects may help to put a floor under the nation's growth. In addition, a five-year plan for 2011 to 2015 will include investment in infrastructure, especially in central and western regions, and in emerging industries such as renewable energy.
JPMorgan Chase & Co. raised its estimate for China's growth this year to 10 percent from 9.8 percent after today's data. It increased a forecast for next year to 9 percent from 8.6 percent. In contrast, the World Bank this week lowered a 2011 estimate to 8.5 percent from 8.7 percent. That would be the nation's smallest gain in almost a decade.
Mining companies BHP Billiton Ltd. and Rio Tinto Group, carmaker Bayerische Motoren Werke AG and restaurant chain operator YUM! Brands Inc. are relying on China's industrial and consumer demand as austerity measures and unemployment hamper developed economies. The U.S. Federal Reserve said yesterday that the American economy expanded at a "modest pace" in September and early October.