Anglo Irish Offers Investors 20 Cents in Debt Swap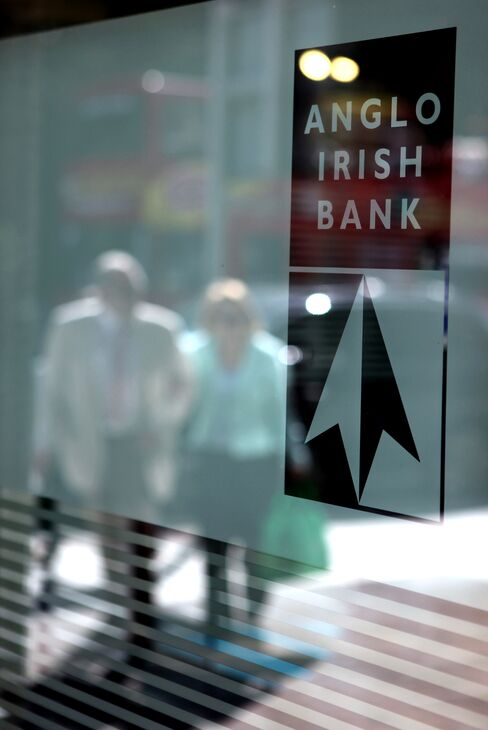 Oct. 21 (Bloomberg) -- Anglo Irish Bank Corp. offered to exchange 1.6 billion euros ($2.2 billion) of subordinated debt for new bonds at a rate of 20 cents on the euro as the nationalized lender seeks to generate capital.
Anglo Irish will offer bondholders that don't take up the exchange 1 cent per 1,000-euro face amount to redeem their floating-rate lower Tier 2 notes due 2014, 2016 and 2017, the Dublin-based lender said in a statement today. The new securities will be due 2011 and guaranteed by the government.
"The government is clearly trying to get as high a participation rate in the exchange as possible," said Fergal O'Leary, a director at Dublin-based Glas Securities, which specializes in fixed income markets. "The alternative to taking part is quite penal."
Ireland faces a bill of more than 50 billion euros, about 22 percent of 2009 gross domestic product, to prop up lenders and wants to ensure the burden is shared with subordinated bondholders. The exchange offer comes after Finance Minister Brian Lenihan vowed to "address the issue" of junior bondholders taking a loss on their investments in nationalized banks.
Anglo Irish Bank was nationalized in January after borrowing from mostly international investors and lending to property developers who couldn't repay loans when the propert market crashed. Commercial real estate prices in Ireland have fallen about 60 percent since peaking in 2007.
'Nullify Holdouts'
The lower Tier 2 notes were trading at 20 to 22 cents in the euro after the offer was announced, said Tom Jenkins, an analyst at Jefferies International Ltd. in London.
Holders of the equivalent of about 370 million euros of Anglo Irish's more-junior securities in euros and pounds will get a 50-euro or 50-pound consent fee to give the issuer the right to buy the notes back at 1 cent or 1 penny for each 1,000 euros or 1,000 pounds ($1,576) of securities, according to a separate statement.
"Both offers have been structured to try to nullify holdouts," Jenkins said. "I really can't see them amending the exchange price, but I guess there's always a chance."
Repurchasing a liability such as a bond at a discount to face value generates a capital gain that the purchaser can use to bolster its capital.
The Irish government pledged as much as 11.4 billion euros to support Anglo Irish on Sept. 30, on top of the 22.9 billion euros it has already pumped in since seizing the lender in January 2009. Its base-case calculation of the cost of the rescue, which involves keeping part of the lender alive while putting the remainder into runoff, is 29 billion euros.
The Anglo Irish rescue package will cost every man, woman and child in Ireland as much as 7,500 euros.
To contact the reporter on this story: John Glover in London at johnglover@bloomberg.net
To contact the editor responsible for this story: Paul Armstrong at parmstrong10@bloomberg.net