AIG Raises $17.8 Billion in Record Hong Kong Offering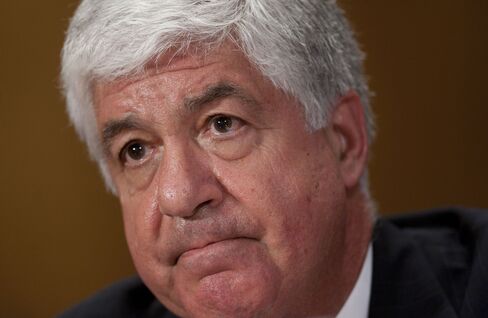 American International Group Inc. raised a record HK$138.3 billion ($17.8 billion) in the Hong Kong initial public offering of its main Asian unit, putting the bailed-out insurer on course to repay its U.S. assistance.
AIG sold 7.03 billion shares in AIA Group Ltd., or a 58 percent stake, at HK$19.68 each, the New York-based insurer said today in a filing. That makes it the largest Hong Kong public offering, exceeding the $16 billion raised by Industrial & Commercial Bank of China Ltd. in 2006, according to data compiled by Bloomberg. The AIA shares may begin trading on the Hong Kong Stock Exchange on Oct. 29, AIG said.
Chief Executive Officer Robert Benmosche, 66, has said the divestment of AIA and another non-U.S. division will put AIG "well within striking distance" of repaying a Federal Reserve credit line included in the company's $182.3 billion U.S. bailout. AIG turned to the public offering following the June collapse of a $35.5 billion deal to sell AIA to Prudential Plc after the London-based firm's investors balked at the price.
"The IPO is the biggest money in the door for AIG and the U.S., without question," said Clark Troy, senior analyst at Aite Group in Chapel Hill, North Carolina. "Success on this sale is the biggest step towards a government exit."
Stock Gain
AIG climbed 87 cents, or 2.1 percent, to $42.15 in New York Stock Exchange composite trading at 10:43 a.m. The insurer has advanced about 41 percent this year as Benmosche announced deals including a $15.5 billion sale of AIG's other main non-U.S. life insurance division, American Life Insurance Co., to MetLife Inc. That sale will be completed by Nov. 1, MetLife has said.
AIA expects operating profit of at least $2 billion for the year ending November, and operates in 15 Asian markets with 309,000 agents, 24,500 employees and more than 23 million in- force policies. The unit had about $1.78 billion in operating profit in 2009, down from $1.87 billion in 2008, according to its IPO prospectus.
Investors, including institutions and Hong Kong individuals, ordered more than HK$1 trillion worth of AIA stock, according to two people with knowledge of the matter who declined to be identified because the information is private. The Kuwait Investment Authority, Guoco Land Ltd. and Wharf Holdings Ltd. are among companies that bought stock in the IPO.
"AIA's anticipated market capitalization may earn it a spot within regional and global indexes," said Charles Stucke, a senior managing director of Guggenheim Partners LLC. "Speculation about this is said to be driving interest" in the offering, he said.
'Growth Potential'
AIG has the option to sell 1.05 billion more shares during AIA's first month as a listed company, potentially taking the total amount raised to $20.5 billion and cutting its stake to 33 percent, according to a prospectus. Citigroup Inc., Deutsche Bank AG, Goldman Sachs and Morgan Stanley led banks arranging the IPO, according to the document.
Pricing was at the top end of the company's range, "a very strong vote of confidence in AIA's future and our ability to capture and realize the exceptional growth potential of the Asia Pacific region," Mark Tucker, CEO of the Hong Kong-based business, said in a statement.
AIA's IPO takes Hong Kong equity fundraising this year to $65 billion, overtaking the record $60 billion garnered in 2007 before the global financial crisis sunk stock markets, according to Bloomberg data. The number doesn't include capital raised through rights offerings. Hong Kong's benchmark Hang Seng Index advanced 8.1 percent this year through yesterday, compared with the 5.8 percent gain of the Standard & Poor's 500 Index.
Bailed Out
AIG owes $19.3 billion on its Fed credit line as of this week, and about $49.1 billion to the U.S. Treasury Department. The company's 2008 bailout swelled to $182.3 billion, a package that includes a $60 billion Fed credit facility, a Treasury investment of as much as $69.8 billion and up to $52.5 billion to buy mortgage-linked assets owned or backed by AIG.
After the Fed credit line is repaid, Treasury will swap its preferred stake of $49.1 billion for common stock and then sell the holdings in the open market, AIG said in a Sept. 30 statement. The transaction will be completed by the end of the first quarter, AIG said.
AIA traces its roots to 1919 when Cornelius Vander Starr, an American businessman, set up a fire and marine insurance agency in Shanghai. It was the first foreign-owned insurer to get a license in China, according to the company's website. Former AIG CEO Maurice "Hank" Greenberg has called the company's non-U.S. life insurance divisions "crown jewels" that couldn't be replicated by rivals.
Tucker, Wilson
Benmosche hired Tucker in July as chief of AIA. Tucker built the Asia operations of Prudential over 15 years before becoming CEO of the London-based insurer through last year. Benmosche had clashed with AIA's former head, Mark Wilson, over how to divest the business.
Tucker, 52, told staff at a town-hall style meeting in July that he plans to triple the unit's value to about $100 billion, according to a person with knowledge of his remarks. The business will be less at risk of a downgrade after the IPO clarifies the unit's ownership, Moody's Investors Service said.
"There are certainly concerns because outside China, its core business is experiencing a slowdown everywhere else in the region as the insurance market is already pretty mature," said Danny Yan, Hong Kong-based portfolio manager at Taifook Asset Management, which oversees about $400 million. "If the only bright spot, China, fails, that could be a problem."
AIA bolstered its board ahead of the IPO. Edmund Tse, who helped build AIG's life-insurance operations for more than four decades, was appointed a non-executive director on Sept. 27. He's also honorary chairman. Tse joined AIA in 1961 and was CEO of the business from 1983 to 2009, according to the filing.
Before it's here, it's on the Bloomberg Terminal.
LEARN MORE