Saskatchewan Said to Reject BHP Infrastructure Offer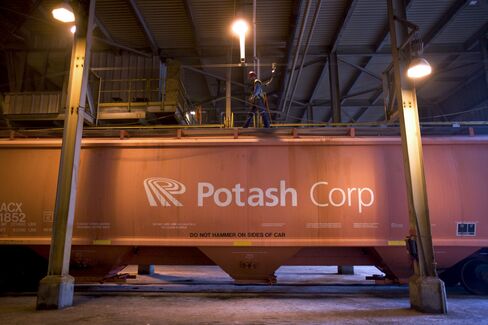 Saskatchewan rejected an offer of C$370 million ($360 million) of infrastructure investment from BHP Billiton Ltd., which is trying to win support for its $40 billion bid for Potash Corp. of Saskatchewan Inc., according to an e-mail from an official of the Canadian province.
The investment doesn't come close to offsetting the C$3 billion in revenue Saskatchewan will lose over 10 years should BHP acquire Potash Corp., said the official, who declined to be identified because the talks between BHP and the province are private. BHP is confident it can address the province's concern it will lose revenue, the company said today in a statement.
Buying Potash Corp. would propel Melbourne-based BHP to the top of the league of producers of potash, a mineral used as a crop nutrient. If BHP's $130-a-share bid is blocked, it would be Chief Executive Officer Marius Kloppers' third failed corporate deal since he took up his role in 2007.
"If the local government rejects the deal, you will find that will flow through to the national level," David Lennox, a resource analyst at Fat Prophets in Sydney, said today by phone. "The Canadian government will then probably reject the deal as well. That will be the finish."
Potash Corp. dropped 85 cents, or 0.6 percent, to $142.58 as of 10:54 a.m. in New York Stock Exchange composite trading. BHP advanced 1.9 percent to 2,181 pence in London.
'Key Player'
Saskatchewan Premier Brad Wall will set out the province's position on the hostile takeover offer in a speech tomorrow, the government said yesterday. Canada has until Nov. 3 to block the bid if it doesn't provide a "net benefit" to the country, unless BHP agrees to an extension of the review.
Canada's Industry Minister Tony Clement said today the federal government is talking with BHP and the province as it assesses whether to approve the bid.
"We're in contact with the government of Saskatchewan," Clement told reporters outside Parliament in Ottawa. "They're a key player in this."
Andrew Dinsmore, a spokesman for the Saskatchewan government, wasn't immediately available for comment.
BHP's bid is facing increasing "political headwinds," Paul Cliff, a London-based analyst at Nomura Holdings Inc., wrote in a report today. He estimates BHP will raise its offer to about $150 a share to win Potash Corp..
"A key risk to the transaction is that it becomes a broader political issue," Cliff said. "At this point, we believe economics are more likely to prevail and that the bid will eventually be endorsed by the Government of Canada's Investment Review Division."
Lost Revenue
Under the Investment Canada Act, the central government can block transactions if it finds they don't provide a net benefit to the country. There are "serious questions" on whether BHP's offer meets the criteria of the net-benefit test, Saskatchewan's Energy and Resources Minister Bill Boyd said Oct. 6.
"BHP Billiton is confident it can address this concern and, in this regard, is prepared to make commitments which go beyond the requirements of prevailing Canadian legislation that should effectively address the tax loss concerns of the province," BHP said in its statement.
The Conference Board of Canada, an independent researcher of economic and public policy issues, said Oct. 4 in a report that Potash Corp.'s takeover by BHP would cost Saskatchewan C$2 billion in lost tax revenue over 10 years.
Canpotex Concern
Potash Corp., which is based in Saskatoon, Saskatchewan, has rejected BHP's offer as too low and said it's seeking alternative offers amid rising prices for agricultural commodities.
Sinochem Group, China's largest fertilizer trader, emerged as the likeliest rival bidder, three people familiar with the matter said last month. Sinochem may struggle to get state financial backing for a takeover, two people with knowledge of the matter said Oct. 7.
Saskatchewan has put pressure on BHP to commit to Canpotex, an organization that handles potash exports, on concern its exit would reduce the region's revenue. Canpotex handles exports for Potash Corp., Agrium Inc. and Mosaic Co., which together account for as much as 40 percent of global trade in the nutrient.
BHP, already developing Canada's Jansen potash project, said in August it prefers to run mines at full capacity and would seek to sell potash independently of Canpotex should the offer succeed.
Fighting Disease
BHP is being advised by JPMorgan Securities Inc., TD Securities Inc., Banco Santander SA, Barclays Capital, BNP Paribas and the Royal Bank of Scotland Group Plc. The company has arranged debt facilities to fund the bid, which it estimates will cost about $43 billion. Bank of America Merrill Lynch, Goldman Sachs Group Inc. and RBC Capital Markets are acting as financial advisers to Potash Corp.
Potash is a form of potassium used by farmers to strengthen stalks and roots and help crops fight disease. Potash Corp. controls 20 percent of global supply, according to the company's website.
Before it's here, it's on the Bloomberg Terminal.
LEARN MORE