Murder, Suicide, Fraud Plus Nuns Make 'Trittico' Irresistible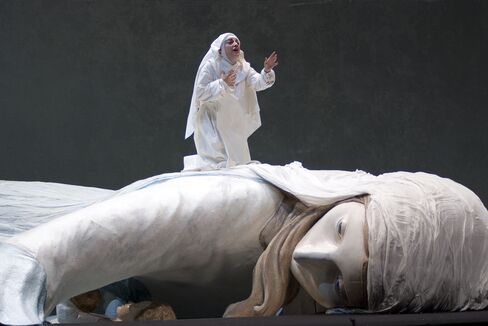 A murder in modern Paris, a suicide in a 17th-century convent, an inheritance swindle in 13th-century Florence -- it's hard to imagine stranger bedfellows than the three parts of "Il Trittico."
No wonder the Triptych, the last stage work Puccini completed, is often ripped apart and combined with other one-act operas: "Il Tabarro," or the Cloak, was last seen in Paris with "I Pagliacci"; "Gianni Schicchi," Puccini's only comic opera, was paired with Ravel's "L'Heure Espagnole."
The new production at the Bastille Opera, an import from La Scala in Milan, is the first in more than 20 years to give Parisians the opportunity to see the trilogy as the composer intended it. The three parts aren't only set in different centuries; they also differ stylistically.
"Il Tabarro" may be a cheap little shocker: Toscanini hated it and refused to conduct the 1918 premiere. Musically, Puccini is at his most sophisticated. The atmospheric depiction of life on the Seine is pure Debussy; the sad little waltz played on a passing barrel-organ could be from Stravinsky's "Petrushka."
"Suor Angelica," the story of a suicidal nun, is another matter. Puccini, who came from a family of church musicians and who had a sister in an Augustinian convent, thought highly of it. Most conductors disagree and do their best to avoid what they consider a mawkish pastiche of religious kitsch.
Giddy in Bed
"Gianni Schicchi," on the other hand, a bedroom farce based on an episode in Dante's "Inferno," is by general consent a masterpiece, its giddy pace and comic effects on a par with Verdi's "Falstaff."
Philippe Jordan, the new musical director of the Paris Opera, perfectly catches the various styles of the score, making even the eggy pudding of "Sister Angelica" palatable.
Luca Ronconi, the director, and Margherita Palli, his loyal set designer, aren't known as iconoclasts. They don't try to baffle us with new interpretations. The barge, on which the bloody drama of jealousy is played out, couldn't be more naturalistic.
The red-lined bedroom, in which Gianni Schicchi, disguised as the dying Buoso Donati, awards the lion's share of the rich man's property to himself, will remind you of the interiors in Renaissance paintings.
Only in the second part does the set designer veer from tradition. She has turned the convent grounds into the giant statue of a reclining Madonna, a kind of pious mountain landscape on which the white-clad nuns climb up and down.
Imposing Veteran
The veteran Juan Pons, who plays both Michele, the jealous skipper, and Gianni Schicchi, has lost sheen yet is still an imposing presence. Marco Berti as his younger rival Luigi is the archetypal stentorian tenor whose voice sinks to an almost inaudible whisper when he has to sing piano.
The three leading sopranos all come from the former Soviet Union. Oksana Dyka is a powerful Giorgetta, Michele's straying wife, and Tamar Iveri plays a sensitive Angelica. Ekaterina Syurina, who sings the role of Gianni's daughter Lauretta, is more leggiero than lirico: Her "O mio babbino caro," the opera's most famous number, could use more warmth.
The Albanian tenor Saimir Pirgu is Lauretta's fiance Rinuccio -- a promising debut. Rating: ***.
"Il Trittico" runs through Oct. 27. Information: http://www.operadeparis.fr or +33-1-7125-2423.
(Jorg von Uthmann is a critic for Muse, the arts and leisure section of Bloomberg News. The opinions expressed are his own.)
What the Stars Mean:
****        Outstanding
***         Good
**          Average
*            Poor
(No stars)  Worthless