Delta, AMR, US Airways Beat Estimates as Fares Rise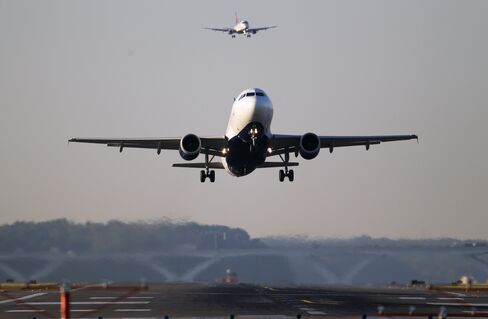 Delta Air Lines Inc., American Airlines parent AMR Corp. and US Airways Group Inc. posted profits that beat analysts' estimates, buoyed by rising fares in what may be the industry's best quarter since 2007.
Delta's profit excluding some costs was $1.10 a share, topping the 94-cent average of 13 estimates compiled by Bloomberg, while US Airways' $1.23 a share on that basis exceeded the $1.17 estimate. AMR had net income of $143 million, or 39 cents a share, to beat the 32-cent average estimate.
Restraint in adding seats helped Delta, American and US Airways fill planes and boost prices after year-earlier losses, and the Bloomberg U.S. Airlines Index jumped the most since February. Today's reports were the first among major carriers for the third quarter, with most of the rest following tomorrow.
"These are three very solid beats, and it bodes well for the rest of the group," Michael Derchin, a CRT Capital Group LLC analyst in Stamford, Connecticut, said in an interview.
Combined profit at the eight biggest U.S. airlines may be $2.1 billion to $2.4 billion, according to estimates by Derchin and Deutsche Bank AG's Michael Linenberg. Earnings in that range would be the strongest since 2007's second quarter. Delta, American and US Airways are ranked second, third and sixth in the U.S. by passenger traffic.
Business Travel
Improving demand for business travel, which is typically booked at the last minute and is more profitable than leisure trips, is helping the industry. Atlanta-based Delta said its yield, or the average fare for each mile flown, rose 16 percent. AMR's increase was 11 percent, and US Airways' was 14 percent.
Delta rose $1.27, or 11 percent, to $12.97 at 4 p.m. in New York Stock Exchange composite trading. Fort Worth, Texas-based AMR gained 82 cents, or 13 percent, to $7.34, while US Airways increased 75 cents, or 7.4 percent, to $10.84.
The airlines index surged 7.2 percent for the biggest advance in eight months. All 11 carriers in the gauge climbed.
Delta said third-quarter sales jumped 18 percent to $8.95 billion, led by a recovery in travel to Asia and Europe. Including what Delta said were one-time costs, third-quarter net income was $363 million, or 43 cents a share, after a year-earlier loss of $161 million, or 19 cents.
Delta's Costs
The one-time items were $360 million, mostly non-cash, for extinguishment of debt; $153 million related to getting rid of more than 50 planes at its Comair regional unit; and $53 million in expenses from its 2008 acquisition of Northwest Airlines Corp., Delta said today in a statement.
Fourth-quarter seating capacity will increase by 5 percent to 7 percent from a year earlier, Delta said, with more flying to be done by existing aircraft and some jets pulled from temporary storage. That eases what Delta has called "very significant and sharp" reductions during the recession.
The profit at AMR snapped seven straight quarterly losses, including a year-earlier loss of $359 million, or $1.26 a share. Sales rose 14 percent to $5.84 billion.
Passenger traffic rose 3.7 percent, American said today in a statement. Capacity this quarter at the airline's main jet operations will increase 3.4 percent from a year earlier.
American's improved yield "was driven by business travelers returning to the skies, combined with the many changes we have made to our network, product and service," Chief Executive Officer Gerard Arpey said in a message to employees.
AMR in Los Angeles
AMR said it would boost daily departures from Los Angeles by 28 percent, to 153, by April 5. The 33 new flights will bolster American in Los Angeles, which has the fewest trips among the carrier's five "cornerstone" U.S. cities.
Demand from domestic customers and international corporate accounts helped spur the decision, Chief Commercial Officer Virasb Vahidi said in an interview.
US Airways reported net income of $240 million, or $1.22 a share, compared with a loss of $80 million, or 60 cents. That total was a third-quarter record for the Tempe, Arizona-based carrier, which said passenger traffic rose 2.8 percent. Sales rose 17 percent to $3.18 billion.
US Airways said it expects to begin hiring flight attendants in early 2011, after recalling all its attendants who were previously furloughed. The carrier said earlier it would bring back 300 pilots and flight attendants.
"This quarter's results are a watershed event," CEO Doug Parker told analysts and investors on a conference call. "With oil over $80, an economy that's slowly and begrudgingly pulling out of recession, the airline industry is reporting record profits while the rest of U.S. industries are not. That has not happened before."