Bacon-and-Egg Martini, Squid-Ink Sour to Star at London Bar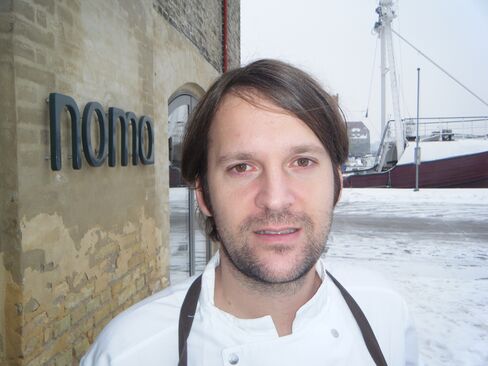 Chef Raymond Blanc is backing the winners of his TV show "The Restaurant" to open a cocktail bar with a gastronomic twist. So if you fancy a squid-ink sour or a bacon-and-egg martini, this may be just the place.
The London Cocktail Club may open as early as the end of November on the site of Manouche, at 61 Goodge Street. A menu of canape-style snacks and other food is being devised by Blanc and fellow two-Michelin-star chef Shane Osborn.
"We're just trying to have a bit of fun but the concept is very now," said J.J. Goodman, who won with his friend James Hopkins. The look is being created by Dtwo, the studio behind Callooh Callay. "I've seen the preliminary designs and they are mental," Goodman said. "The theme is contemporary gin palace."
The hope is that the London Cocktail Bar may be the first of a chain of outlets, said David Moore, who co-owns Pied a Terre with Osborn. The project is also backed by Moore's fellow judge on "The Restaurant," Sarah Willingham.
Rene Redzepi is in demand after winning the World's Best Restaurant award in London in May for Noma, in Copenhagen. You might go a long way to meet a more self-effacing master chef. You don't have to. He'll be speaking at the Freemasons' Hall in London on the evening of Nov. 12 to promote his book, "Noma: Time and Place in Nordic Cuisine" (Phaidon). Tickets are available from seetickets.com.
The Roux Scholarship opened applications for the 2011 award in the U.K. culinary competition. Aspiring scholars have until Jan. 31 to apply. Last year's winner Kenneth Culhane is going to train at Jean Georges, in New York, as part of his prize. Hrishikesh Desai, who triumphed in 2009, this month also won the Craft Guild of Chefs National Chef of the Year.
Bar Battu, a good natural-wine bar in the City, is giving 50 percent off food until the end of October. The offer is a bit hush-hush. You need to book online at http://www.barbattu.com/ and then state "I'm a friend of Bar Battu" in the Special Requests Box. If you can't be bothered, you could try calling and asking for the offer.
St. John Hotel, the new project of chef Fergus Henderson and his business partner Trevor Gulliver, is scheduled to open on Dec. 1. Bookings for a room or a meal are being taken on +44-20-3301-8069. Instead of regular afternoon tea, the restaurant, off Leicester Square, will serve the Afternoon Bun. "When you bite it, it reveals itself -- bitter chocolate, prune or anchovy," the website says. "These should be enjoyed with Champagne. Or tea if you must."
If you are looking forward to Heston Blumenthal's restaurant at the Mandarin Oriental, you will need to wait a little longer. The opening of the Fat Duck chef's Dinner by Heston Blumenthal, at the Mandarin Oriental, has been delayed until the end of January from Dec. 1.
I've been on vacation. While I was away: Angela Hartnett bought her restaurant Murano from Gordon Ramsay, for whom she worked for 15 years. She will continue to support the Ramsay-owned York & Albany until year end. Separately, the Ledbury was named U.K. Restaurant of the Year at the National Restaurant Awards, toppling Fat Duck. Bistrot Bruno Loubet entered the Top 100 at No. 3. Among other newcomers, Bar Boulud placed seventh, Galvin La Chapelle at 10th and Koffmann's at 47th.
Electric Cinema plans an all-night horror-movie show on Oct. 30. Breakfast baps and chips will be available to those who can stomach them.
(Richard Vines is the chief food critic for Muse, the arts and leisure section of Bloomberg News. Opinions expressed are his own.)
Before it's here, it's on the Bloomberg Terminal.
LEARN MORE