Aetna's Williams to Retire, Bertolini to Be New CEO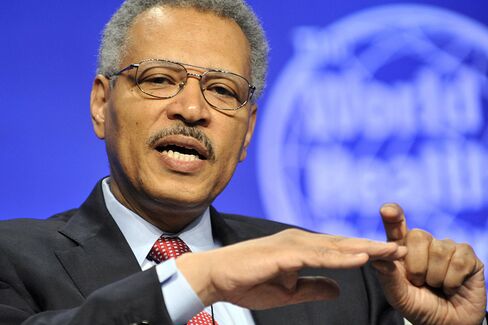 Oct. 20 (Bloomberg) -- Aetna Inc., the third-largest U.S. health insurer, said Chairman and Chief Executive Officer Ronald A. Williams will step down and be replaced by Mark T. Bertolini, the company's president.
Bertolini, 54, joined Hartford, Connecticut-based Aetna in February 2003 from Cigna Corp. He was appointed president in 2007, and will take over from Williams at the end of next month. The new CEO will be paid a salary of $1 million, $95,000 less than Williams, said Fred Laberge, an Aetna spokesman today. Bertolini will be eligible for a bonus of at least three times his salary if he meets "performance goals," Laberge said.
Williams, 60, steered Aetna back to profitability twice over the last decade, after the company failed to set premiums to match medical costs, said Ana Gupte, a Sanford C. Bernstein & Co. analyst in New York. Bertolini will need to define how the company will cope with the health-care law approved in Washington this year, an area where it hasn't been as clear as rivals, she said in a telephone interview.
"I'm not sure we have heard from Aetna on who they are and who they want to be," said Gupte, who led Aetna's strategic-planning office from 2006 to 2007. Bertolini is a "very, very seasoned health-insurance leader" who will be "critical in driving some of the decisions about how they adapt."
Executive Chairman
Williams will serve as executive chairman for the next six months, and retire from the company in April, Aetna said in a statement.
The move was "a personal decision" for Williams, Laberge said. "It's kind of a transformative time. He's had 10 years with the company, 5 years as chairman and CEO, all the health-care legislation has gone through."
The insurer has increased its 2010 profit forecast twice in the past six months after lower medical costs helped reduce spending and Aetna announced about 1,200 job cuts.
Aetna rose 43 cents to $31.33 at 4:15 p.m. in New York Stock Exchange composite trading. The shares had gained 21 percent in the 12 months before today.
Before today, the stock had fallen 39 percent since Williams took over as CEO in February 2006, compared with a 9.6 percent drop for the Standard & Poor's 500 Index. Gupte said the shares have been hurt by uncertainty over the health-care law's effects and don't reflect Williams' successes.
Williams led Aetna's move toward plans with higher deductibles that helped lower its medical costs, she said. "He was a leader in really adopting that model and moderating the medical-cost trend by shifting more cost to the members and having them get more skin in the game," Gupte said.
Sales, Profits Grow
Under Williams, revenue increased to $34.8 billion last year, from $21.4 billion in 2005. Health-plan membership climbed to 33.3 million from 27.9 million, according to data compiled by Bloomberg.
Bertolini was senior vice president for national sales at Philadelphia-based Cigna from 2000 to 2002. Prior to that, he served as executive vice president at NYLCare Health Plans Inc., a health insurer bought by Aetna in 1998, and SelectCare Inc., a Troy, Michigan-based Michigan health plan.
Bertolini "has been an integral part of Aetna's management team for a long time and should be familiar to investors," said Dave Shove, a BMO Capital Markets analyst in New York, in a note to clients. "We view him as experienced, with intimate knowledge of the business and deep operational understanding."
To contact the reporter on this story: Michelle Fay Cortez in Minneapolis at mcortez@bloomberg.net; Alex Nussbaum in New York anussbaum1@bloomberg.net.
To contact the editor responsible for this story: Reg Gale at rgale5@bloomberg.net