Moscow May Sell Assets When Putin's Man Takes Charge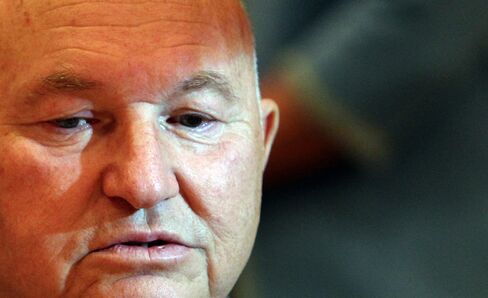 Moscow may sell stakes in companies from banks to airlines when Prime Minister Vladimir Putin's chief of staff, Sergei Sobyanin, replaces Yury Luzhkov as mayor of the Russian capital.
"Privatization will be pursued very actively under the new mayor," said Olga Kryshtanovskaya, a sociologist who studies Russia's elites. "All profitable assets will go on the block, such as airlines, real estate companies and possibly Vnukovo Airport."
The federal government plans to raise $10 billion annually for the next five years from asset sales to help close a budget deficit estimated at 5.3 percent of economic output. While Moscow's government is running a shortfall of 120 billion rubles ($3.9 billion) on spending of 1.1 trillion rubles, Luzhkov hadn't joined the privatization drive before President Dmitry Medvedev fired him Sept. 28, citing a "loss of confidence."
First Deputy Prime Minister Igor Shuvalov said on Oct. 8 that selling assets belonging to cities such as Moscow and St. Petersburg could generate 300 billion rubles a year, about the same as the federal government plans to raise.
The city directly and indirectly owns 63.8 percent of Bank of Moscow, according to the lender's website. Bank of Moscow in turn owns 65.9 percent of OAO Mosvodokanalbank. The city also holds stakes in ZAO Mosstroieconombank and Atlant-Soyuz airline.
Banks, Airlines
Bank of Moscow shares have risen 0.6 percent to 980 rubles since Sobyanin was nominated Oct. 15, compared with a 0.2 percent decline in Russia's Micex Index. The yield on the bank's 6.699 percent dollar bond due in 2015 rose 30 basis points in the period, while the yield on Russian government benchmark dollar bonds of similar maturity advanced 6 basis points.
Finance Minister Alexei Kudrin, who frequently clashed with Luzhkov, said Oct. 9 that Moscow could sell stakes to fund social programs.
"There are two banks held by the Moscow government," he said. "There are aviation companies. It's been a long time since other regions owned commercial concerns" such as construction companies, he said.
Luzhkov, 74, was fired after weeks of media reports that accused him of corruption and favoritism toward his wife, billionaire developer Yelena Baturina.
'Provincial' Chief
The former mayor's 18-year tenure was characterized by "opposing himself" to the federal government as though he were a "provincial" leader, Vladislav Surkov, Medvedev's deputy chief of staff, said in an interview with the newspaper Vzgliad.
Luzhkov denied the allegations, telling the Moscow-based magazine The New Times that he never acted in a "criminal way" and the charges against him were politically motivated. Baturina said she never received preferential treatment from the city.
Luzhkov resisted former President Boris Yeltsin's voucher and loans-for-shares programs, used to privatize state assets in the 1990s, a stand that earned plaudits even from his critics.
"It was positive that he retained Moscow's property for the city in the 1990s," said Sergei Mitrokhin, a leader of the opposition Yabloko party. "Everything was being sold at knockdown prices."
Sobyanin, 52, was governor of his native Tyumen region in Siberia for four years before Putin, then president, brought him to Moscow as Kremlin chief of staff in 2005. When Putin became prime minister in 2008, he took Sobyanin with him.
Tax Income
While Sobyanin is Putin's "right-hand man," he's also acceptable to Medvedev and the "financial and industrial groups that matter to both men," said Mikhail Remizov, president of the Moscow-based Institute for National Strategy.
Asset sales may help the city offset falling tax revenue that could result if Sobyanin loosens Luzhkov's hold on income from Moscow-based companies including OAO Sberbank and OAO Russian Railways, said Vladimir Klimanov, director of the Institute for Public Finance Reform.
"There will be a redistribution of tax income, and Moscow may lose as much as 10 percent of budget revenue," Klimanov said. Eighty-five percent of Moscow's revenue comes from profit and personal income taxes generated by the concentration of companies with headquarters in the city, he said.
The federal government has long planned to share the capital's wealth with other parts of the country, Klimanov said. Moscow accounted for 23.8 percent of Russia's gross domestic product in 2008, the last year for which data is available, according to the Federal State Statistics Service.
Putin's Party
Kudrin said Russia's federal government has begun taking more revenue from wealthy regions, such as Moscow, and distributing it to less prosperous areas.
"We can't achieve equal revenue in Moscow and Kalmykia or Tuva, so the equalization goes up to 85 percent of the national average," he said, referring to two of Russia's poorest regions.
Medvedev picked Sobyanin from a list of four candidates proposed by Putin's United Russia party. Sobyanin must be approved by the Moscow city council, where United Russia holds 32 of 35 seats. The vote is scheduled for tomorrow.
The mayor must clean up corruption after years of "schemes that at a minimum raise questions about their legality," Medvedev told Sobyanin on Oct. 15 when he informed him of the nomination. He must also "try to make the economic life of Moscow more open and more competitive, based on existing law."
Before it's here, it's on the Bloomberg Terminal.
LEARN MORE